VAXIS Storm 3000 Triple Kit 3G-SDI/HDMI Wireless Transmission System (1000m/3000ft)
---
Brand: VAXIS
SKU:

PK1787

Product code:

PK1787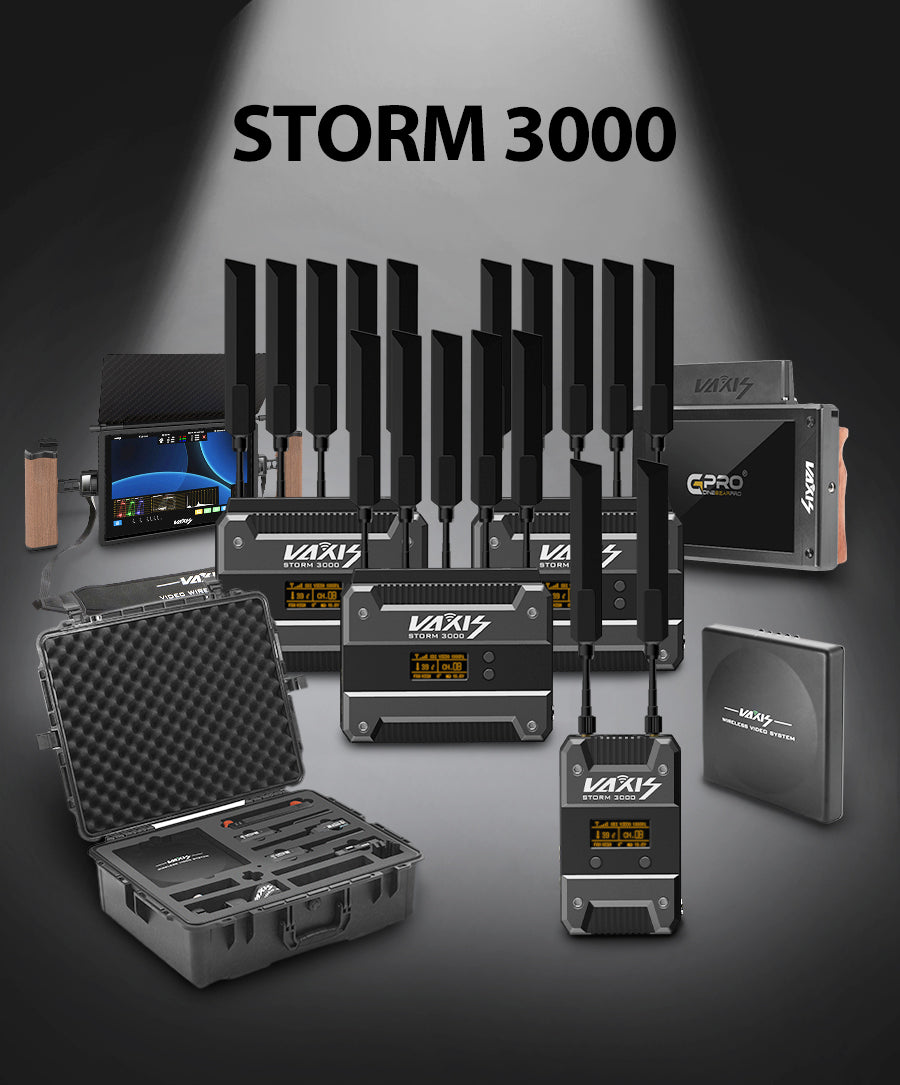 The VAXIS STORM 3000 Wireless HDMI/SDI Transmission Suite utilize today's most advanced wireless video transmission technology, which can realize the broadcast-class and uncompressed 3G SDI/HDMI HD video signal transmitted with no compression and zero delay. The suite includes one transmitter and one receiver, where the transmitter provides a 3G/HD SDI input and a HDMI input, and the receiver also provides a 3G/HD SDI output and a HDMI output.
The wireless HD suite has 2 stick antennas in transmitter side, and 5 stick antennas in receiver side, and it can work in 5.1-5.9GHz frequency band and be flexibly software configured to licensed or ISM band of global different regions, as well as the side panel of both transmitter and receiver have been installed a control panel with OLED, which provides maximum 10 workable frequency channels, and supports maximum 10 sets working simultaneously.
The wireless suite can accept wide range DC power input, which is suitable for many kinds of camera battery model. The suite also can sustain ±8 kV ESD (HBM, contact discharge), the industry class metal case and professional heat design would guarantee most robust reliability.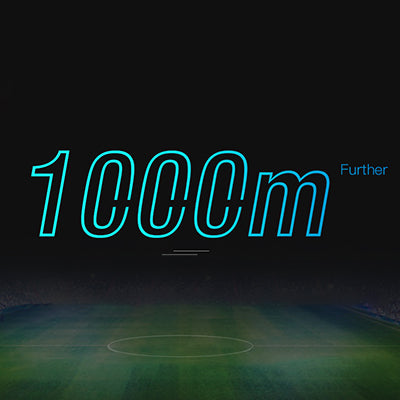 Super long distance transmission

Up to 1 kilometer transmission dstance Meet all shooting demands for big prod tion, football live, and other events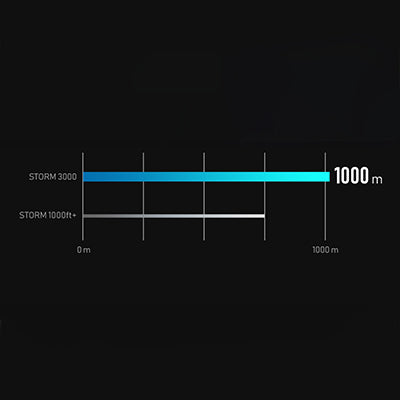 Performance Improved

With the enhanoed signal anti-interruption ability, video quality loss of Storm 3000 is significantly better than other same grade product at extreme distanoe. Storm 3000 allows stable video transmission in extremely complex environment and sorts of events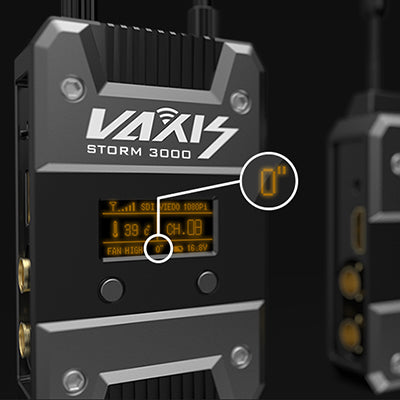 Professional mode I closer to 0 ms

NEW professional mode, give you 1 frame less delay than regular mode, Meet requirement of news, sports or other live broadcast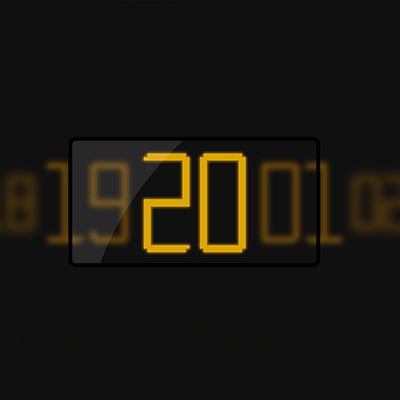 Optimized channels I 20 channels optional

Support more equipment working at same time, reduce signal interference.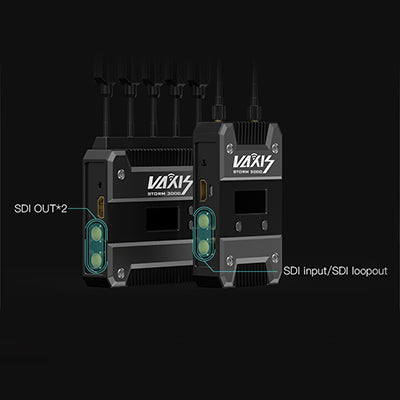 New Blade Antenna

Vaxis new blade antenna (patent NO.201 721469986.2), more durable and practical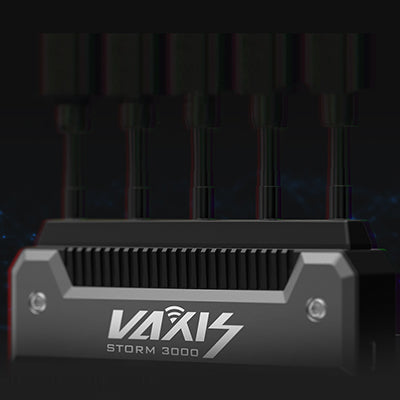 Vaxis Channel Scanner

Find your best channel in one click, compatible to all Vaxis Storm sorles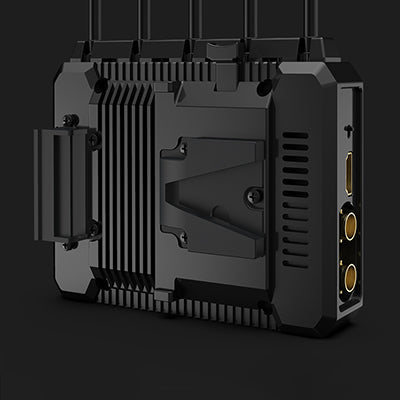 New design ports I protect your connections

Embedded ports, avold damage from physical shock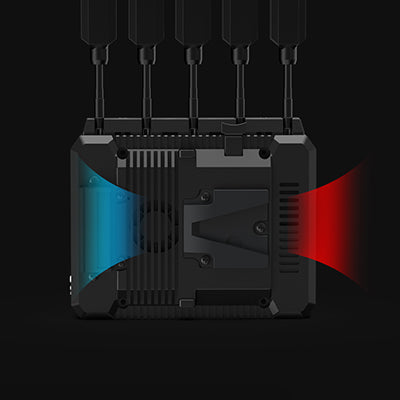 Antenna protective cover I reduce antenna consumption

Give strong protection to the most frequently damaged antenna, extend the service life of each antenna. Free from assemble and disassemble.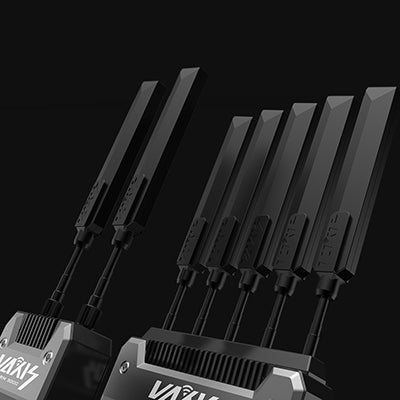 Integrated mount I lighter and stronger

Ploneer to combine the battery mount and case into one, bulld a stronger and lighter body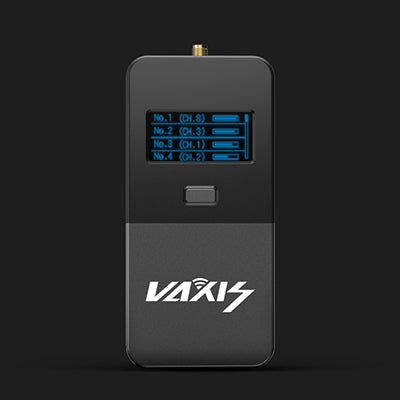 Active cooling I all time stand-by

35mm smart codling fan, allow long working time at hot environment
Package Contents: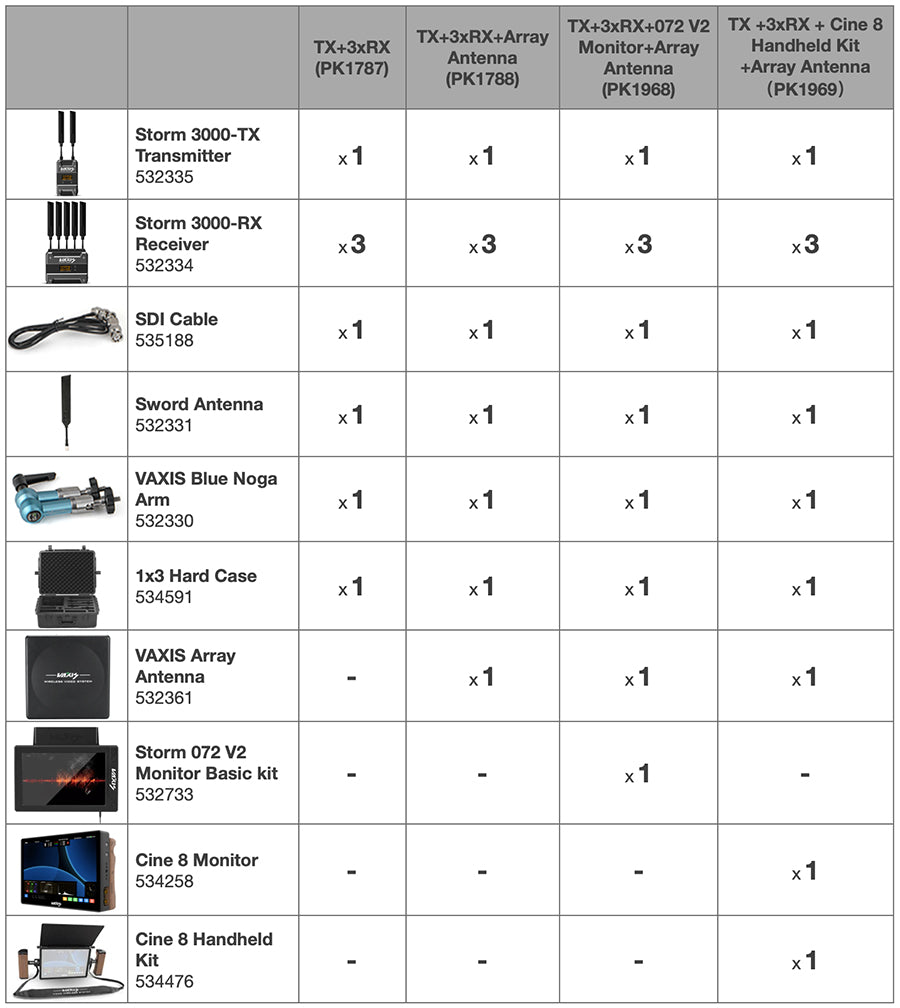 Basic Kit (TX + 3xRX) (PK1787):

1x Storm 3000-TX Transmitter (NP-F970 battery plate)(532335)
3
x Storm 3000-RX Receiver (V-LOCK battery plate)(532334)
1x Sword antennas (SMA female)(532331)
1x 3G-SDI Cable(535188)
1x VAXIS Blue Noga Arm(532330)
1x 1x3 Hard Case (534591)

Kit A (TX + 3xRX + Array Antenna)(PK1788):
1x Storm 3000-TX Transmitter (NP-F970 battery plate)(532335)
3x Storm 3000-RX Receiver (V-LOCK battery plate)(532334)
1x Sword antennas (SMA female) (532331)
1x 3G-SDI Cable(535188)
1x VAXIS Blue Noga Arm (532330)
1x VAXIS Array Antenna  (532361)
1x 1x3 Hard Case (534591)

Kit B (TX + 3xRX + 072 V2 Monitor + Array Antenna)(PK1968):

1x Storm 3000-TX Transmitter (NP-F970 battery plate)
(532335)
3
x Storm 3000-RX Receiver (V-LOCK battery plate)
(532334)
1x Sword antennas (SMA female) (532331)
1x 3G-SDI Cable(535188)
1x VAXIS Blue Noga Arm (532330)
1x VAXIS Storm 072 V2 Monitor 
Basic kit (
532733
)

1x VAXIS Array Antenna  (532361)
1x 1x3 Hard Case (534591)

Kit C (TX +3xRX + Cine 8 Handheld Kit +Array Antenna)(PK1969):
1x Storm 3000-TX Transmitter (NP-F970 battery plate)(532335)
3x Storm 3000-RX Receiver (V-LOCK battery plate)(532334)
1x Sword antennas (SMA female) (532331)
1x 3G-SDI Cable(535188)
1x VAXIS Blue Noga Arm (532330)
1x 
Cine 8 Handheld Kit
(534476)

1x Cine 8 Monitor(534258)
1x VAXIS Array Antenna  (532361)
1x 1x3 Hard Case (534591)