SIRUI Night Walker S35 Cine 3 Lens Set (24mm & 35mm & 55mm T1.2)
---
Brand: SIRUI
SKU:

MS-3SEB

Product code:

536290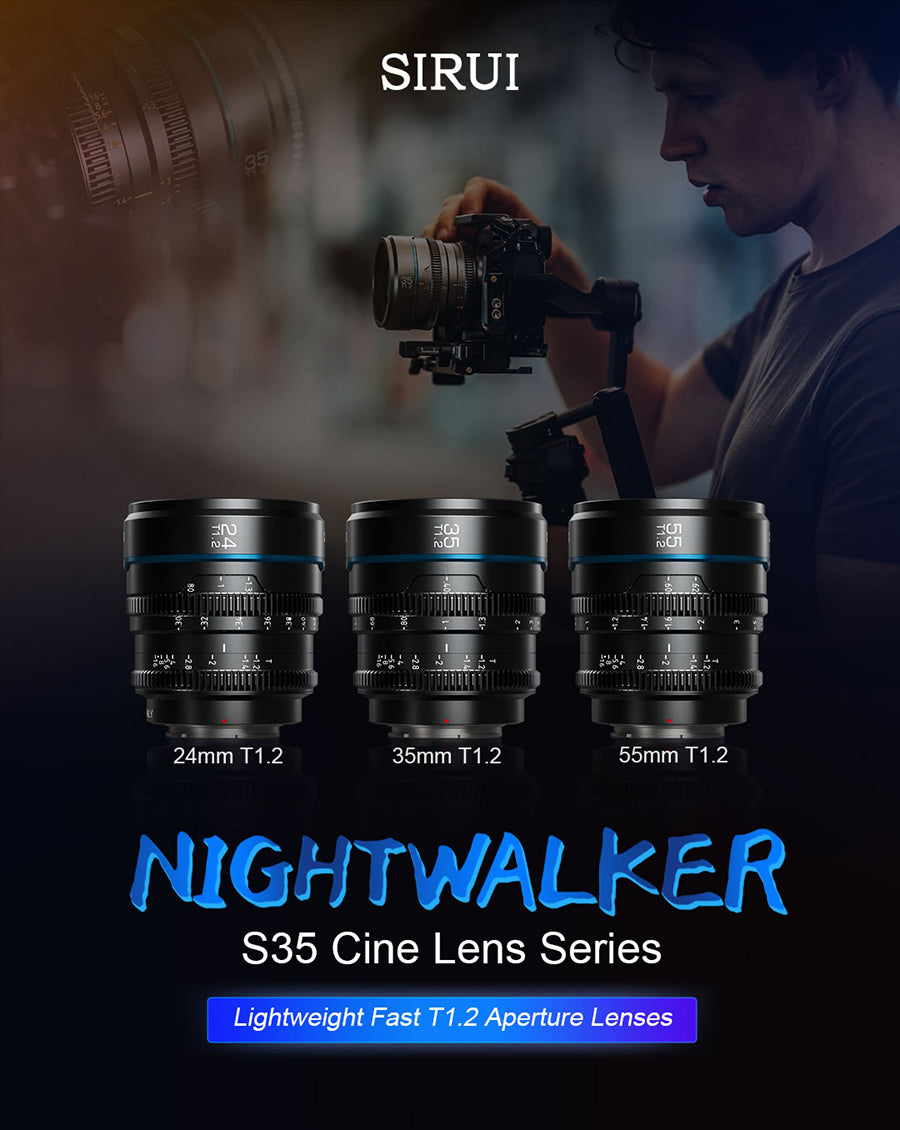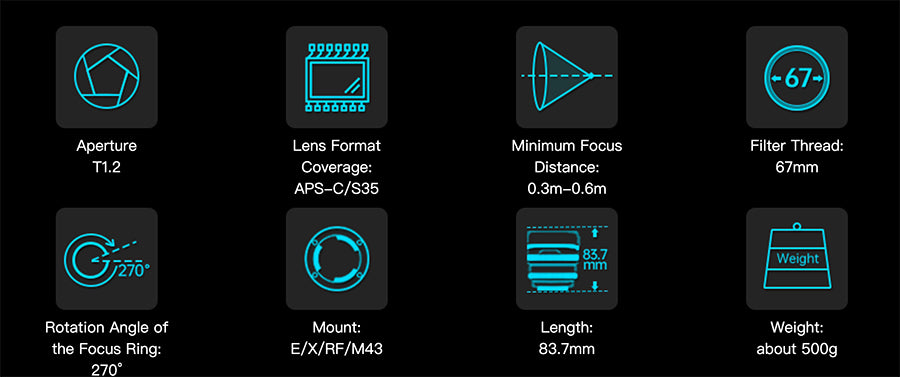 Why We Choose SIRUI Nightwalker Cine Lens Series?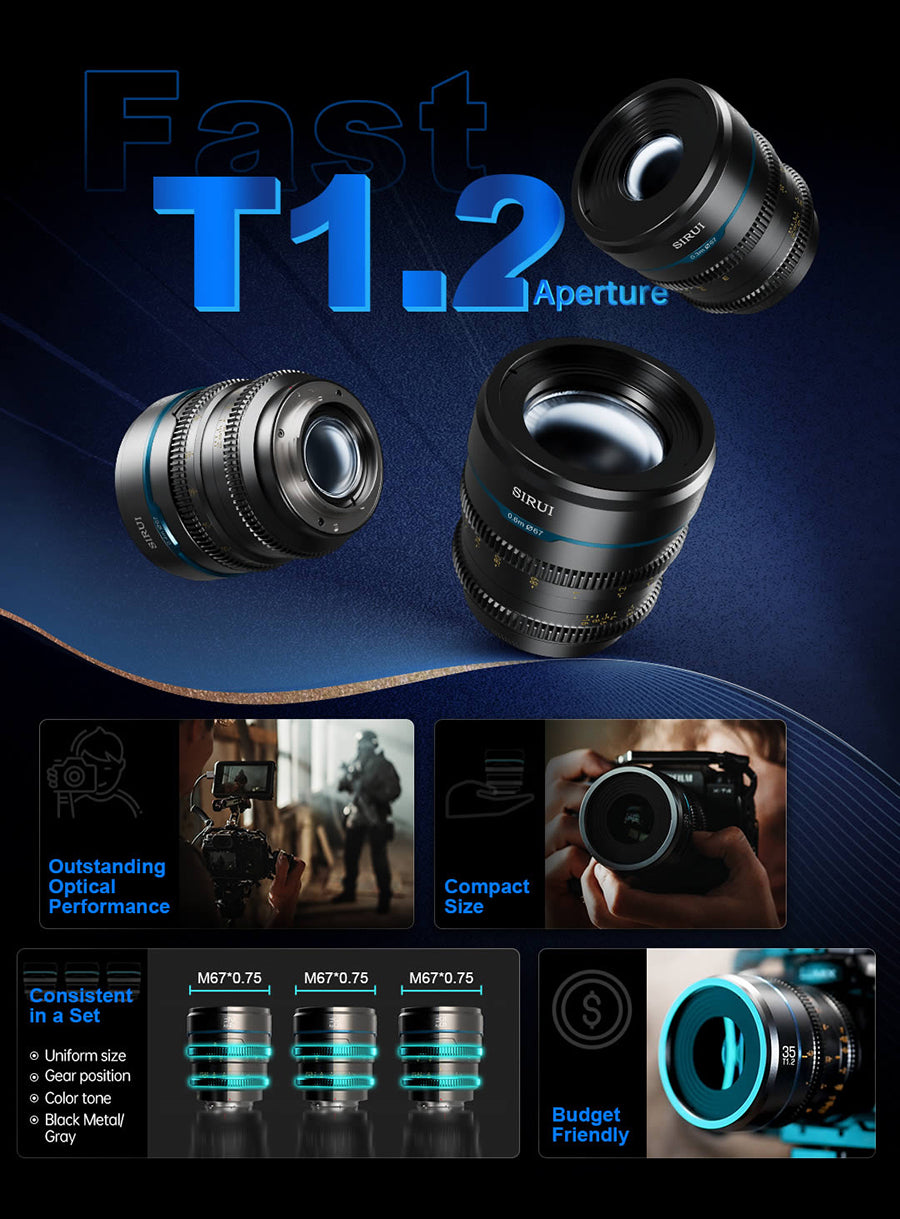 T24mm, 35mm, 55mm Lenses Set

Included 24mm, 35mm and 55mm lenses are all S35 frame
lenses, which can be used in scenery, documentary, portrait, still life shooting, etc.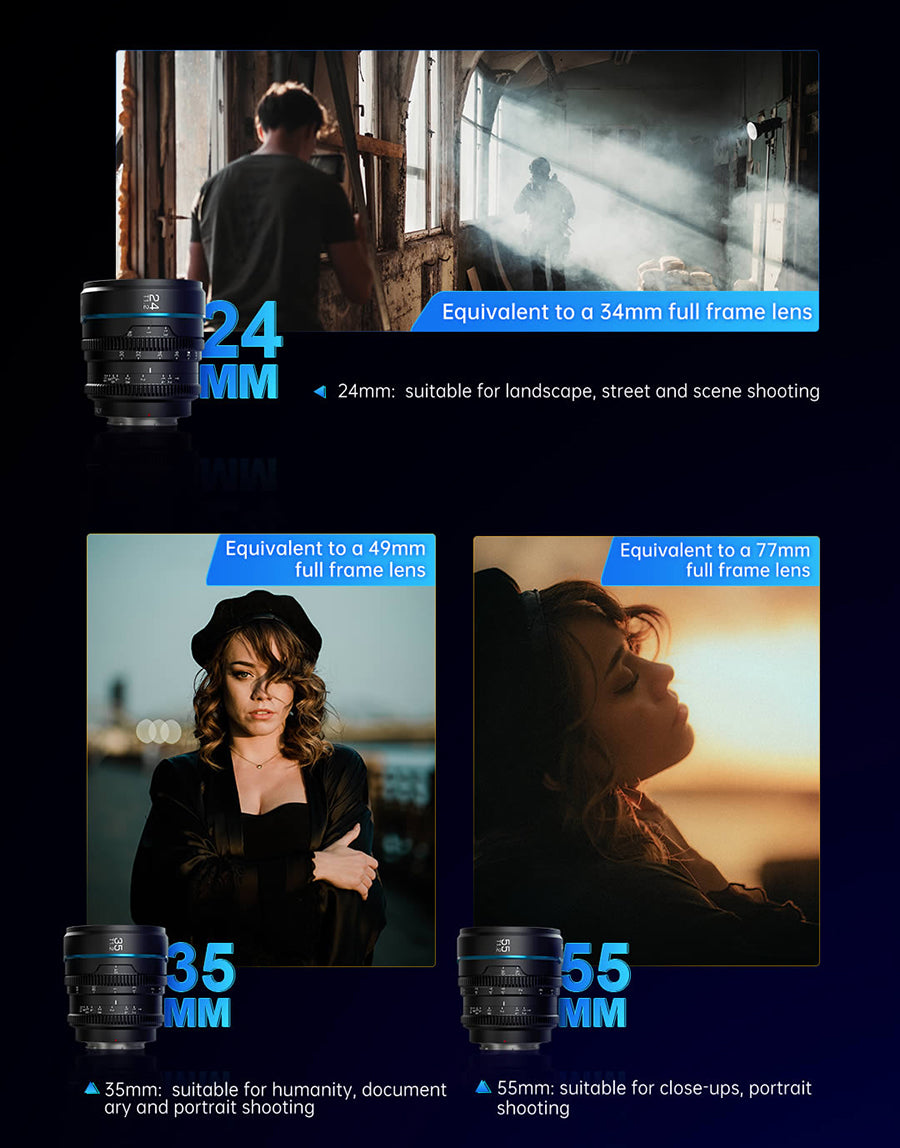 Large Image Circle

The maximum image circle of 24mm, 35mm and 55mm lenses are respectively 31mm,32mm and 34mm.
They are all large enough to cover sensors size of mainstream S35 camera (for example, the sensor size of
RED KOMODOis 30.56mm), which helps to capture brilliant images.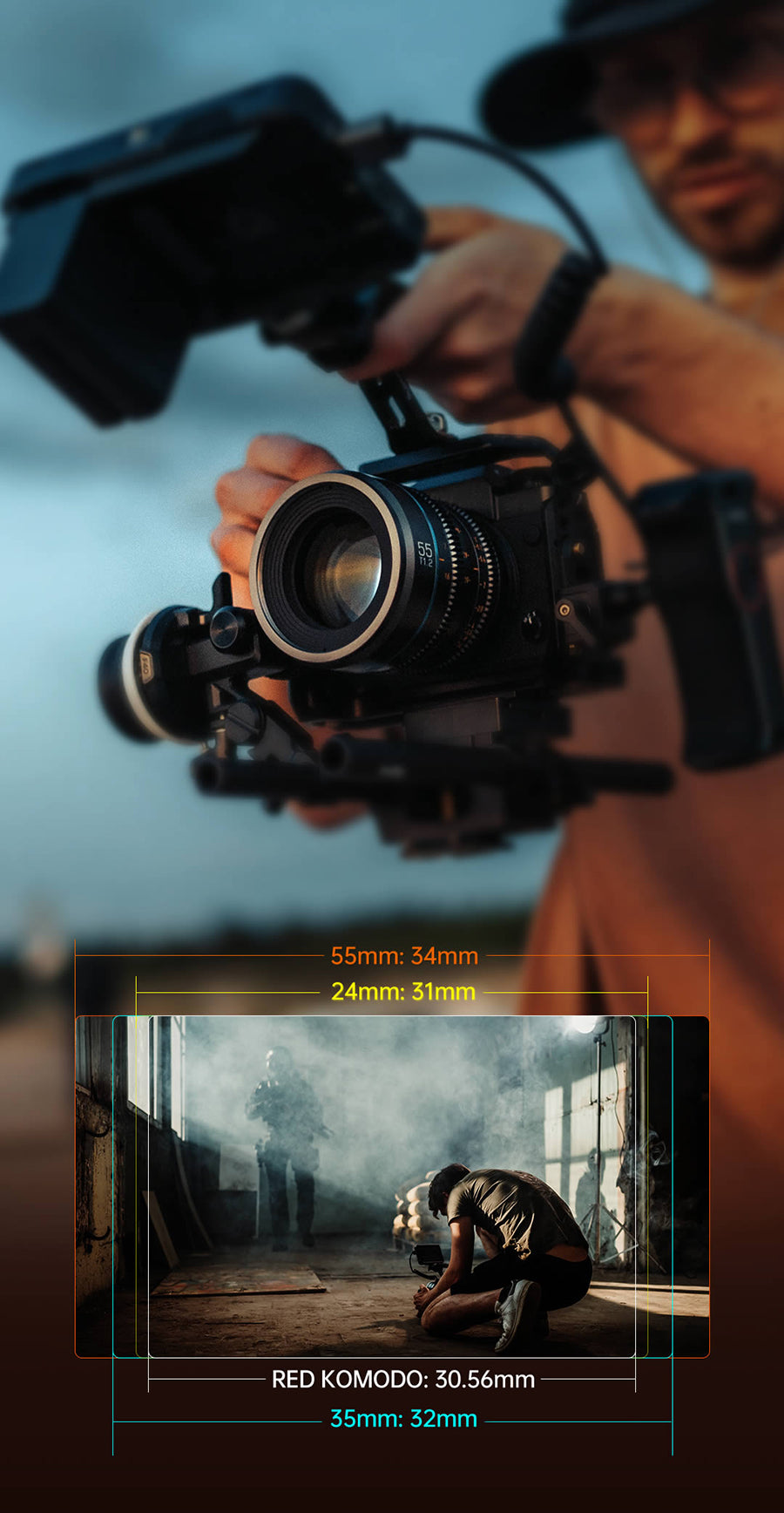 Ideal for Low-Light Shooting

Reducing the use of light in low-light conditions makes you a run-and-gun filmmaker. Besides,
there is no need to use extremely high ISO and you can get a pure low noise night scene.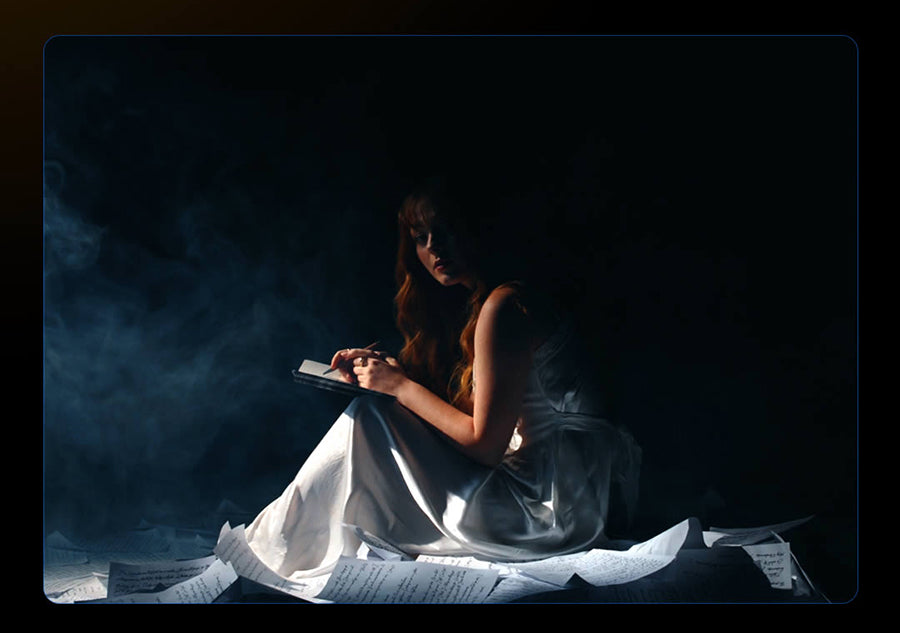 Because of its great optical performance, the image is still sharp at max aperture. In addition, fast T1.2 aperture contributes
to pleasing bokeh quality and clear subject, thus giving the footage extra expressiveness and aesthetics.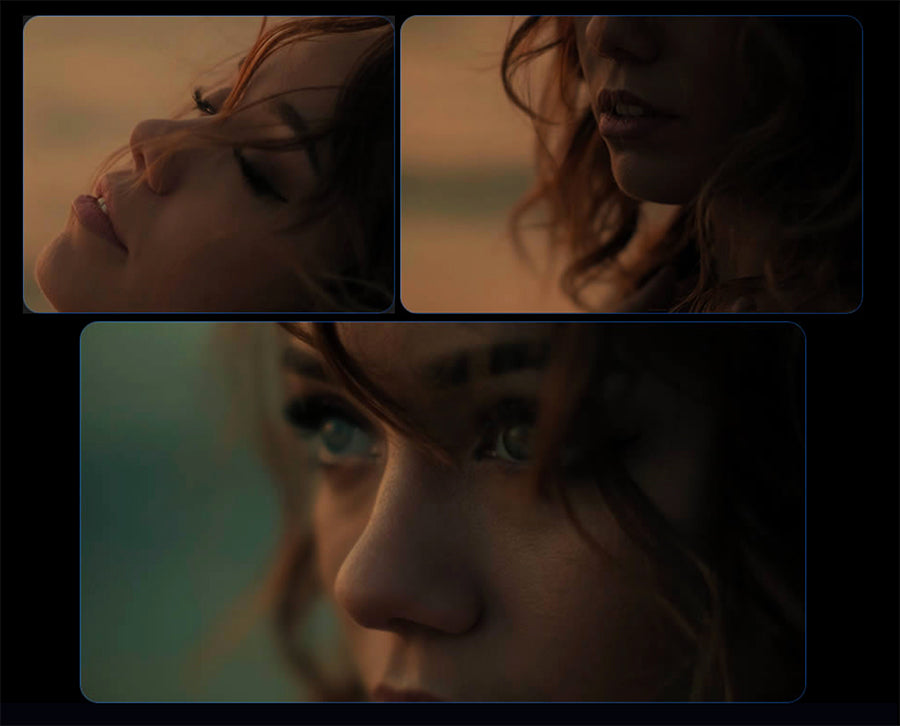 Step-less aperture ring design helps to shoot smooth and stable scene.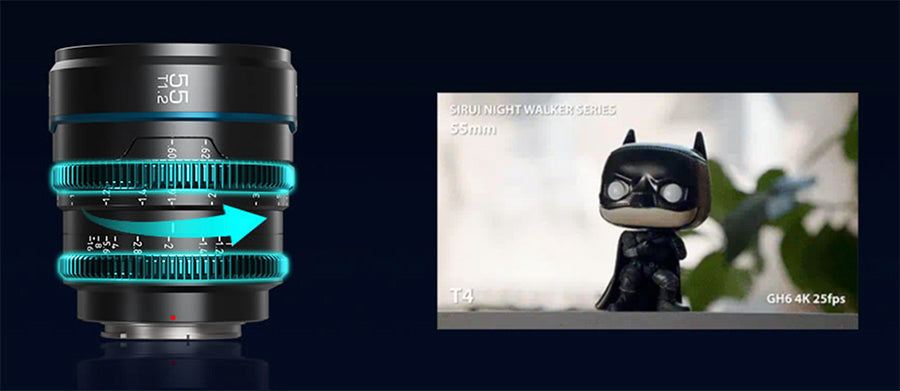 Outstanding Optical Performance

ED glass and high-index lens are added to reduce lens size and meanwhile provide outstanding optical performance
with perfect sharpness, minimal focus breathing and strictly controlled aberration.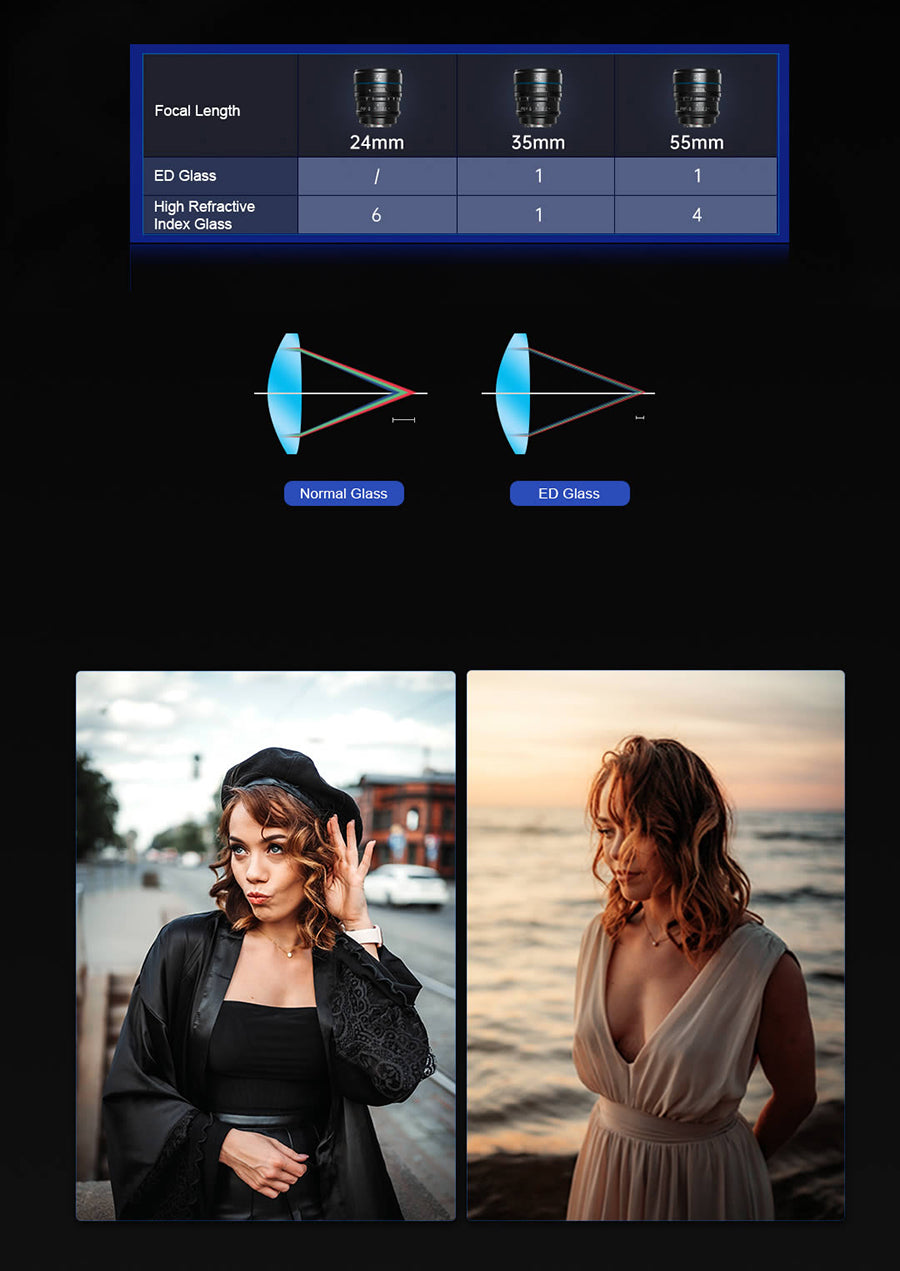 Compact Size

The minimum weight of one single lens with advanced optical construction is only 510g, which creates a new
era of lightweight fast aperture lens. Also, strong aluminum alloy construction helps protect inner optical elements.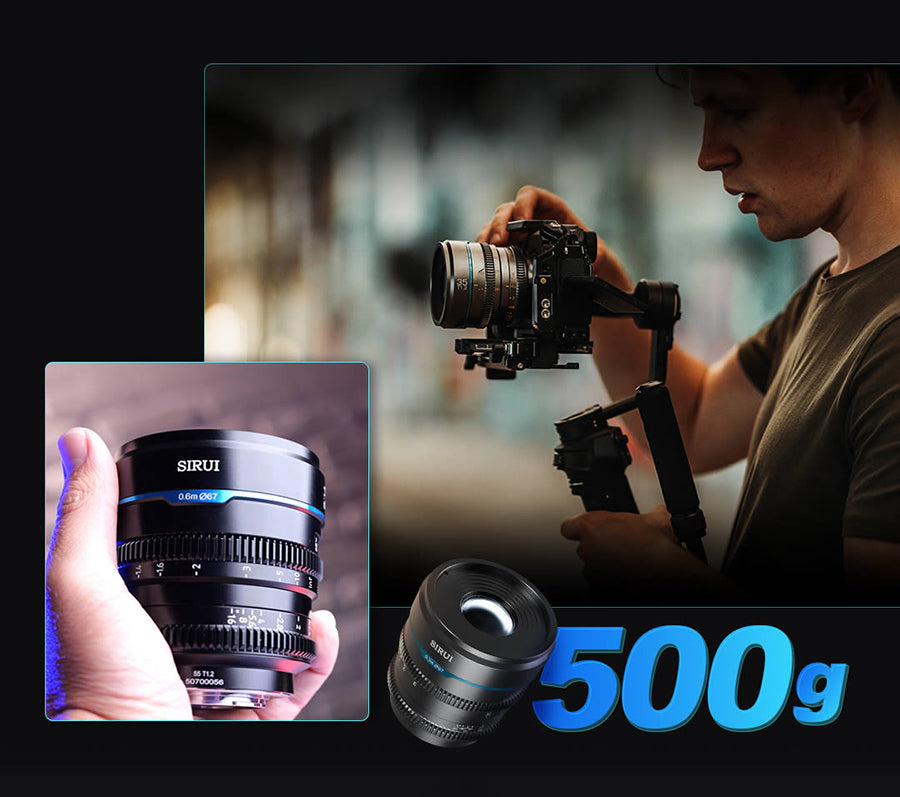 Ideal for run & gun shooting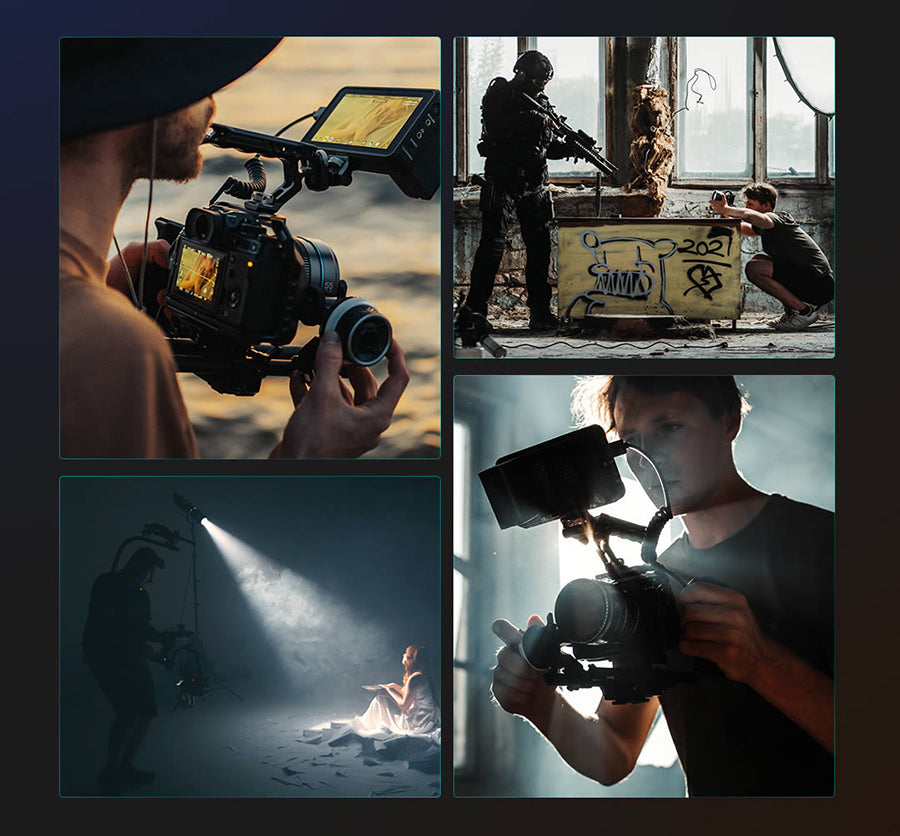 Consistent in a Set

All focal lengths of the same mount have the same size.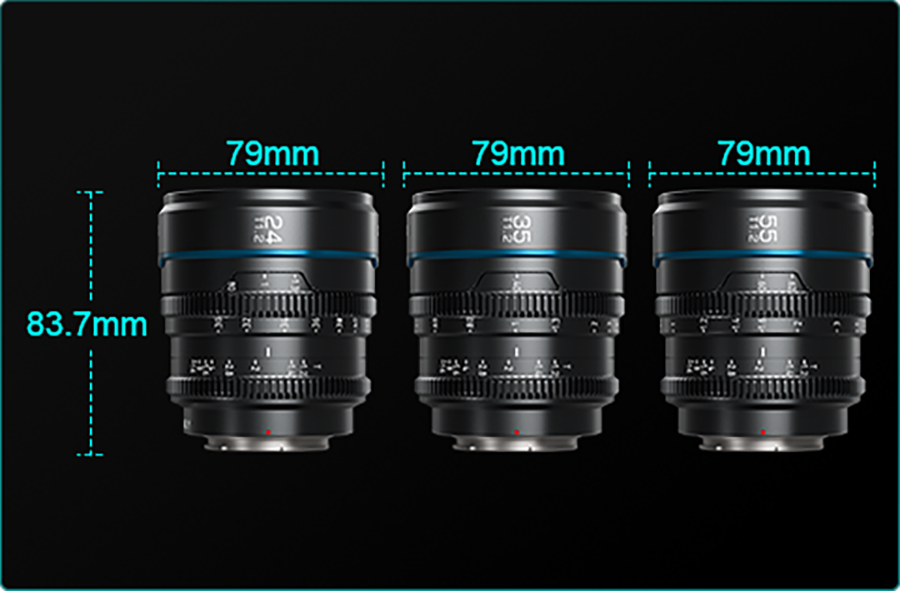 Uniform 67mm filter thread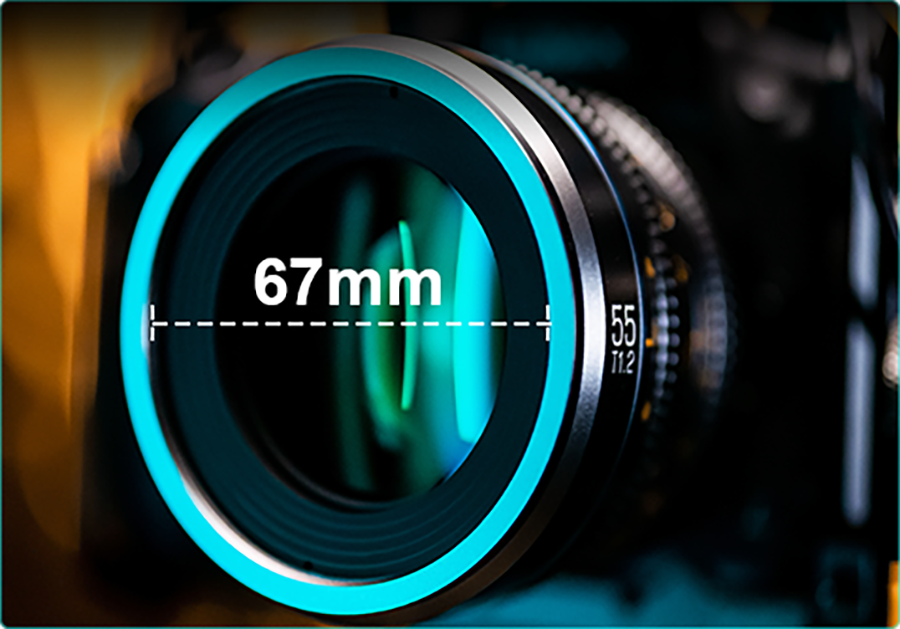 Identical 77.6mm diameter focus ring with 270°rotation angle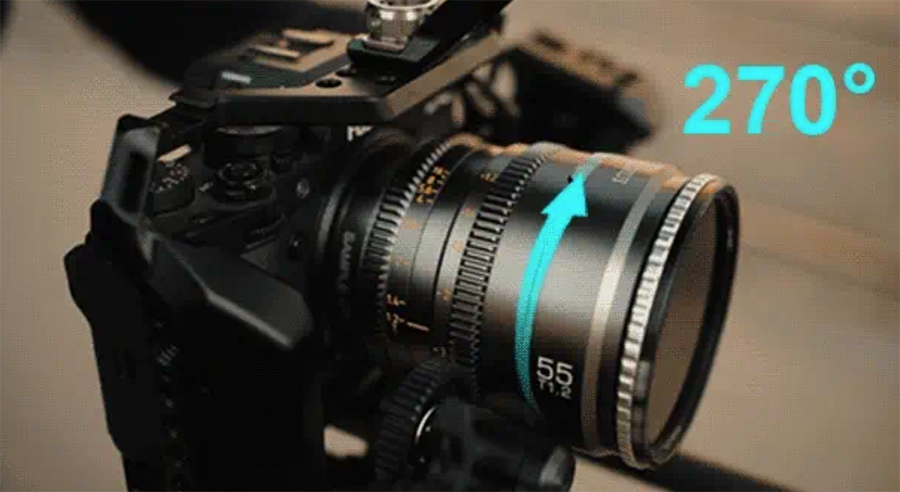 Identical gear position across the lenses for quick lens swaps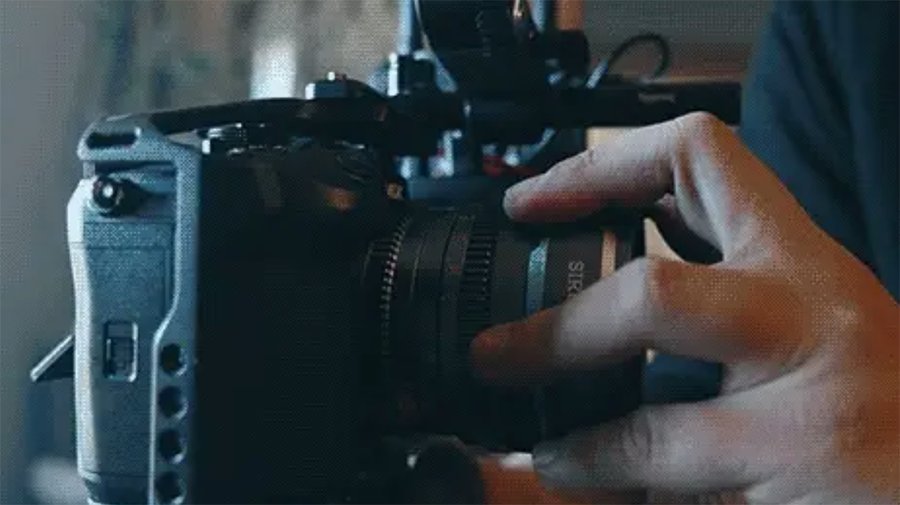 Matched color tone and image quality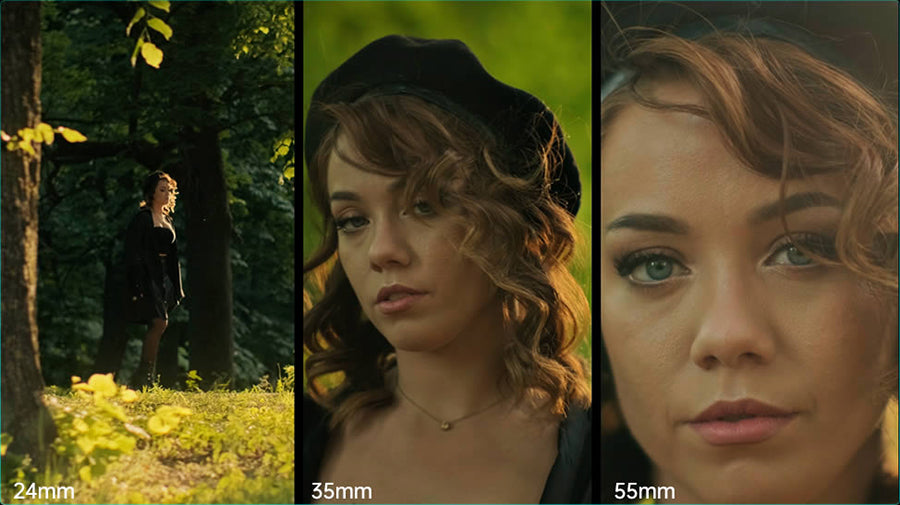 Two Colour Selection

Classic black and fashionable metal gray are available for you. So you can choose what you like.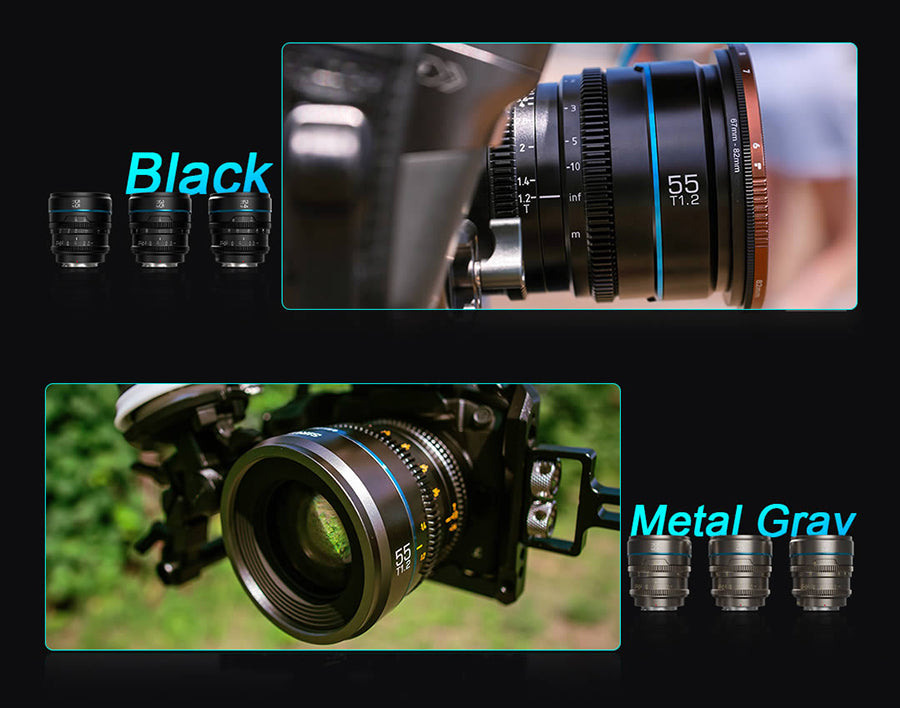 4 Native Mount Selection
Specifications:

Model
24mm T1.2

35mm T1.2

 

55

mm T1.2

Focal Length
24mm

35mm

55

mm

Frame
APS-C/S35

APS-C/S35

APS-C/S35

Aperture
T1.2-T16

T1.2-T16

T1.2-T16

Lens Structure
12 Elements in 11 Groups

11 Elements in 10 Groups

11 Elements in 10 Groups

Aperture Blade
12
12
12
Minimum Focus Distance
0.3m

0.4m

0.6m

Filter Spec
M67*0.75

M67*0.75

M67*0.75

Rotation Angle of the Focus Ring
270°

270°

270°

Max.Diameter
79mm / 3.11inches

79mm / 3.11inches

79mm / 3.11inches

Diameter of the Focus Ring
77.6mm / 3.06inches

77.6mm / 3.06inches

77.6mm / 3.06inches

Mount
E/X/RF/MFT

E/X/RF/MFT

E/X/RF/MFT

Length
E: 85.4mm / 3.36inches
X: 85.7mm / 3.37inches
RF: 83.7mm / 3.30inches
MFT: 84.1mm / 3.31

E: 85.4mm / 3.36inches




X: 85.7mm / 3.37inches




RF: 83.7mm / 3.30inches




MFT: 84.1mm / 3.31

E: 85.4mm / 3.36inches




X: 85.7mm / 3.37inches




RF: 83.7mm / 3.30inches




MFT: 84.1mm / 3.31

Weight
E: 505g / 1.11lbs
X: 

505g / 1.11lbs


RF:  509g / 1.12lbs
MFT: 500g / 1.10lbs

E: 513g / 1.13lbs




X: 

512g / 1.13lbs




RF: 

518g / 1.14lbs
MFT: 510g / 1.12lbs

E: 555g / 1.22lbs




X: 

573g / 1.26lbs




RF: 

585g / 1.29lbs
MFT: 570g / 1.26lbs

Package Contents:Black / E Mount(536290):

1x SIRUI Night Walker 24mm T1.2 S35 Cine Lens (Black/E Mount)(536243)

1x 
SIRUI Night Walker 35mm T1.2 S35 Cine Lens (Black/E Mount)(536251)
1x SIRUI Night Walker 55mm T1.2 S35 Cine Lens (Black/E Mount)(536259)
Black / RF Mount(536291):

1x SIRUI Night Walker 24mm T1.2 S35 Cine Lens (Black/RF Mount)(536244)
1x SIRUI Night Walker 35mm T1.2 S35 Cine Lens (Black/RF Mount)(536252)
1x SIRUI Night Walker 55mm T1.2 S35 Cine Lens (Black/RF Mount)(536260)

Black / X Mount(536292):

1x SIRUI Night Walker 24mm T1.2 S35 Cine Lens (Black/X Mount)(536245
)
1x 
SIRUI Night Walker 35mm T1.2 S35 Cine Lens (Black/X Mount)(536253
)
1x SIRUI Night Walker 55mm T1.2 S35 Cine Lens (Black/X Mount)(536261
)
Black / MFT Mount(536293):

1x SIRUI Night Walker 24mm T1.2 S35 Cine Lens (Black/MFT Mount)(536246)
1x SIRUI Night Walker 35mm T1.2 S35 Cine Lens (Black/MFT Mount)(536254)
1x SIRUI Night Walker 55mm T1.2 S35 Cine Lens (Black/MFT Mount)(536262)


Gray / E Mount(536294):
1x SIRUI Night Walker 24mm T1.2 S35 Cine Lens (Gray/E Mount)(536247)
1x SIRUI Night Walker 35mm T1.2 S35 Cine Lens (Gray/E Mount)(536255)
1x SIRUI Night Walker 55mm T1.2 S35 Cine Lens (Gray/E Mount)(536263)

Gray / RF Mount(536295):
1x SIRUI Night Walker 24mm T1.2 S35 Cine Lens (Gray/RF Mount)(536248)
1x SIRUI Night Walker 35mm T1.2 S35 Cine Lens (Gray/RF Mount)(536256)
1x SIRUI Night Walker 55mm T1.2 S35 Cine Lens (Gray/RF Mount)(536264)

Gray / X Mount(536296):
1x SIRUI Night Walker 24mm T1.2 S35 Cine Lens (Gray/X Mount)(536249)
1x SIRUI Night Walker 35mm T1.2 S35 Cine Lens (Gray/X Mount)(536257)
1x SIRUI Night Walker 55mm T1.2 S35 Cine Lens (Gray/X Mount)(536265)

Gray / MFT Mount(536297):

1x SIRUI Night Walker 24mm T1.2 S35 Cine Lens (
Gray
/MFT
 Mount)(536250
)
1x 
SIRUI Night Walker 35mm T1.2 S35 Cine Lens (
Gray/MFT
Mount)(536258
)
1x SIRUI Night Walker 55mm T1.2 S35 Cine Lens (
Gray/MFT
Mount)(536266
)