Portkeys LEYE SDI 3G-SDI/HDMI Camera Viewfinder
---
Brand: PortKeys
SKU:

LEYE SDI

Product code:

534720
The Portkeys LEYE SDI electronic viewfinder offers a crisp viewing option for mirrorless cameras, Z CAM, BMPCC, Canon C70 or other camera lacking an integrated viewfinder.
This viewfinder has an HDMI input that supports up to UHD 4K30 video and an SDI input supporting up to 1080p60 video.
LEYE EVF features include selectable and user-defined LUT support via USB, 3G-SDI input interface,4-pin aviation connector power input, the D-Tap power cable provided, and a battery slot at the back. Image display tools include peaking, zebra, waveform, histogram, and vectorscope functions. The LEYE SDI EVF's diopter adjusts from -8 to + 4, offering a wide range of eyesight correction that minimizes the need to wear glasses while operating your camera.
Features:
2.4" LCD Viewfinder

1440 x 900 Resolution

Built in exposure tools

3G-SDI/4K HDMI Input

Heat dissipation holes upgrade

4-pin aviation power connector

D-tap power cable supported

Supports up to UHD 4K30p via HDMI Input

Supports up to 1080p60 via SDI Input

Specifications:


LCD Resolution

1440 x 900

Size

2.4″

FOV

178º

Brightness
450 Nits

Diopter range

+8 to -3

HDMI

Input video resolution up to UHD 4K 30fps

SDI

3G-SDI  /  Input video resolution up to 1080p60

USB (Type A)

Load user-defined LUTs / Firmware Update

Mounting Option

Metric Rosette with 1/4″-20 screw thread

Input color depth

8-bit

Contrast Ratio
1100:1

Exposure tools

Zebra, False color, Waveform, Histogram, Vectorscope, Grids

Other tools

Focus peaking, magnifier, tint, scaling, underscan, grids, and more

Built-in LUTs

Selectable LUTs & user-defined LUTs

Power Input

4-pin aviation connector / USB-A Support Power Supply of 5V 2A Power Bank

Support Battery Model
Canon LP-E6

Power Consumption

6W (maximum)

LxWxH

125 x 70 x 78mm (approximately)

Net weight

265 gram (approximately)

Material
Aluminum Alloy + EPE + ABS Engineering Plastics
Software Function
Peaking / RGB Waveform / Zebra / Audio Meters / Cross Hair / Zooming / Grids / H/V Delay / Sharpness / Contrast / Brightness / Colour Temperature
HDMI Signal

4096x2160@24Hz
3840x2160@23.97Hz,24Hz,25Hz,29.97Hz,30Hz
1920x1080p@23.97Hz,24Hz,25Hz,29.97Hz,30Hz,50Hz,59.94Hz,60Hz
1920x1080psf@23.97Hz,24Hz,25Hz,29.97Hz,30Hz
1920x1080i@50Hz,59.94Hz,60Hz
1280x720p@50Hz,59.94Hz,60Hz
720x576p@50Hz
720x576i@50Hz
720x480p@50Hz,59.94Hz,60Hz
720x480i@50Hz,59.94Hz,60Hz




SDI Signal
1920x1080p@50fps,59.94fps,60fps
1920x1080p@50Hz,59.94Hz,60Hz YUV422
1920x1080p@23.98Hz,24Hz,25Hz,29.94Hz,30Hz YUV444/YUV422/RGB444
1920x1080psf@23.98Hz,24Hz,25Hz,29.97Hz,30Hz YUV444/YUV422/RGB444
1920x1080i@50Hz,59.94Hz,60Hz  YUV444/YUV422/RGB444
1280x720p@50Hz,59.94Hz,60Hz  YUV444/YUV422/RGB444
720x480i@59.94Hz YUV422
720x576i@50Hz YUV422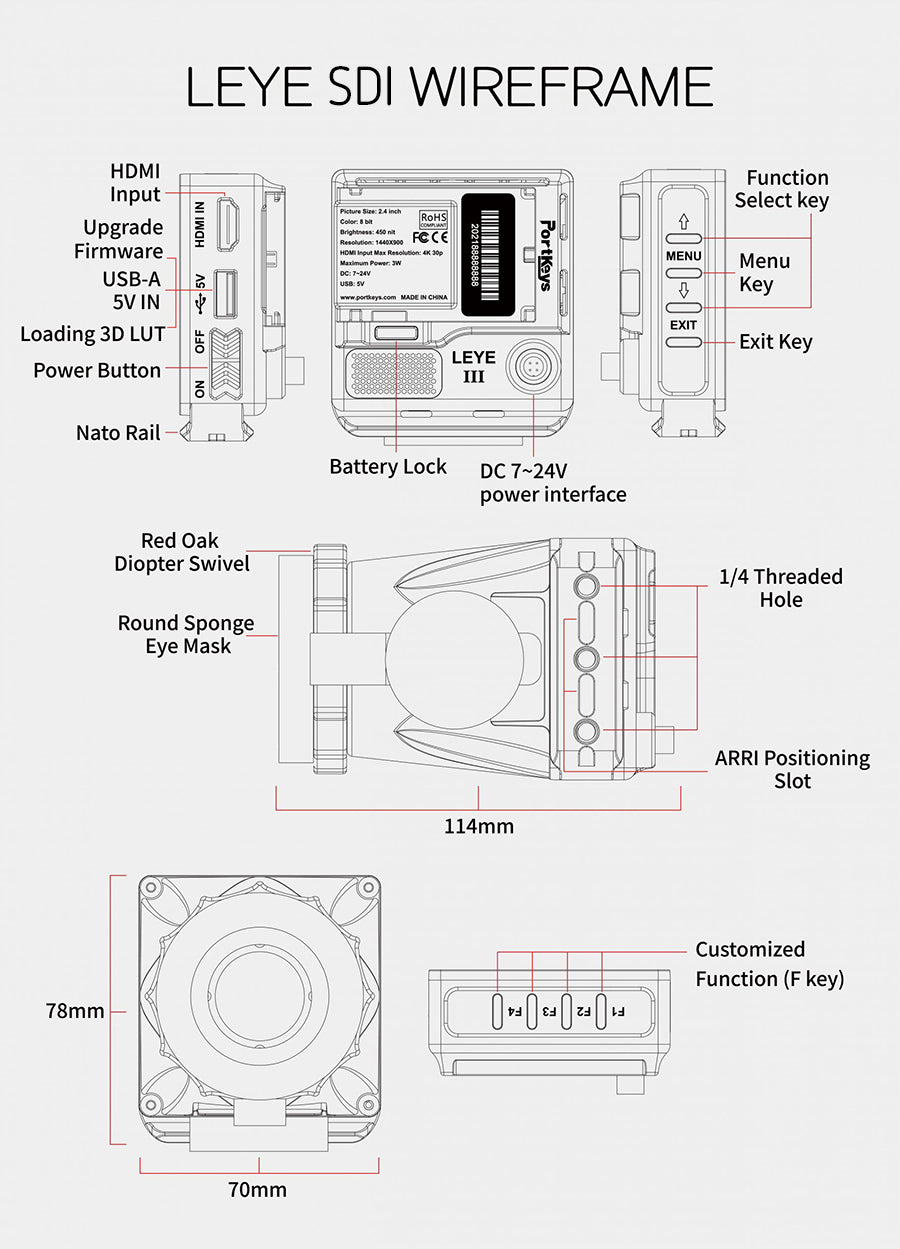 Package Contents:
1x L
EYE SDI 
1x HDMI Ttransverter
1x Sponge Eye Mask
1x USB Disk
1x D-Tap Power Cable 
1x Package