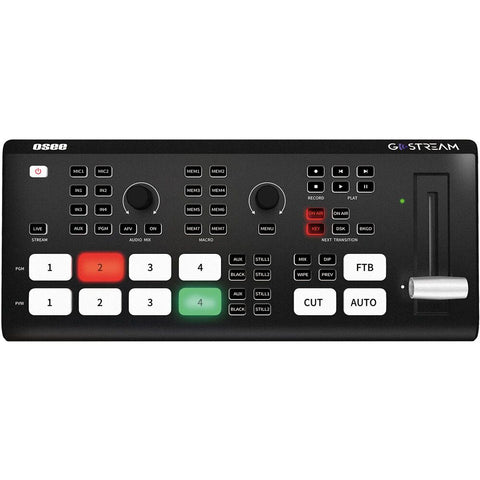 OSEE GoStream Deck HDMI/USB Live Streaming Video Switcher
---
Brand: OSEE
Product code:

536503

All In One - Your Ultimate Live Stream Device

Osee's GoStream Deck seamlessly integrates powerful functions into a compact device. It features a full functional production switcher, a multiview, a standard audio mixer, a direct-to-web stream engine, a video recorder, a video player, and built-in comprehensive controls. Connecting GoStream Deck to a portable monitor for multiview and to a number of HDMI or UVC cameras allows you to effortlessly set up a live stream event like a seasoned professional.



Streamline Your Setup To The Simplest

With its fully-featured control panel, built-in user interface, SD card recording and player function, no separate PC, external hard disc, or additional player is required, minimizing the number of equipment used during live events. This speeds up your setup, saves precious space on location, and greatly improves reliability in the field.



Stream To 3 Destinations Simultaneously

Equipped with 2 USB ports, GoStream Deck conveniently accommodates one for USB camera connectivity and the other for streaming software like OBS, Vmix, and Zoom. Additionally, the Ethernet port enables you to directly stream to three destinations simultaneously, offering exceptional streaming versatility.



Extra Video Inputs And Outputs For Versatility

Accepting 4 HDMI camera inputs and 1 AUX video input from either its internal SD card player or UVC inputs from USB-C, GoStream Deck allows you to connect up to 5 video sources, enabling you to start your live streaming in no time. GoStream Deck features 2 HDMI outputs, enabling you to monitor any content ready to be on air with ease using multiview. Simultaneously, you can also connect it to a projector for seamless presentations.



Built-in Comprehensive Audio Mixer

The audio mixer is equipped to handle 7 audio inputs, with 2 from mic inputs, 4 from HDMI inputs, and an additional 1 from AUX input. These inputs can be seamlessly mixed into the PGM out using either ON/OFF or AFV controls. Users have the flexibility to adjust the input gain, balance, and fade level for each audio input, as well as control the gain of the PGM out. Moreover, the mixer allows for audio monitoring from the selected source through earphone, multiview, and PVW output options, providing comprehensive oversight and control over the audio production process.



Super Source For Unified Video Integration

The Super Source feature allows you to merge two video windows and one background video into a unified source. This single source can then be utilized like any other standard video input, seamlessly integrated into the composition engine. The source of video windows and background can be selected from video inputs, internally generated signals like still image. Additionally, you can easily modify the layout, size, position, and border of each video window, giving you full control over the visual presentation.



High-Quality Video Recording and Playback

The internal video recorder boasts an impressive capability to record at a high bitrate, ensuring superior video quality compared to standard streaming. Additionally, the internal video player allows seamless playback of both user-generated content and pre-recorded clips as backup prior to going live. Recording and playback are efficiently handled using only SD card without the requirement of any external USB devices.



Six-Layer Composition Engine For Pro Visuals

The six-layer composition engine offers an impressive array of special effects, including Super Source, upstream keyers, downstream keyers, Chroma keyers, a wide range of transitions, and a still image generator. With all these powerful features at your fingertips, your live production will be wrapped in a truly professional and polished look. Empowered by the composition engine, GoStream Deck enables you to craft visually captivating, multi-layered effects perfect for interviews and talk shows. With all these impressive features, you now have access to the very capabilities that were once only found in premium level device, making your productions truly remarkable and fulfilling your creative dreams.
Specifications:
5 Video Inputs
IN 1~4
HDMI type A, 12bit YCC 4:2:2 or 8bit RGB 4:4:4, 2 channel embedded audio
AUX
Configurable between UVC input USB 2 (USB Type-C 2.0) and SD card video player
3 Video Outputs
OUT 1
Configurable among IN 1-4, UVC, SD card video player, PVW and PGM, Program Output by default
OUT 2
Configurable, HDMI Multiview Monitoring Output by default
USB 1

USB Type-C 2.0

 for connecting to OBS, Zoom, Vmix etc. Support up to 1080p30 MJPEG
SD Card Slot
1
For video playback, recording, still image upload, stream key import, macro import and export, firmware upgrade (check the requirement of SD card for high data rate up to 80Mb/s recording)
Video Input Re-Sync (Frame Synchronizer)
On all 4 HDMI inputs and AUX input
Frame Rate and Format Converters
On all 4 HDMI inputs and AUX input
2 Audio Input
MIC 1~2
3.5mm Stereo Mini Jack, support MIC, MIC+power and Line
1 Audio Output
PHONE
3.5mm Stereo Mini Jack, audio monitoring with adjustable level
Direct Streaming
Ethernet
Supports 10/100/1000 BaseT and 3 simultaneous destinations for live streaming
Video Input Formats
720p50/59.94/60
1080i50/59.94/60
1080p23.98/24/25/29.97/30/50/59.94/60
Video Output/Streaming Formats
1080p24/25/30/50/60
HDMI Input Resolutions from Computers
1280x720p 50/59.94/60Hz
1920x1080p 23.98/24/25/29.97/30/50/59.94/60Hz
1920x1080i 50/59.94/60Hz
Ultra HD/4K Video Standards
Not support
Video Sampling
Supports both YCC 4:2:2 12bit and RGB 4:4:4 8bit on all of the HDMI input and output
Video Coding Range
Supports 0-1023 and 64-940 in 10 bit range on all of the HDMI input and output
Color Space
Rec 709
Video Effects
Upstream Key
1
Downstream Key
1
Chroma Key
1
Luma Key
1
Transition
18 user selectable patterns with versatile modification
Layer of the ME composition engine
6
Color Generator
2 on bus and 3 for dedicated effects
Pattern Generator
2
PIP
1 Video Source Overlay on video or still Background Source
Super Source
2 Video Sources Overlay on video or still Background Source
Still Image
Still generator
2 with fill and key
Still storage
32 with fill and key for each still generator
Format
PNG
Audio Mixer
2 Channel Analog Audio Inputs
4 Channel HDMI Embedded Audio Inputs
1 Channel AUX Embedded Audio Input
1 Channel PGM Audio Monitoring
Selectable On/Off/Audio-Follow-Video per channel plus separate gain control per channel
Level and peak metering, plus audio adjustment: fader, balance, input and delay
Analog Input
Unbalanced stereo
Analog Input Delay
0~170ms
Input Impedance
12kOhm input impedance
Max Input Level
+6dBV
Mic Plug In Power
Available on both 3.5mm mini jack connections
Streaming
Supports direct live streaming using Real Time Messaging Protocol (RTMP) over ethernet, up to 10mb/s
Software Control
Full control by built-in control menu (display on multiview) without the need of an additional PC
Multiview Monitoring
PGM/PVW Windows Position
Left/right configurable
Info Display
Program/Preview/HDMI IN 1~4/UVC/Still 1/Still 2/Source Label (UMD)/Tally/Marker/Audio Meter/Fade Level/Audio On and AFV Status/Recording/Streaming/Control Menu
Video Standard
1080p24/25/30/50/60, all of the video outputs use the same output format
Recording
High quality H.264 recording up to 70Mb/s, can be set to a different data rate as streaming
Supports SD card formatted ExFAT (Windows/Mac)
Playback
Playback high quality video up to 70mb/s, transition triggers automatic playback, finishing playback triggers the next transition, 3 playback modes including Repeat/Sequential/Play Once
Macro
Up to 8 Macros, the Macros can be import from or export to SD card for sharing with others
Input Voltage
External 12V DC
Consumption
12W
Power Adaptor
EU & US standard power adaptors included
Weight
500g
Dimension (W×H×D)
252.4×49.3×107.3mm
Working Temperature
5°C to 40°C (41°F~104°F)
Storage Temperature
-10°C to 60°C (14°F~140°F)
Humidity
10%~90% (No Condense)
1 Year Limited Manufacturer's Warranty.

Package Contents:
1x OSEE GoStream Deck HDMI/USB Live Streaming Video Switcher
1x Power Adapter
1x Limited 1-Year Manufacturer Warranty