FalconEyes RX-24TDX 9FX 150W Bi-Color Roll-Flex Flexible LED Panel
---
Brand: FalconEyes
SKU:

RX-24TDX

Product code:

534065
The FalconEyes Roll-Flex LED light is developed with the latest LED technology (CRI Ra 95+) to perform rollable and flexible movement with a housing that's only 10mm thick. 


PLEASE NOTE: The RX-24TDX 9FX Version is built with a new bi-color control system, compatible with RC-5B remote controller (2.4G), Added scene mode, with 9 different scene effects:

Lightning 1
Lightning 2
TV Screen
Candle
Paparazzi
Strobe
High/Low Beam
Double Flash (Hazard)
Warm Breathing

The Roll-Flex LED Panel is available in several different sizes and power levels to suit the needs of any production;

RX-12T (30 x 45cm) / 34W / Daylight
RX-12TD (30 x 45cm) / 50W / Bi-color
RX-18T (45 x 60cm) / 62W / Daylight
RX-18TD (45 x 60cm) / 100W / Bi-color
RX-29TDX (121 x 24cm) / 100W / Bi-color / DMX
RX-24TDX (62x 62cm) / 150W / Bi-color / DMX

All the panels in this series are handy, lightweight and easy to carry making them must-have equipment for studio or outdoor use.


The Roll-Flex panel can be set up either with an X-Type bracket for easy mounting on light stands, or use the fastener strips to attach the panel to any fabric surface, even tessellate panels to make a single tiled light source!
Specification:

Model

RX-24TDX

(Old Version) Discontinued

RX-24TDX 9 FX

(New Version)

Light Size

62.5 x 62.5cm

Power

150W

No. of LED (SMD)

756pcs

Operating Voltage

DC-15V 10A (compatible with V-mount battery)/ AC adaptor (included)


Color Temperature

3000K - 5600K (step-less)

Dimming

0-100% Step-less dimming

Beam Angle

10-360°

CRI

95

LUX

11600 (0.5m) / 3790 (1m) / 1060 (2m)


Light Effects

No

9 Effects Built-in

DMX Cable Port

Rj45 port

3 Pin Port

Compatible Remote Controller

RC-3T

RC-5B

Quick Release Plate

No

Built-in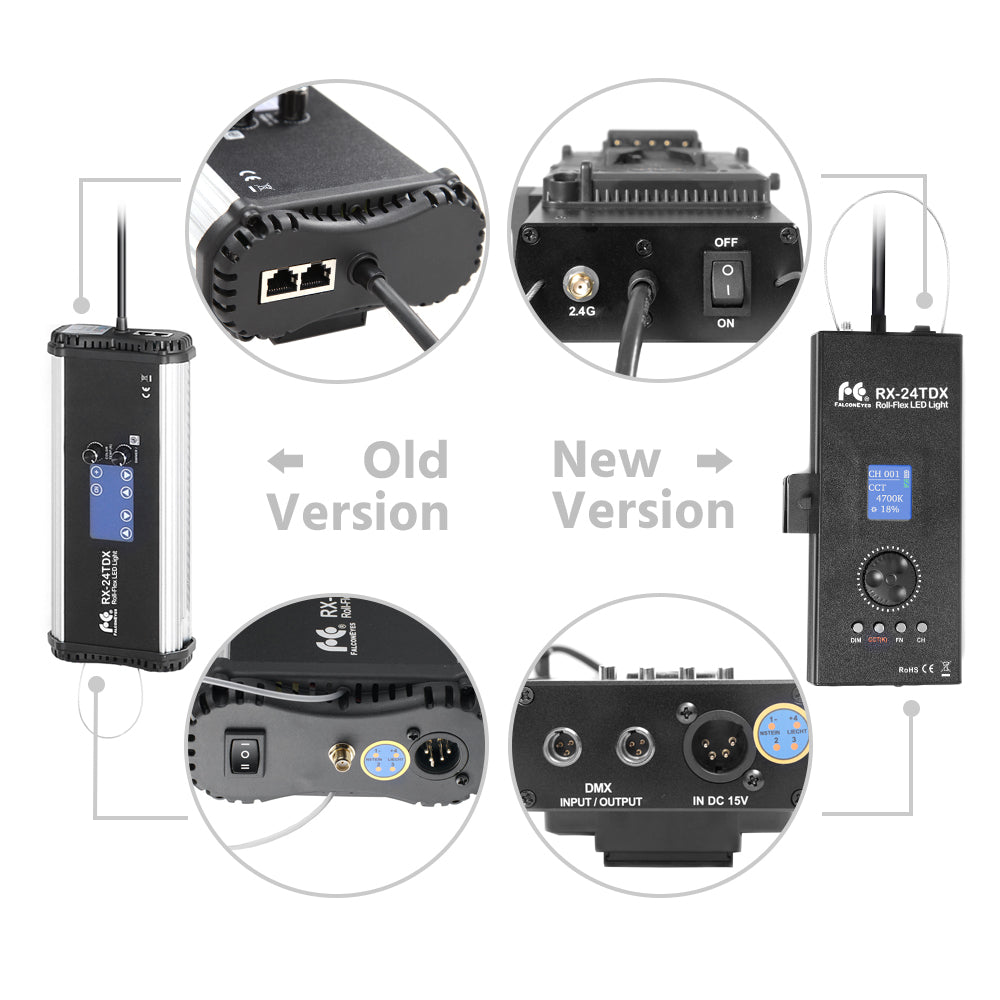 Package Content: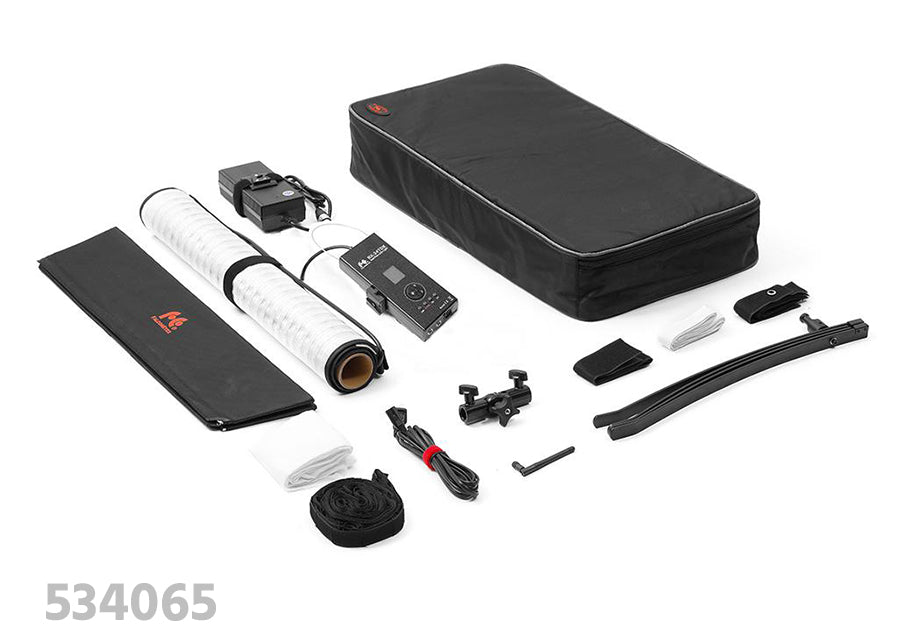 Basic Kit (534065):
1x RX-24TDX Roll-Flex Light
1x Control Box
1x X-Shaped Bracket
1x L-Shape Bracket
1x Adaptor
1x Adaptor Power Cable
1x 2.4G Signal Enhancement Antenna
1x Carrying Bag
1x RX-24SBHC Soft Box (531524)

Advanced Kit (PK1714):
1x RX-24TDX 9FX Light Basic Kit (534065)
1x FalconEyes RX-24OB Soft Box (531523)
1x FalconEyes RC-5B Wireless Remote Controller (533047) 

Dual Light Kit  (PK1687):

2x RX-24TDX 9FX Light Basic Kit (534065)
2x FalconEyes RX-24OB Soft Box (531523)
1x FalconEyes RC-5B Wireless Remote Controller (533047)
2x FalconEyes Extension Power Cable 10m (532391)


Dual Light Power Kit(PK1688):
2x RX-24TDX 9FX Light Basic Kit (534065)
2x FalconEyes RX-24OB Soft Box (531523)
1x FalconEyes RC-5B Wireless Remote Controller (533047)
2x FalconEyes Extension Power Cable 10m (532391)
2x 135Wh Battery (531925)
1x Dual Charger (532171)