Aputure NOVA P600c 600W RGBWW Soft Light Panel
---
Brand: Aputure
SKU:

NOVAP600CKIT

Product code:

534391

THE NEXT WAVE


The Nova P600c represents the next generation of the Nova family of LED panels, building on the foundation of high color fidelity, 2,000K~10,000K CCT, and soft light quality while also featuring best-in-class output, and a new suite of professional-level controls.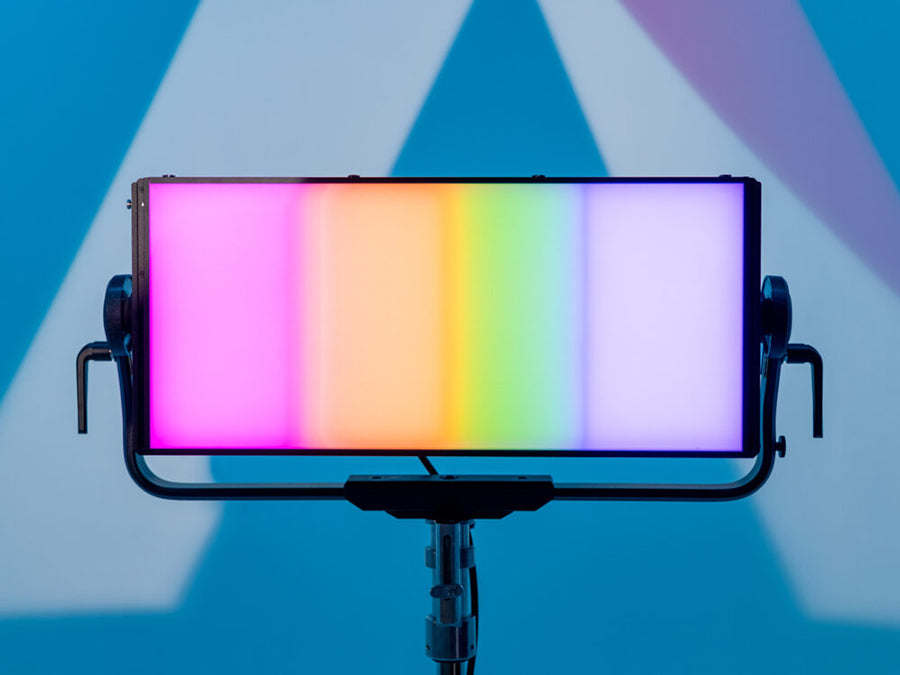 UNMATCHED BRIGHTNESS

With its 600W RGBWW chipset, the Nova P600c is the brightest 2x1 Soft Panel on the market, boasting an output of 2,298 lux at 3 meters.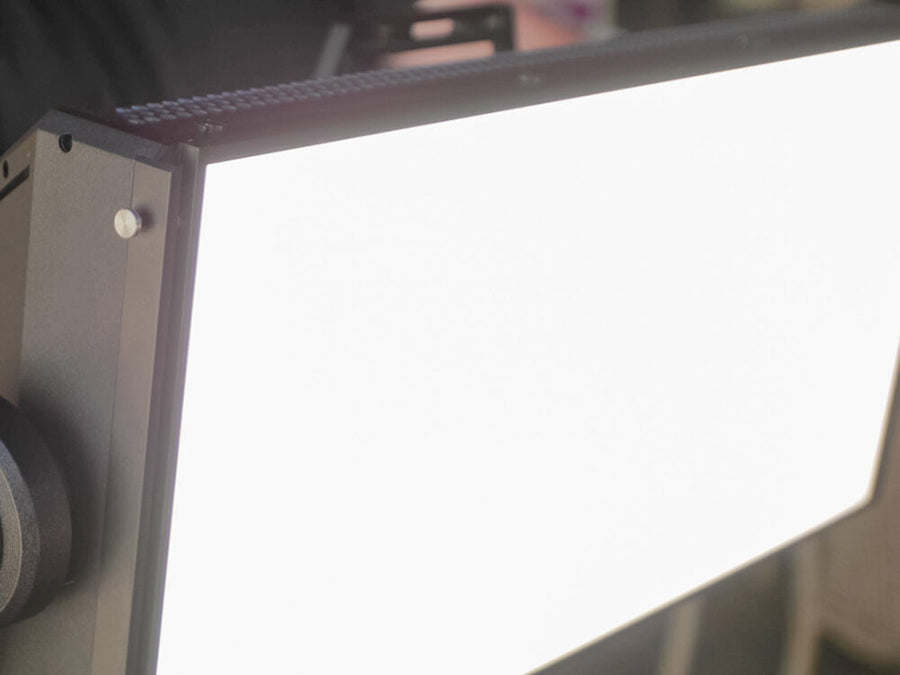 4 LIGHT ENGINES


The Nova P600c is the first Aputure fixture to feature multiple light engines and pixel control. Its multiple light engines can be activated when using the built-in lighting effects, or can be controlled independently via DMX.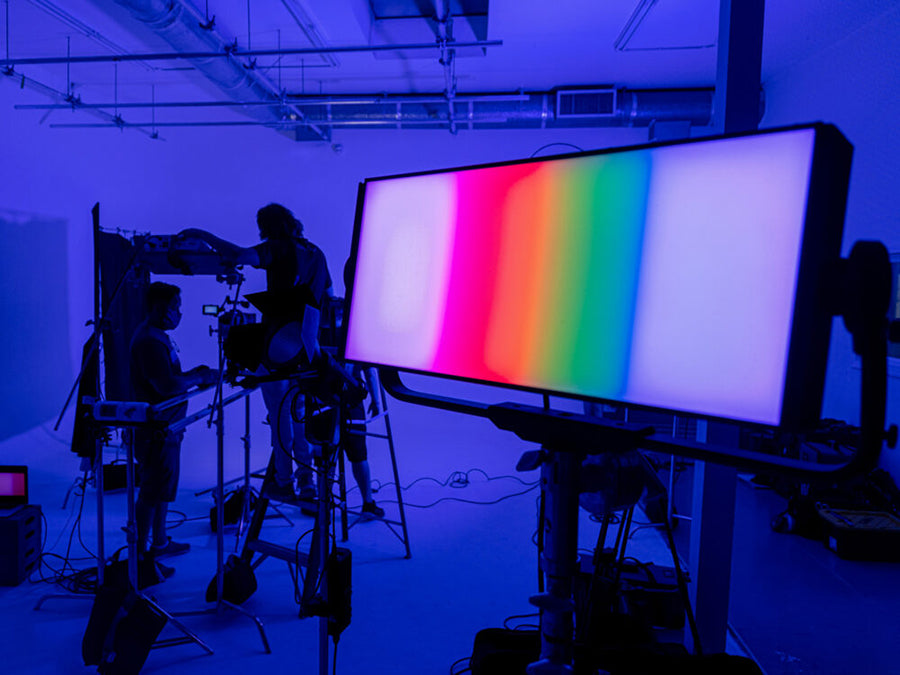 CURVED DUAL-LOCK YOKE


The yoke on the Nova P600c has also undergone an upgrade, now featuring a curved design, similar to the LS 600d Pro and 600x Pro, allowing it to maintain tilt-control when using modifiers, which is difficult for traditionally designed straight yoke LED panels.

CABLE-LESS CONTROL BOX

In addition to its 3 meter extension cable, the P600c's control box has been updated with contact pins integrated into the Lightning Clamp for completely cable-less operation.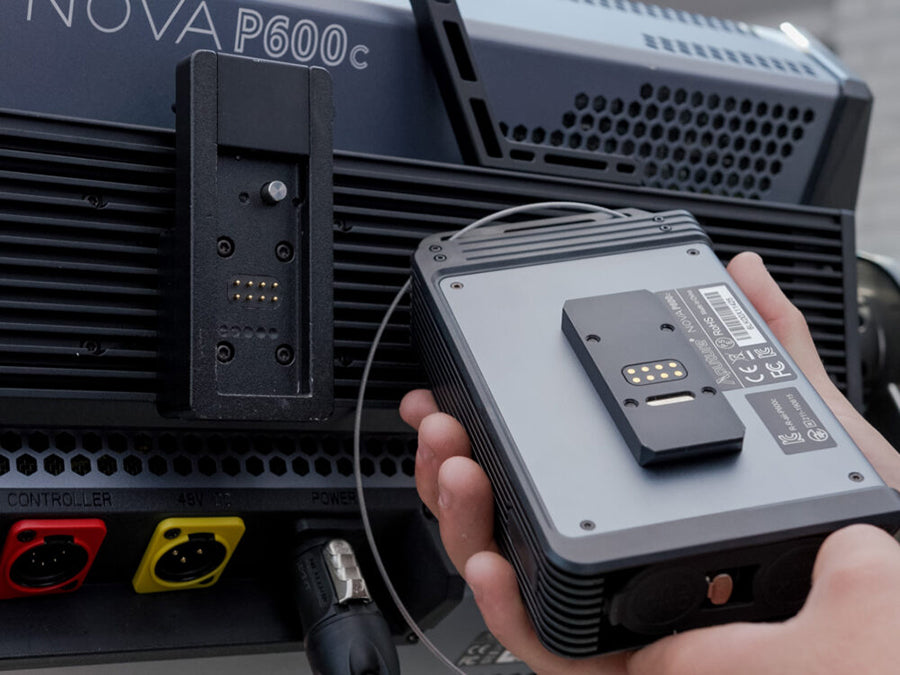 INTEGRATED POWER SOLUTIONS

The Nova P600c features a built-in power supply, minimizing weight and setup time. It also features a 48V/15A 3-Pin XLR DC input for users who want to operate the fixture via quiet battery power solutions instead of noisy generators.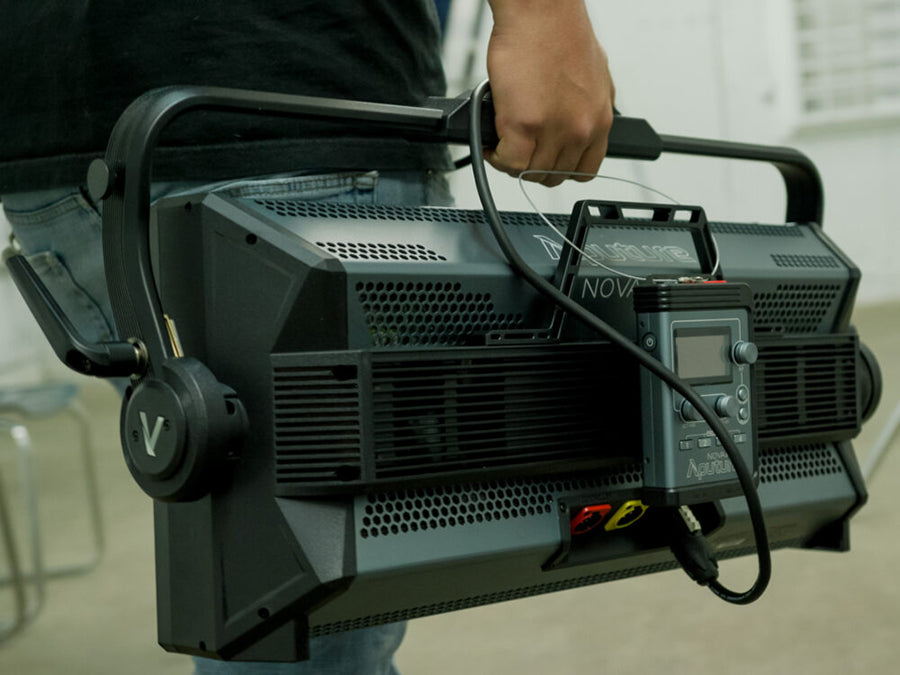 SIDUS LINK

As a member of the Aputure family, the Nova has integrated Sidus Mesh technology, allowing it to wirelessly network with other Sidus-enabled lights, all of which can be controlled through the Sidus Link mobile app.

LUMENRADIO CRMX

Professional lights deserve professional-level connectivity. In addition to 5-Pin DMX512, lighting technicians can also control the Nova P600c wirelessly using its built-in Lumenradio CRMX.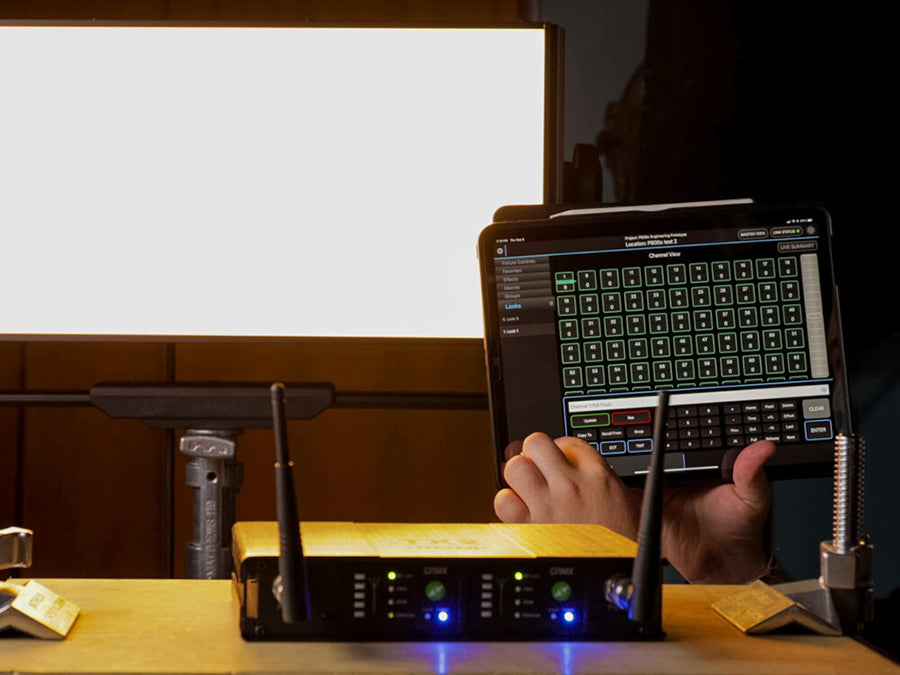 PROFESSIONAL MODIFIERS

The Nova P600c can modified using a variety of tools, such as intensifiers, light control grids, and soft boxes, as well as third-party modifiers from brands including DoPchoice & Chimera.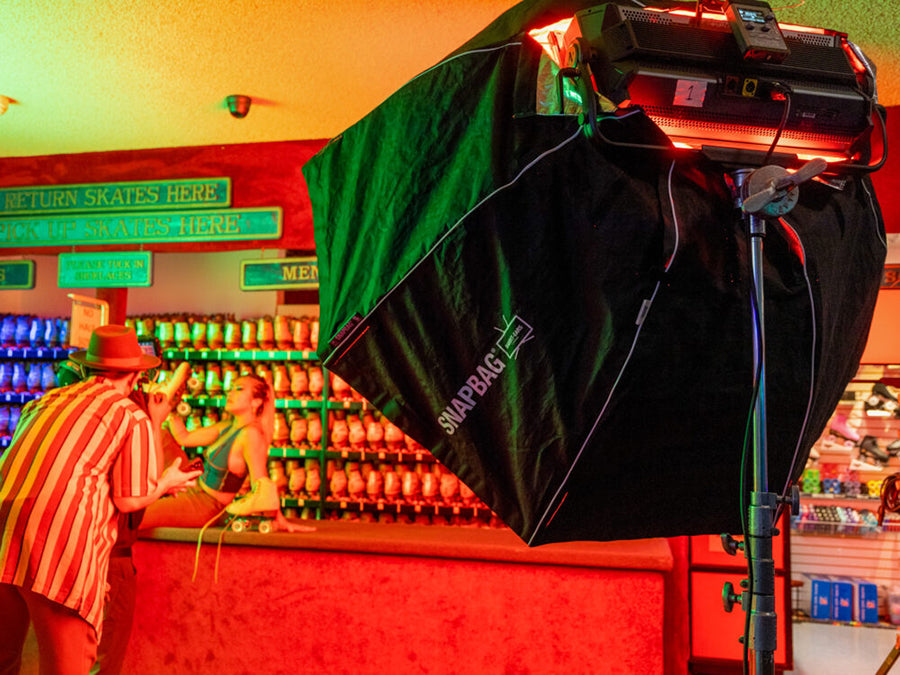 19 LIGHTING FX

Building upon the Nova P300c's 15 built-in lighting FX, the Nova P600c's 4 light engines adds four more lighting effects including: Color Fade, Color Cycle, Color Gradient, & One Color Chase.
The Nova P600c is a 600W RGBWW LED Soft Light and builds on the foundation of the Nova P300c, with twice the output and four times as many light engines. By utilizing a unique RGBWW chipset, the Nova strikes a balance between intense output and precision color quality, capable of producing 2,298+ lux at 3 meters (6500K) with a CCT range of 2,000K-10,000K.


The Nova P600c is truly built for professionals, integrating features that enhance on-set workflow. The P600c's new control box includes industrystandard LumenRadio CRMX, enabling it to interface with any CRMX wireless control system. In conjunction with its new contact-pin cable-less connection interface, the Nova P600c can achieve truly wireless control without even needing a control box connection cable.


And for easy access, with minimal setup, the P600c is also compatible with Sidus Link mobile app control, allowing you to control Aputure fixtures from a smartphone or tablet.
Features:
600W RGBWW 2x1 LED Soft Light Panel
2,298+ lux at 3 meters (6500K)
Two Times Brighter than Nova P300c
CRI & TLCI 95+, SSI (D56): 74, SSI (Tungsten): 84
4-Light Engine Zone Control
Fully Tunable CCT from 2,000K to 10,000K
Fully-Tunable Green-Magenta Adjustment (Full Plus/Minus Green)
Hue, Saturation & Intensity with CCT Control
Built-in LumenRadio CRMX
Sidus Link Mobile App Compatible
8-bit & 16-bit DMX512 5-Pin In & Out
Cable-less Contact Pin Control Box Interface
Extendable Control Box w/ Lightning Clamp
3m-long Head Cable for Flexibility & Reach
4 User-Programmable Presets
Removable Diffusion Panel
2 Output Modes: Max & Constant
Lead-Follow Mode for Quick Workflow
Variety of Built-in Light Source Presets
Frequency Selection to Reduce Flicker
Industry-standard X,Y (CIE 1931) Color Control
>90% of Colors Within Rec.2020 Color Space
300+ Industry-Standard Gel Presets
19 Built-in Lighting FX: Cop Car, Lightning,Paparazzi, Candle, Fire, etc.
Stepless Dimming from 0.1 to 100%
3-Pin XLR 48V/15A DC Battery Input
Internal Power Supply
Neutrik powerCON TRUE1 TOP AC Power Cable
Junior Pin (28mm/1.125in)
-20°~45°C Ambient Operating Temperature
360° Rotation, Curved Dual Disk-brake Yoke
Includes Hard Shell Rolling Case

Photometrics:




Package Contents:

Basic Kit (534390):
1x Nova P600c Light
1x Nova P600c Control Box
1x Neutrik® powerCON TRUE1 TOP AC Power Cable (6m)
1x 5-Pin XLR Head Cable (3m)
1x Lightning Clamp

Hard Case Kit (534391):
1x Nova P600c Light
1x Nova P600c Control Box
1x Neutrik® powerCON TRUE1 TOP AC Power Cable (6m)
1x 5-Pin XLR Head Cable (3m)
1x Lightning Clamp
1x Nova P600c Hard Shell Rolling Case

Basic Kit + Low Mighty Stand Kit (PK1939):
1x Basic Kit (534390)
1x CINEGRIPPRO MYC-1020 Low Mighty Stand Double Riser(534208)
1x CINEGRIPPRO M11-036B 360° Rotatable Locking Stand Caster Kit(534611)

Hard Case Kit + Low Mighty Stand Kit (PK1957):
1x Hard Case Kit(534391)
1x CINEGRIPPRO MYC-1020 Low Mighty Stand Double Riser(534208)
1x CINEGRIPPRO M11-036B 360° Rotatable Locking Stand Caster Kit (534611)


Hard Case Kit + 4 Modifiers Kit (PK2000):
1x Hard Case Kit(534391)
1x Aputure Barndoors for Nova P600c LED Panel (535094)

1x Aputure Softbox for Nova P600c LED Panel (535095)
1x Aputure 45° Metal Grid for Nova P600c LED Panel (535097)

1x Aputure Rain Shield for Nova P600c LED Panel (535098)

 
Hard Case Kit + DELTA Pro (PK2149):
1x Hard Case Kit(534391)
1x EcoFlow DELTA Pro 3600Wh Portable Power Station(535376)


Dual Hard Case Kit + 5 Modifiers Kit (PK2001):
2x Hard Case Kit(534391)
1x Aputure Barndoors for Nova P600c LED Panel (535094)

1x Aputure Softbox for Nova P600c LED Panel (535095)
1x Aputure 45° Metal Grid for Nova P600c LED Panel (535097)

1x Aputure Rain Shield for Nova P600c LED Panel (535098)

1x Aputure Dual Head Yoke for Nova P600c LED Panel (535100)