DZOFILM Pictor Zoom 12-25mm T2.8 Super35 Cinema Lens (PL&EF interchangeable Mount, Black)
---
Brand: DZOFiLM
SKU:

DZO-7220004B

Product code:

535520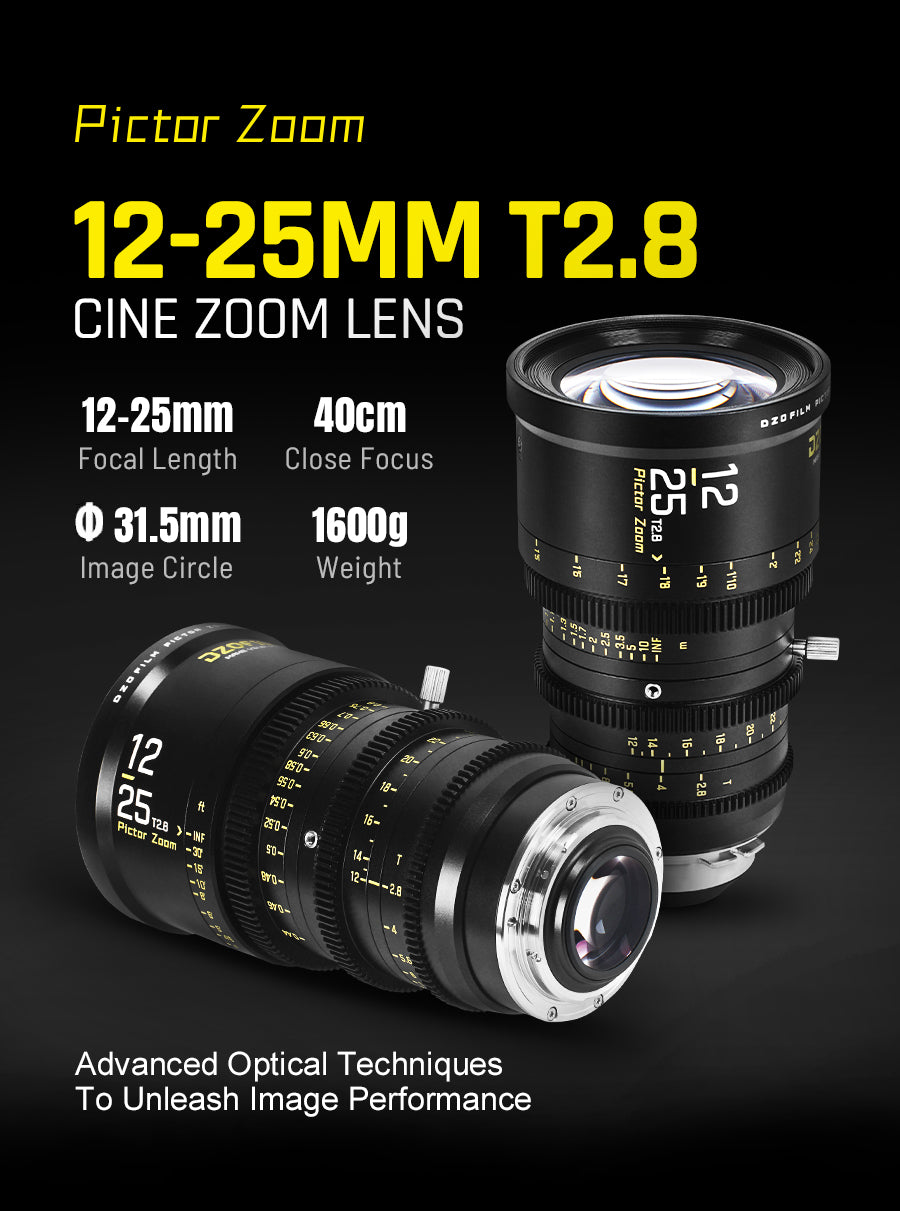 Wider, Closer For Deeper Image Immersion
With a minimum focusing distance of 0. 4m (15.74"), less than one arm's length, the lens enables you to shoot tighter close-ups in limited space environments with the curvature of field being significantly controlled.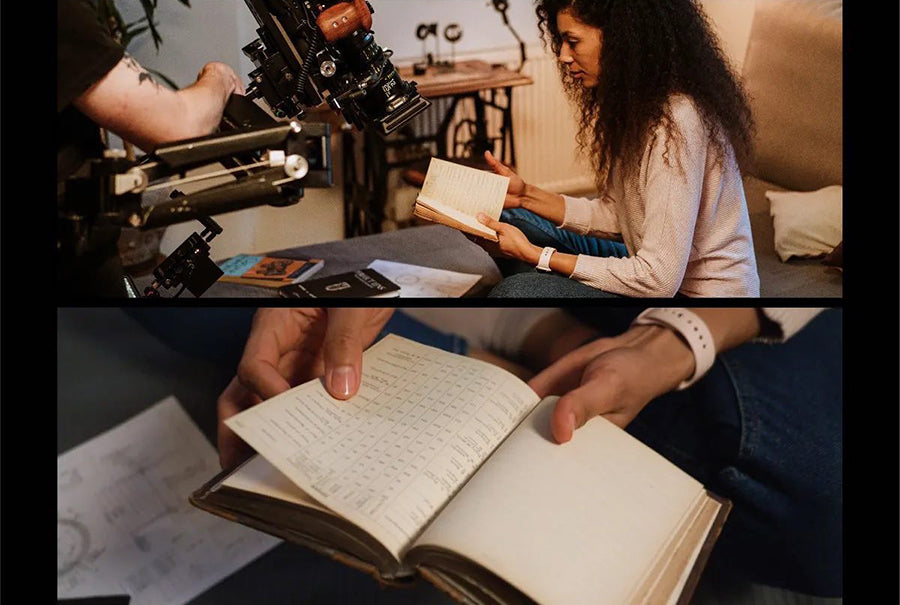 Visualize A Broader Horizon To Tell Deeper Of A Story
The Pictor Zoom 12-25mm T2.8 Cine lens features an ultra wide field of view with outstanding optical performance and the finest details to enhance the scope and impact of image.



Compactly Reliable As Pictor Zoom Series
The aluminum body of the lens makes it sturdy and reliable, as well as easy and comfortable to hold.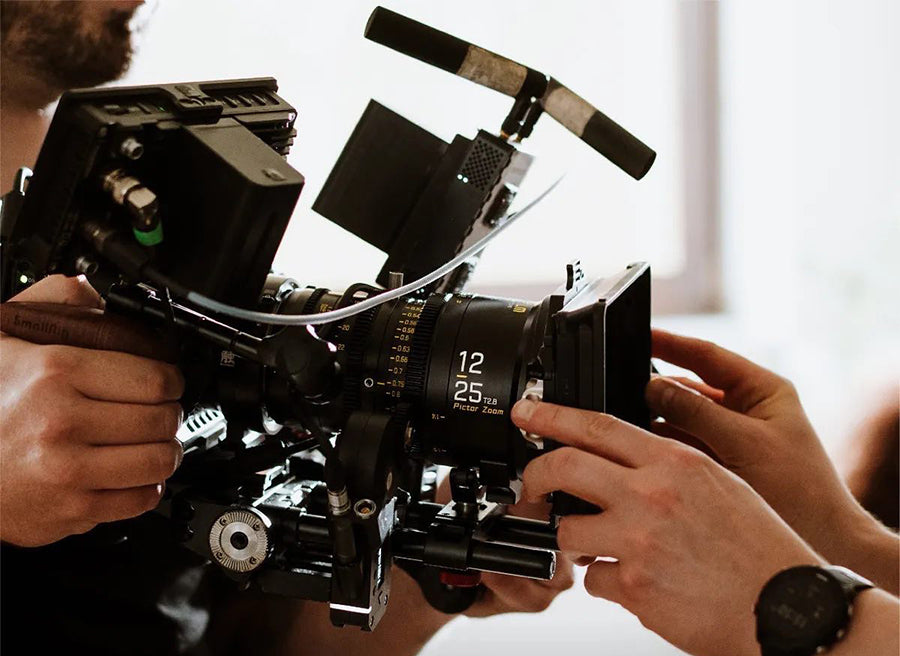 A Creative Vision Inspires Brilliant ldeas
The 12-25mm lens can capture more of the visual spectrum than the human eye can see.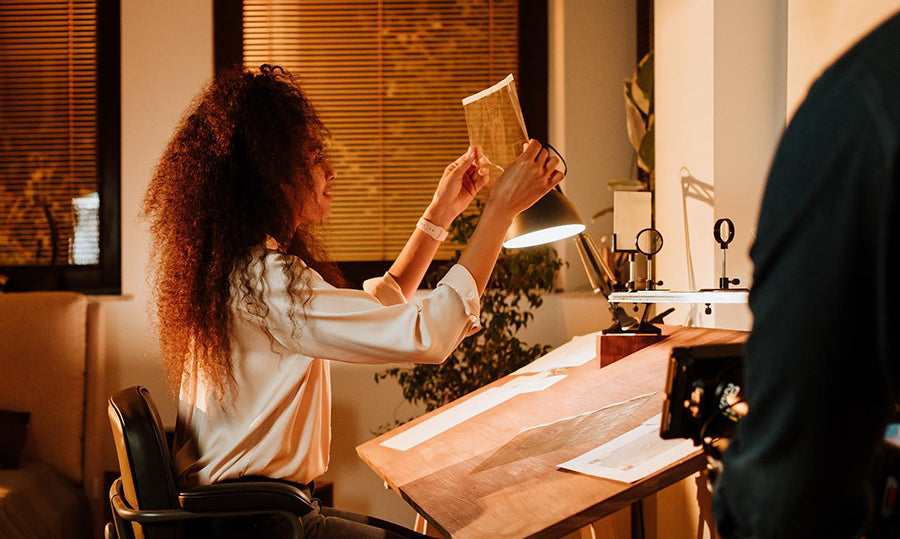 This DZOFILM 12-25mm T2.8 Pictor Zoom Super35 Cinema Lens offers a wide angle range of 12-25mm and a maximum T2.8 aperture, making it perfect for capturing expansive landscape shots, large groups, and grand scenes in PL/EF Mount with a black finish.
This lens provides image-makers with a highly versatile 12-25mm focal range, with a fast maximum T2.8 aperture and consistent color. Perfect for both production and artistic use, its character provides a unique look delivering crisp and natural detail throughout. Ideal for Super35 imaging applications.
Professional Cine Lenses with Concrete Build
The new lineup of Pictor Zoom lenses from DZOFILM cover Super35/APS-C sensors. With a constant T/2.8 maximum aperture at every focal length, both lenses will cover a total range of 20-125mm at T2.8!
Pictor Zoom lenses are completely parfocal and the aperture diaphragm consists of 16 blades for a beautiful smooth and creamy bokeh.
These lenses work perfectly with cameras that feature a Super35/APS-C sensor like the Canon C200, ZCAM E2, BMPCC 6K, URSA Mini Pro 12K and the RED Komodo camera.

Parfocal Design
Center image stay sharp during zooming in or out.No matter from close-up to wide shot,Or rapidly zoom out to long shot, Under Parfocal design, focus keeps still all the way along.

Minimal Breathing
Thanks to the floating structure, the breathing of Pictor Zoom lenses
are negligible during focusing.

Gentle Sharpness & Vivid Look
From feature film, commercial, to documentary, Pictor Zoom captures crisp details while expressing organic look and cinematic texture.

Speed up your Shooting!
Consistent Design & Higher Efficiency. Highly consistent in color and mechanical control, which satisfies the needs on demanding shoots. Cinema 0.8 standard pitch on Focus, Iris, Zoom ensures maximum compatibiltiy with multipe Follow Focus and wireless systems, Experience exeptional build quality and attention to even the smallest details with Pictor Zoom lens.
Specifications:

Focal length

12-25mm

14-30mm

20-55mm

50-125mm

Mount

PL/EF

PL/EF

PL/EF

PL/EF

T-Stop

T2.8-22

T2.8-22

T2.8-22

T2.8-22

Image Circle

31.5mm(S35)

31.5mm(S35)

31.5mm(S35)

31.5mm(S35)

Optical Construction

21 Elements in 15 Groups

21 Elements in 17 Groups

18 Elements in 15 Groups

18 Elements in 13 Groups

Flange Distance

52mm(PL)/44mm(EF)

52mm(PL)/44mm(EF)

52mm(PL)/44mm(EF)

52mm(PL)/44mm(EF)

Close Focus(From Sensor Plane)

0.4m/1ft4in

0.6m/2ft

0.8m/2ft8in

0.8m/2ft8in

zoom ratio

2.08X

2.14X

2.75X

2.5X

IRIS Control

64.4°

61°

65°

72°

Focus Control

270°

270°

270°

270°

Zoom Control

100°

100°

100°

100°

Front Dia.

95mm/3.74"

95mm/3.74"

95mm/3.74"

95mm/3.74"

Length

150mm(PL)5.9"

159mm(EF)6.26"

173mm(PL)6.81"

181mm(EF)7.13"

164mm(PL)6.46"
171.9mm(EF)6.77"

175mm(PL) 6.88"
182.9mm(EF)7.20"

IRIS Blades

16

16

16

16

Filter Size

M86*0.75

M86*0.75

M86*0.75

M86*0.75

Gear Pitch

0.8 Mod

0.8 Mod

0.8 Mod

0.8 Mod

Weight

around 1600g

around 1880g

around 1520g

around 1700g

Package Contents:
Basic Kit(535520):
1x DZOFiLM 12-25mm T2.8 Cinema Pictor Zoom Lens
1x PL Mount 
1x PL Mount Rear Cap
1x EF Mount
1x EF Mount Rear Cap
1x Front Cap
1x Shim Set
2x Installation Tool
3x Screws Set
1x Lens Support Adapter


Basic Kit + Hard Case(PK2301):

1x Basic Kit(535520)
1x CINECASEPRO Dual Lens Hard Case (535011)