CINECASEPRO CP-AIR100 Filmmaker Protection Case
---
Brand: CINECASEPRO
SKU:

CP-AIR100-B

Product code:

532367
The CINECASEPRO CP-AIR100 Filmmaker Protection Case offers a complete storage and transportation solution for your filmmaking equipment! The case internals are fully padded and can be configured in various layouts to suit different needs. 
The Press & Pull latch designed for the CINECASEPRO allows for a strong, snap fit, an an easy release at the press of a button. The foam and padded dividers will keep equipment safe from knocks and bumps along the way. This case is fully Weather sealed for even the harshest conditions!    
The built in wheels and handle make it ideal for airline travel as it fits inside hand luggage! 
Features:
Blue, yellow and green colours available
Carry-on luggage size
High quality robust materials   
Flexible padded dividers 
Trolley handle and wheels 
Weatherproof design
Specifications: 
• Weight : 5.3 kg/11.68lb (Without Foam)
• Inter Size : 510 x 290 x 235mm / 20.08 x 11.42 x 9.25"
• Outer Size : 559x 350 x 235mm / 22.01 x 13.78 x 9.25"
• Available Colours:  Blue; Green; Yellow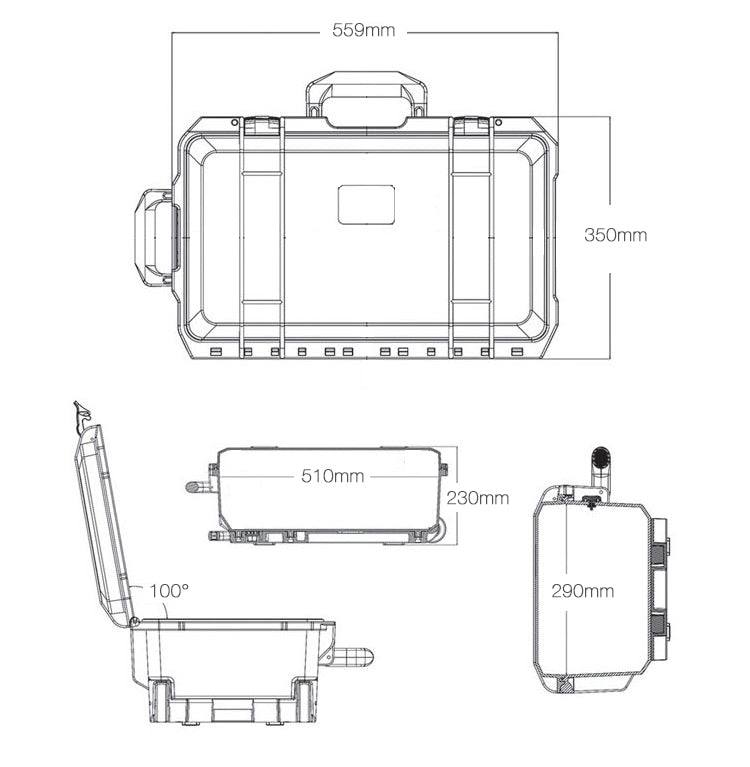 Package Contents:
Bule/case only
1x CP-AIR100-B Case
Bule W/ camera bag
1x CP-AIR100-B Case
1x Vlogger camera bag(532173)
Yellow/case only
1x CP-AIR100-Y Case
Yellow W/ camera bag
1x CP-AIR100-Y Case
1x Vlogger camera bag(532173)


Green/case only
1x CP-AIR100-G Case
Green W/ camera bag
1x CP-AIR100-G Case
1x Vlogger camera bag(532173)