CGPro 99Wh 14.4V V-lock Li-ion Mini Pocket Battery V-Mount 2x D-Tap 2x USB Port
---
Brand: CGPro
SKU:

CGP-V99

Product code:

533569
Perfect for on the go and suitable for aircraft travel.  

The highly popular Ultra-Small V-lock batteries are now even smaller, still offer 99W of power and include more outputs!
The 99Wh Mini Pocket battery features a 14.4V output and 6875mAh capacity, with a constant max 15A output supplied.  It contains A-class imported 18650 battery cells which are ideal for modern devices that accept V-mount type batteries. The battery has built-in protection circuitry which maintains the battery to prevent over-charging and any voltage spikes. The new small size is only 100mm tall which makes it blend in perfectly with many cameras like the ZCAM E2 and RED KOMODO.  
The two D-Tap outputs and two USB outputs can supply power at the same time, power for lighting, monitors, wireless transmitters, smartphone or other electronic devices.

Features: 
99W capacity, flight safe 
Dual 5V USB top outputs. 
Dual D-tap side outputs
Rubber weather sealed port covers.  
Built-in circuit protection
Max 15A output 

Specifications: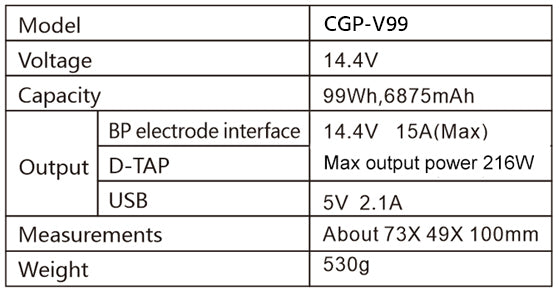 Package Contents:

99Wh Battery:
1x 99Wh 14.4V V-lock Li-ion Mini Pocket Battery

PK1302:
1x 99Wh 14.4V V-lock Li-ion Mini Pocket Battery
1x CGPro LBC-1C Portable D-TAP V-Mount Battery Charger DC 16.8V 1A (532170)

PK1303:
2x 99Wh 14.4V V-lock Li-ion Mini Pocket Battery
1x CGPro LBC-2C DUAL D-TAP V-Mount Battery Fast Charger DC 16.8V 4A (532171)