APARO RADi09 Air 150W Bi-Colour Balloon Tube Light (3000-5600K)
---
Brand: APARO
SKU:

534721

Product code:

534721
The APARO RADI09 AIR 150W is the entry level Balloon Tube light fixture. Super compact and lightweight and includes a carry handle! The inflated balloon provides a beautifully soft volume light source which keeping the weight to a minimum. With a temperature control of 3000-5600K, the APARO RADI09 AIR 150 can be adjusted to suit indoor and outdoor scenarios. The colour accuracy is rated at over 95% CRI to provide faithful rendering and pleasant skin tones. The light is packed in a protective shell hard case for easy transportation.

Inflatable Balloon design
The inflatable airtight design ensures the weight is minimal and the illumination incredibly soft!

Omni directional mounting clamp
The panel is secured with a high strength ball and socket mount with a large operating lever, which lets you change angle in an instant.

Optional Modifiers
The APARO range is fully compatible with a range of optional modifiers, including the honeycomb attachment and the skirt modifier. Control the light and avoid unwanted spill with these modifiers for extra creative control.

Safety first
The APARO lights come equipped with safety hooks and chains for high installations,providing risk free overhead access.





Features:

Tube shaped Balloon lights
Inflatable super lightweight design
Ultra soft light diffusion
150W output
Bi-Colour 3000-5600K
95+ CRI accuracy
0-100% Step-less dimming
Fully dimmable with no change in colour temperature
Ideal for ceiling mounts due to lightweight design
App Control
Built-in Lighting Effect
DMX-512 2.4G compatible
Omni-directional mount
Safety hook and chain
Portable Hard case

 

Specifications:

LEDs &Power
336pcs x 0.5w <White>  336pcs x 0.5w <Yellow>
Output Wattage
150W
Color Temperature
3000K-5600K
Operating Voltage
AC-100V-240V
Copmatibility
Sony V Mount Battery (DC)
Control Function
ON/OFF / Turning Knob / APP / DMX512 / 2.4G 

remote

CRI
95
Beam Angle
66°-75°
Lux
3000K: 4450(0.5m) / 1480(1m) / 429(2m) / 215(3m)
5600K: 4870(0.5m) / 1620(1m) / 471(2m) / 235(3m)
Footcandles

3000K: 413(0.5m) / 137(1m) / 39(2m) / 19(3m)




5600K: 452(0.5m) / 150(1m) / 43(2m) / 21(3m)

Dimensions
1235x255mm
Weight
 Light : 1.21KG / Control Box : 1.56KG

Carry Case Dimensions

55.5x46x22.5cm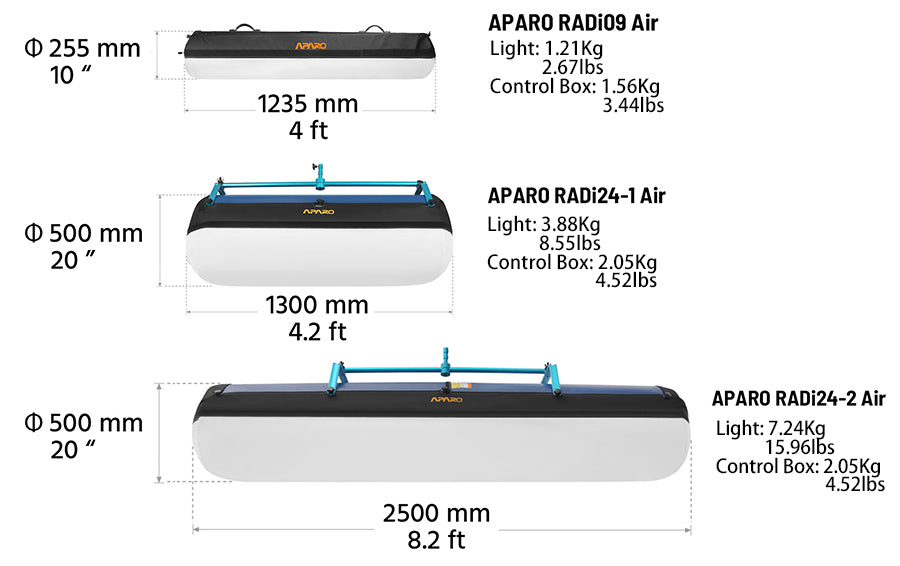 Package Contents: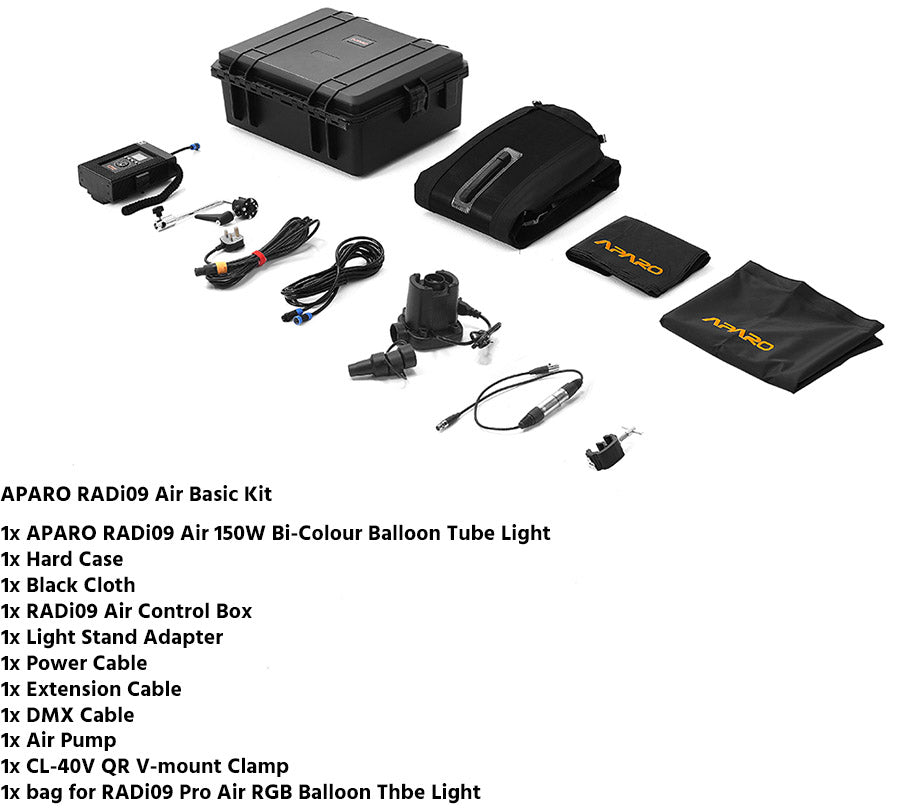 Basic Kit (534721):
 1x APARO RADi09 Air Basic Kit 
 1x APARO RADi09 Honeycomb Grid (534794)(Free)
 1x APARO RADi09 Black Skirt (534795)(Free)

 Battery Kit(PK1836):
 1x  Basic Kit (534721)
 1x CGPro LBC-1C Portable D-TAP V-Mount Battery Charger DC 16.8V 3A (532170)
 1x CGPro Ultra Small Size Mini V-Lock Li-Ion V-Mount Battery w/ USB Output (135Wh) (531925)