Viltrox BV-99 99Wh V-Mount Lithium Battery Bidirectional PD45W / Multiple Charging 6700mAh/14.8V
---
Brand: Viltrox
SKU:

BV-99

Product code:

535903
99Wh
V-Mount Lithium Battery

Bidirectional PD45W/Multiple interface output/Decoding Li-battery 6700mAh/14.8V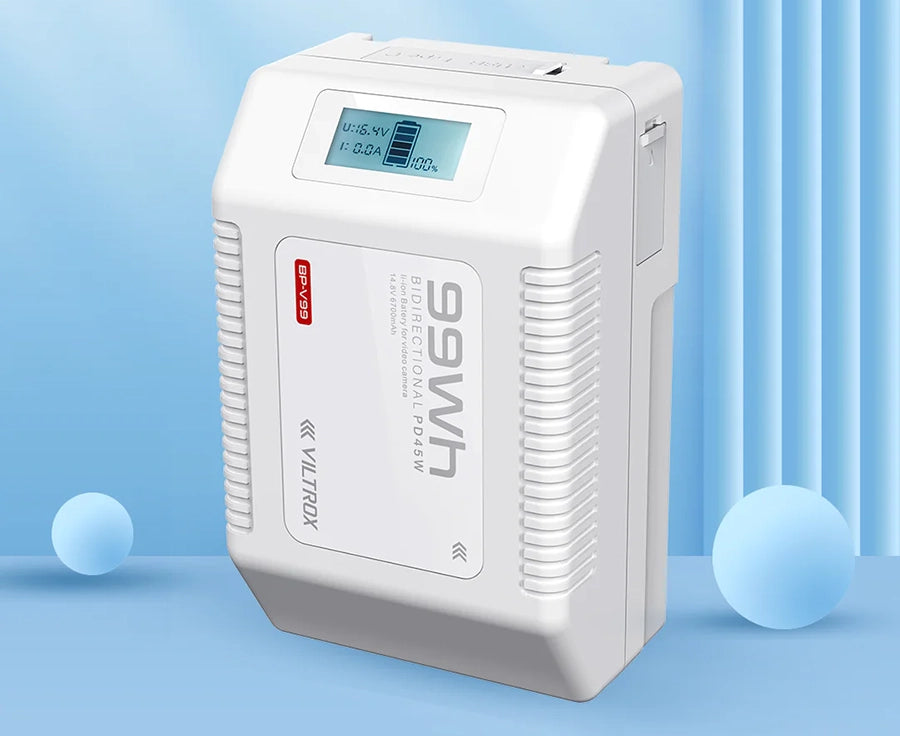 FULLY UPGRADED
Power Supply for Travel is More Convenient
High-quality chips, standard as marked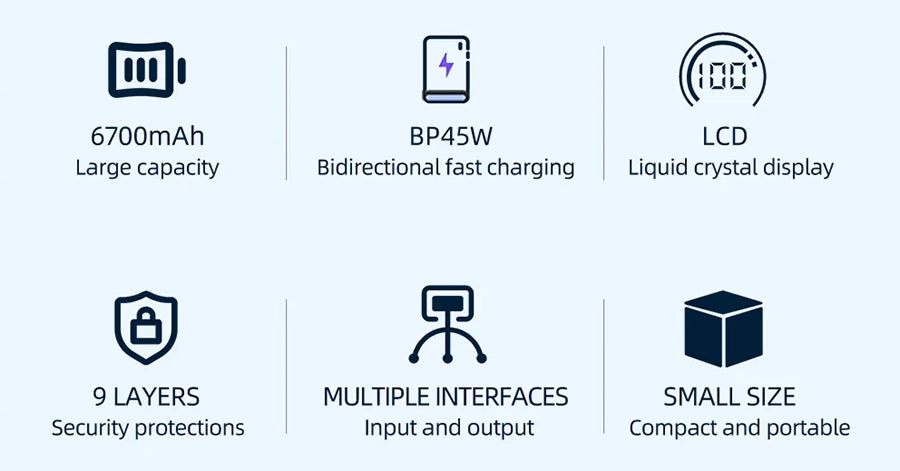 SUFFICIENT
6700mAh•HIGH CAPACITY
The battery is full of energy, long-lasting and durable.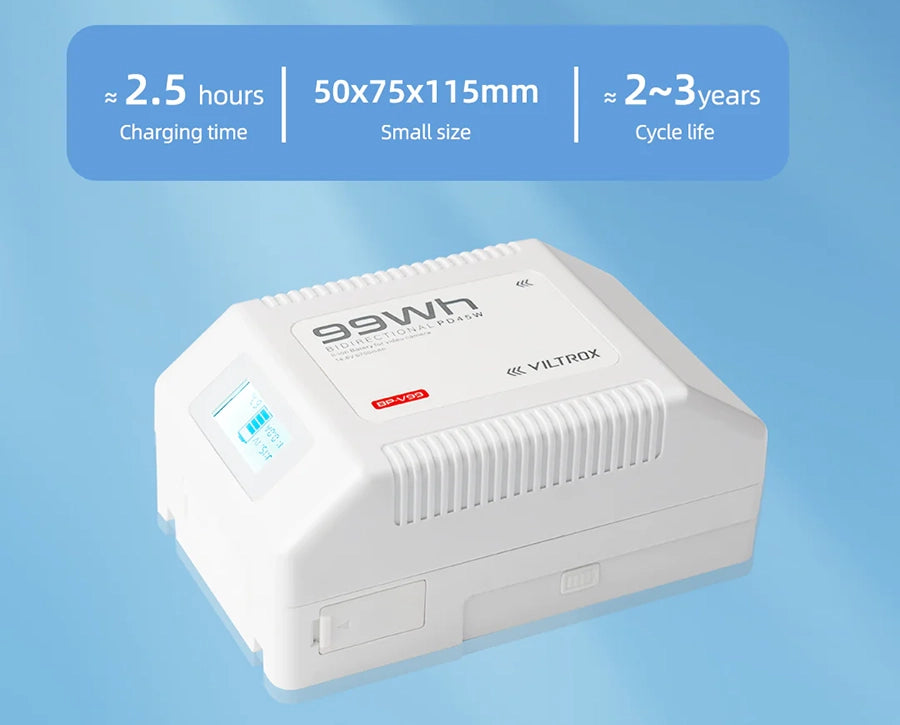 Various power supply interfaces
Support Multiple Types of Output Ports
D-TAP input and output/USB output interface/TYPE-C input and output to meet various charging E-needs.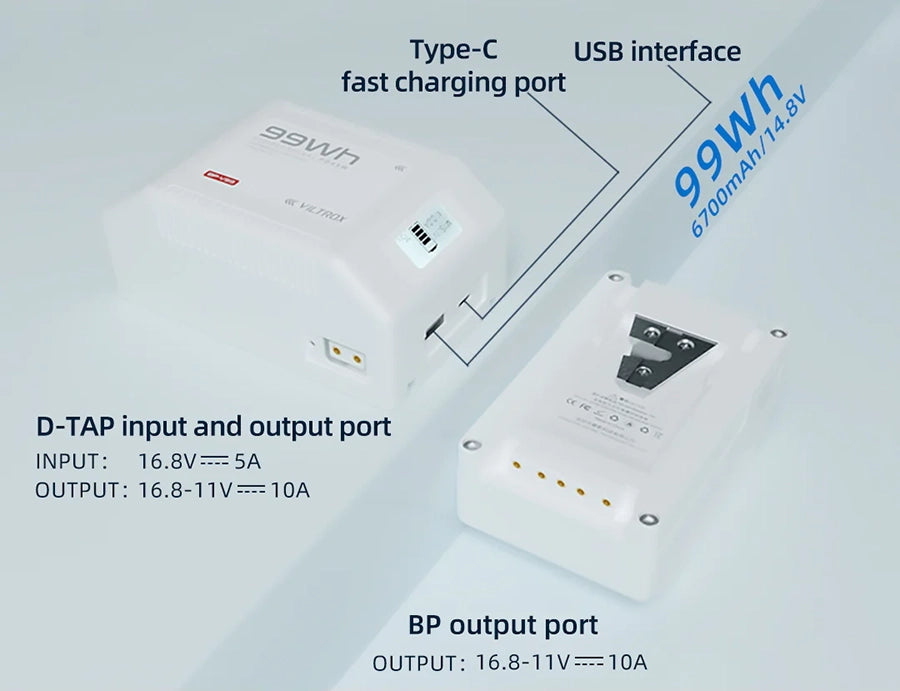 Support Camera /Video Camera Power Supply
High-capacity decoding battery, suitable for outdoor shooting/ traveling/live broadcasting /video shooting, etc., which can provide a long battery life for your camera/ video camera.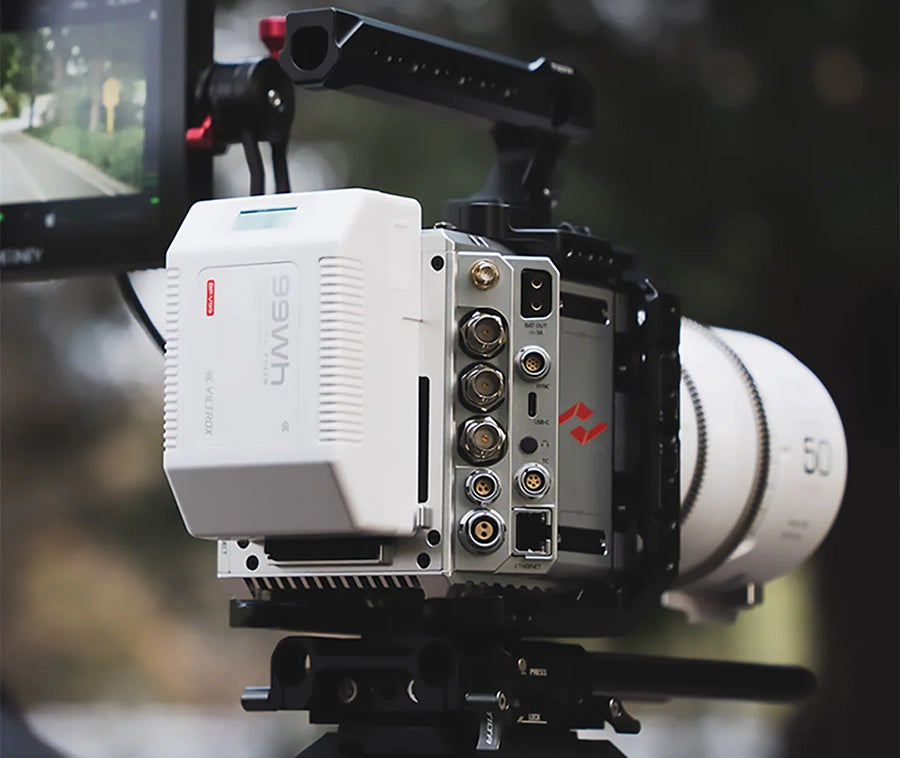 Bidirectional PD45W
Charge for Mobile Phone/ Computer/Camera
It can be used as a power bank, which can charge mobile phones, laptops, photography lights, cameras and other devices, free of other extra charging devices.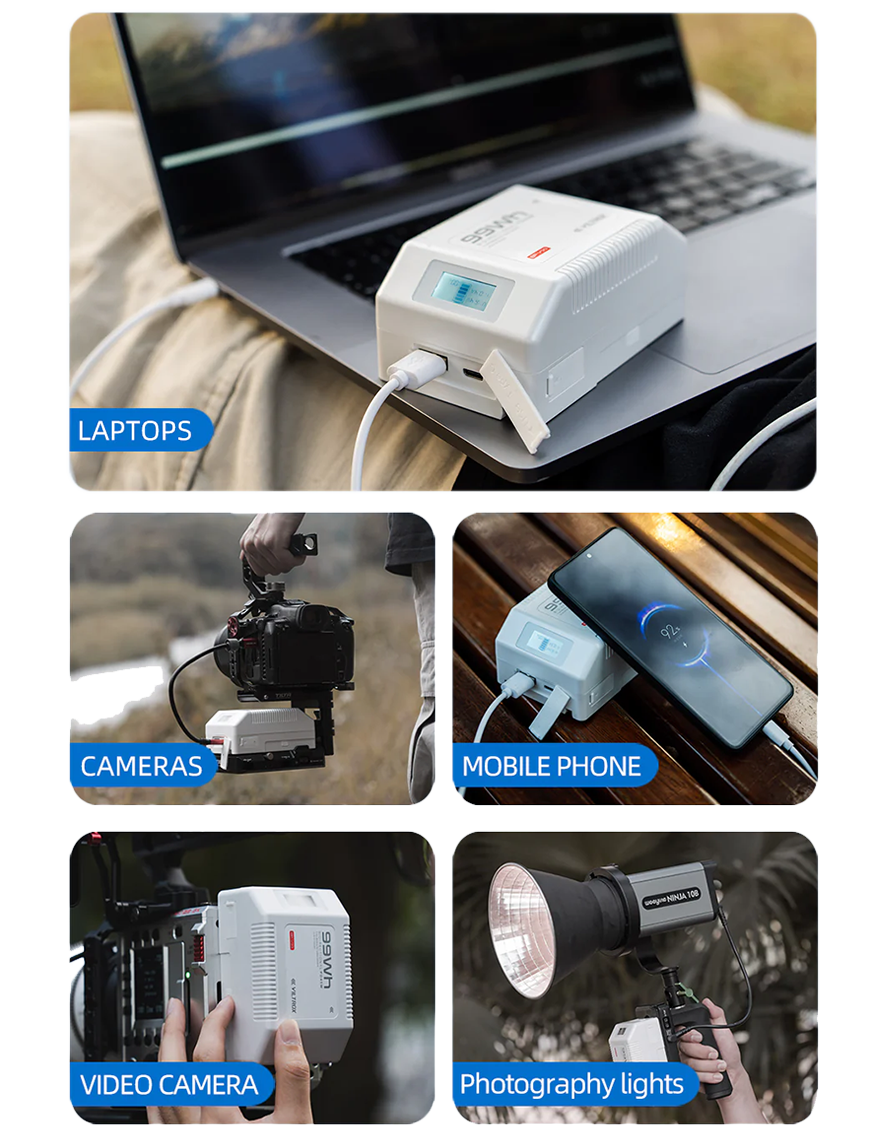 Fast power storage
About 2.5 Hours to be Fully Charged
45W fast charging, bid farewell to charging waiting anxiety, save you time.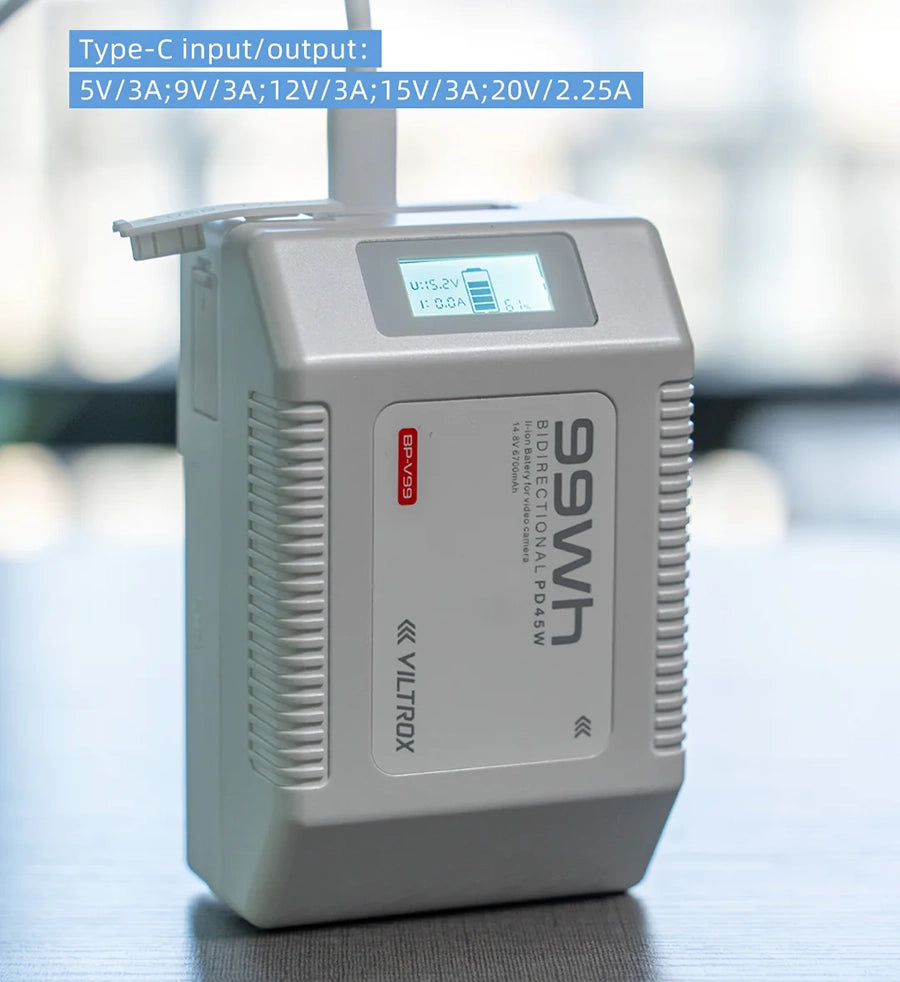 9 layers of circuit protection
High Quality Circuit Protection Chip
Adopt with high-performance imported battery chips not only provides 9-layer circuit protection, but also improves the charging and discharging efficiency in an all-round way.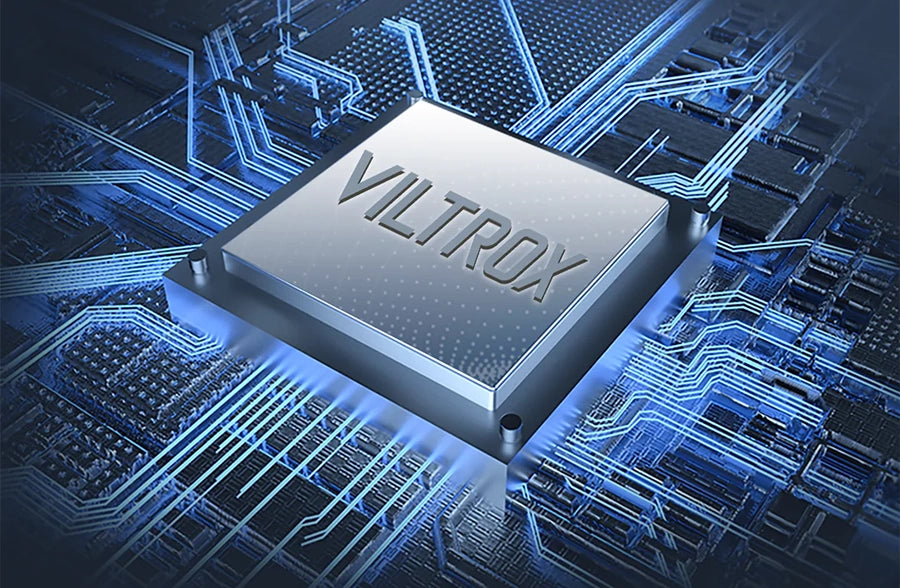 High quality circuit chip
Fully Optimize Usage Efficiency
High-quality circuit chips can effectively improve the charging conversion rate, stabilize the discharge voltage and use high-precision resistance-capacitance sensing devices, which are better charged and more durable than ordinary batteries.

LCD Liquid crystal display
Real-time Power at a Glance
The V-mount lithium battery is equipped with an LCD display, which can intuitively see the remaining power, and control the current and voltage in real time.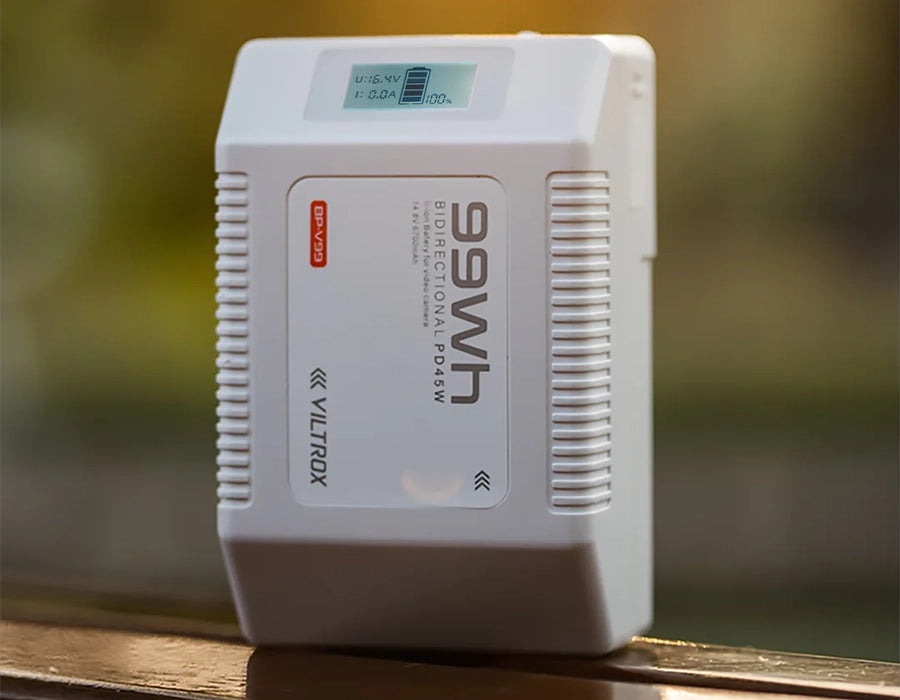 Allowed to be carried on the plane
Small Size, Light Weight, Large Capacity
The weight is only 550g, and the compact body can be easily put into backpacks and pockets for travel, and it will not take up too much space for long-distance travel and long-term outdoor shooting.
*Civil aviation regulations allow lithium batteries with a capacity of no more than 100Wh to be carried on board.

BP-V99 LITHIUM BATTERY
Li-battery Application Scene Display
Video camera/camera/monitor/wireless image transmission/ video light/mobile phone/laptop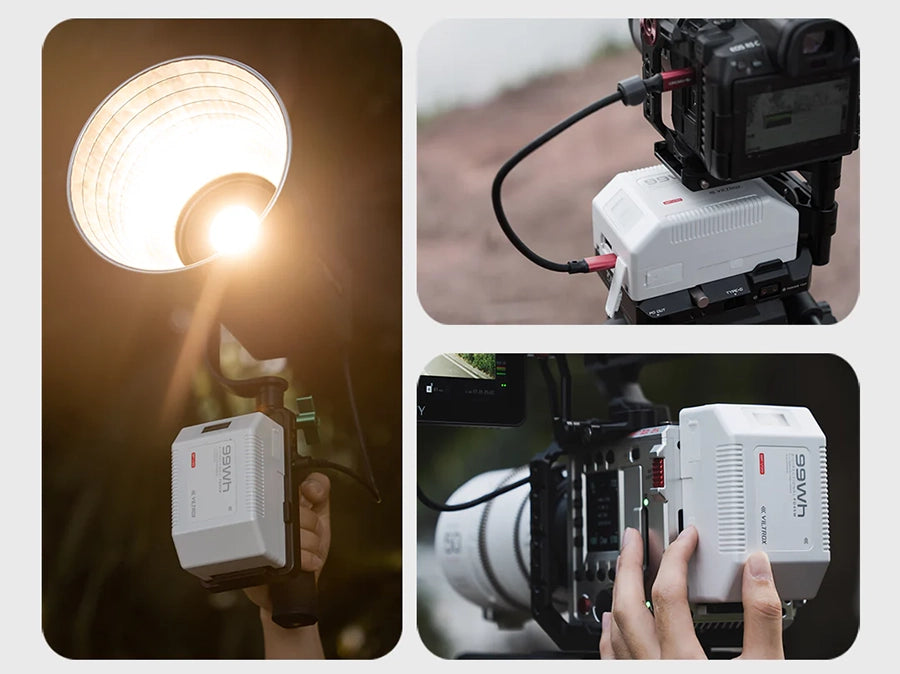 Unremitting Pursuit Intimate Design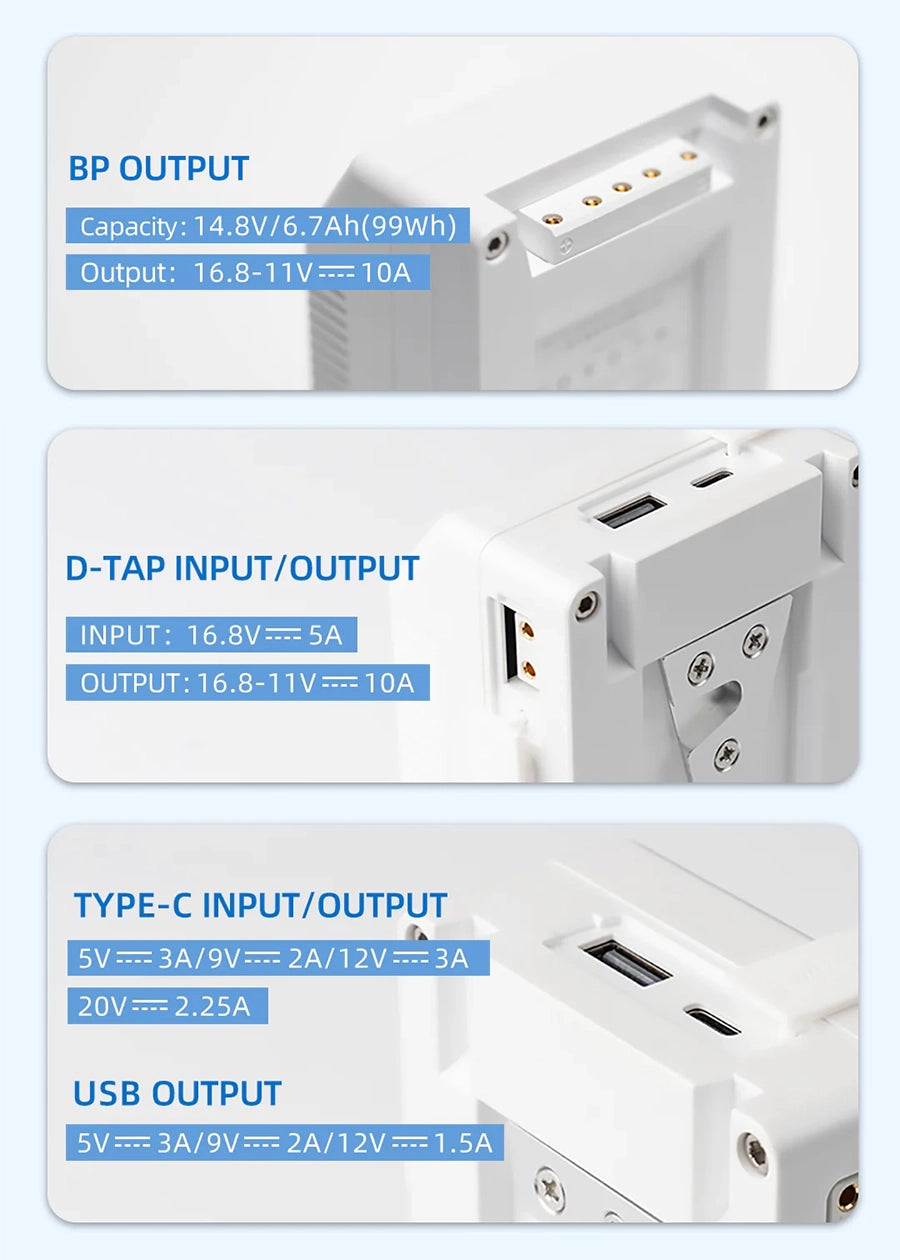 Specifications:

Power: 14.8V,6.7Ah(99Wh)
Capacity:6700mAh
Type-C input/output: 5V/3A;9V/3A;12V/3A;15V/3A;20V/2.25A
USB output: 5V/3A;9V/2A;12V/1.5A
D-TAP input: 16.8V/5A
D-TAP output: 16.8-11V/10A
BP port output: 16.8-11V/10A(MAX)
Size: 50*73*115mm
Weight :
≈
550g


Package Contents:

1x Viltrox BV-99 99Wh V-Mount Lithium Battery