TiLTA Float Handheld Gimbal Support Counterbalance Steadicam System For DJI RS2 / RS3 Pro
---
Brand: TiLTA
SKU:

GSS-T01-V

Product code:

533632
This product is also available in AB/Gold Mount. Please contact us for more information.




Lightweight & Wearable Vest
allows for the Gimbal to be held tight to the body
The quick release vest has an effective shock absorbing design. It's lightweight and compact. The ergonomic weight distribution design gives the operator steady support. Flexible and easy fitting for all body types.





Optimised arm Carrying Structure and Capacity
Durably built with pliable springs provide the forth axis of stabilization. The user has more control while operating.





Flexible
Easy high and low angle switch.
NATO rail connection is built onto both top and bottom ends. Compatible will all gimbals and power supply equipment. The retractable post can function as monopod or extension.




Retractable Post
Carbon-fibre made post. Wear proof and lightweight design.





Wireless Control For Precise Operation
Fully authorised DJI internal communication protocol. Precisely control the RS2 with the wireless control receiver module.





Ambidextrous Design, Easily Switch From Left To Right
Quick assembly design. Both the arm and monitor bracket support left and right operations. Compatible with various gimbal brands.





More Protection For Secure Operation
Modular camera and battery can be carried on the back of the vest. Safely operate with the guidance of the safety guiding strap and enhanced anti-collision design.





Easy Balancing + Quick & Precise
Simplified balancing process. Compatible with a wide range of accessories. Adjustable weight depending on the setups. Quick and precise control.





Continuous Power: Four Power Supply Options
Power through external V-mount, gold mount, DJI battery grip, and TB50 batteries. Tidy, cordless build. Compact and portable.





Compact & Portable
Highly portable design for quick assembly and long distance transportation.




Specifications:

Tilta Float System Specs
• Product dimensions: 835x345x210mm
• Product weight: 10kg (Net Weight 7.5kg)
• Materials: Carbon fibre, aluminium, plastic, and nylon fabric

Tilta Float System Support Vest
• Vest Size: 600-1200mm
• Extension: Built-in Tilta standard 15mm quick release baseplate.

Tilta Float System Arm
• Connector post diameter: 12mm
• Maximum payload capacity: 10kg
• Up and down movement range: 800mm (±4300)

Tilta Float System Post
• Material: Carbon fibre and aluminium
• Mount: NATO rail
• Power input/output: 2-pin LEMO
• Length range: 500-1000mm

Tilta Wireless Thumb Controller for RS2
• Cold shoe mount
• 2.4 GHz wireless module
• Remote control range: 50-70m (Dependent on the location, there might be a slight variance.)

Power Supply Solutions
• V-mount battery
• Gold mount battery
• DJI TB50 battery
• RS2 battery grip


Package Contents: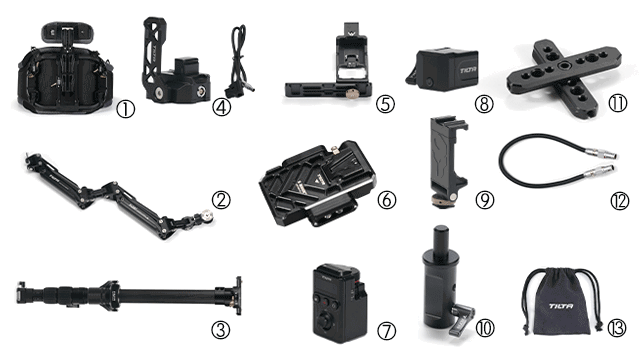 Basic Kit (533632):
1x Tilta Float System Arm(GSS-T01-ARM)
1x Tilta Float System Post(GSS-T01-PST)
1x Power Supply Base Plate for RS 2(TGA-PBP)With Cable(TCB-DTP-2LE-40)
1x Tilta Float System V Mount Battery Plate(GSS-T01-BPV)
1x 2-Pin Lemo to 2-Pin Lemo Cable(20 cm)(TCB-2LE-2LE-20)
1x Tilta Float System Support Vest(GSS-T01-SV)
1x Wireless Thumb Controller for RS 2(GSS-T01-WTC)
1x Wireless Control Receiver Module for RS 2(TGA-WCR)
1x Tilta Float System Monitor Bracket(GSS-T01-MB)
1x Tilta Float System Carrying Case (GSS-T01-CC)
1x Tiltaing Adjustable Cold Shoe Phone Mounting Bracket – Black(TA-PMB-B)
1x Tool Kit for Tilta Float System(GSS-T01-TK)
1x Tilta Float System Cross NATO Rail Post Mount(GSS-T01-CPM)
1x Tilta Float System Baby Pin Docking Adapter(GSS-T01-PDA)

Basic Kit + 2x 135Wh Battery (PK1575):
1x TiLTA Float Handheld Gimbal Support Counterbalance Steadicam System Basic Kit (533632)
2x  CGPro 135Wh Ultra Small Size Mini V-Lock Li-Ion V-Mount Battery 700g/1.54lbs (531925)

Basic Kit + 2x 98Wh Battery (PK1574):
1x TiLTA Float Handheld Gimbal Support Counterbalance Steadicam System Basic Kit (533632)
2x  CGPro 98Wh Ultra Small Size Mini V-Lock Li-Ion V-Mount Battery 700g/1.54lbs (531924)






TGA-SAC Sine Arm Counterweight Clamp


533615



 





TGA-CW-60 

Counterweight


533626







Power Supply Baseplate


533776







TGA-PBP Power Supply Base Plate


533697







DJI Ronin RavenEye Transmission 


534457



DJI Ronin 3D Focus System
533735









 

DJI Ronin Focus Motor


533678







 QR Baseplate Plate 
533737




TGA-WVM Wireless Video Mounting Bracket
533614




TGA-MMB Monitor Mounting Bracket
533613





TGA-ERP Extended QR Baseplate
533621












TGA-BHB Battery Handle Base Bracket
533625











TGA-REA Rosette Extender Arm
533617









TGA-BRH Rear Operating Handle
533624




TGA-ARG-RCH RS 2 Remote Control Handle
533885