TiLTA Float Handheld Support Stabilizing Arm System
---
Brand: TiLTA
SKU:

GSS-T02

Product code:

534864
Lightweight & Wearable Vest Allows For The Camera to Be Brought Tight to The Body
The quick release vest has a shock absorbing design. Lightweight and compact. The ergonomical weight distribution design gives the operator steady support. Flexible and easy fitting for all body types.

Optimized Arm Carrying Structure And Capacity
Durably built with pliable springs provide the forth axis of stabilization. The user has more control while operating.

Universal Design, Easily Switch From Left To Right
Quick assembly design. Both the arm and monitor bracket support left and right operation. Compatible with various gimbal brands.

More Protection For Secure Operation
Modular camera and battery can be carried on the back of the vest. Safely operate with the guidance of the safety guiding strap and enhanced anti-collision design.

Compact & Portable
Highly portable design for quick assembly and long distance transportation.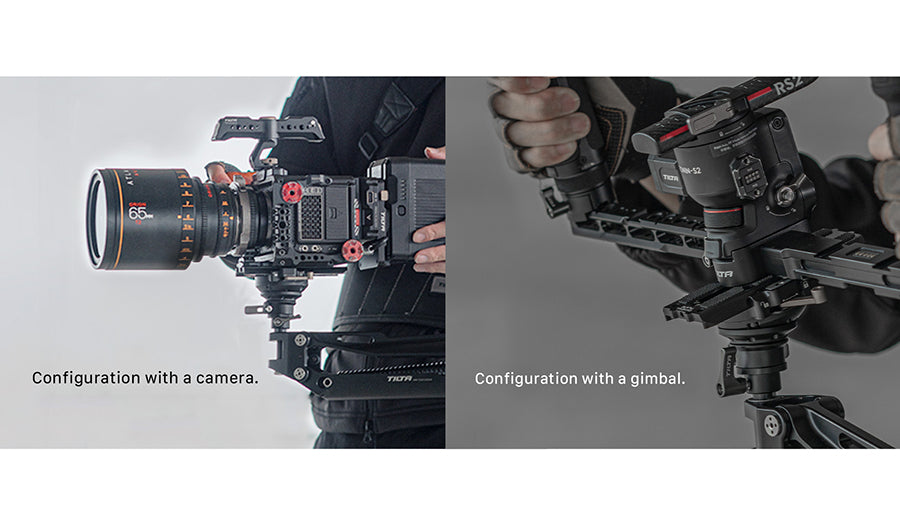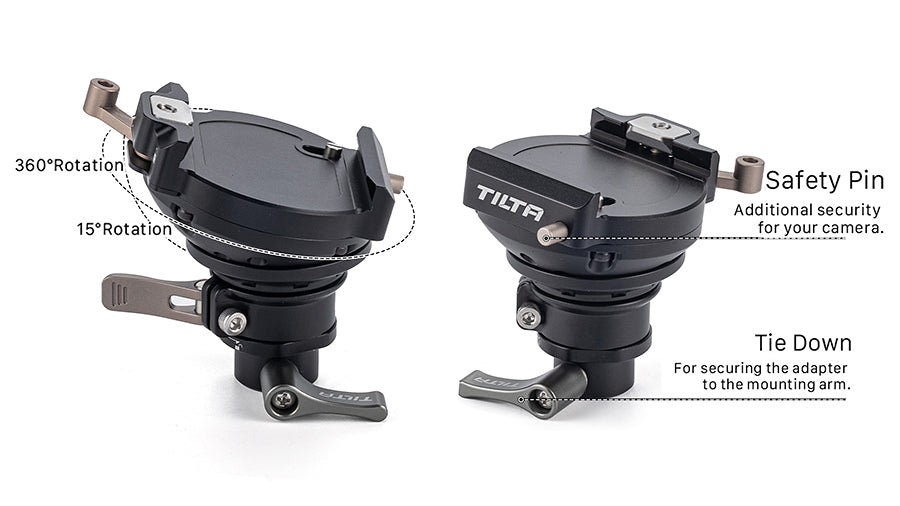 Features:
FLEXIBLE MOVEMENTS

Working with the Float stabilizing system allows cinematographers to gain full control of their camera movement.
PERFECT PAIRING

It's a perfect pairing with the DJI Ronin 4D camera. The Float stabilizing arm supports efficient weight distribution and helps you produce high quality images.
QUICKLY SWITCH

Quickly switch between the Float stabilizing arm and a Manfrotto tripod head.
COMPATIBLE WITH TILTA FLOAT

The adapter stabilizing arm has a 13mm diameter which is compatible with the Tilta Float stabilizing arm as well as any other systems that use a 13mm diameter.
ADJUSTABLE

The adjustable ball head allows for flexible angle adjustments to help you achieve the ultimate camera balance and composition.
Specifications:
Dimensions: 35 x 10 x 18 inches
Weight: 48 lbs
Net Weight: 16.5 lbs
Materials: Aluminum alloy, stainless steel, carbon fiber, plastic, and nylon fabric
Color: Black



Package Contents: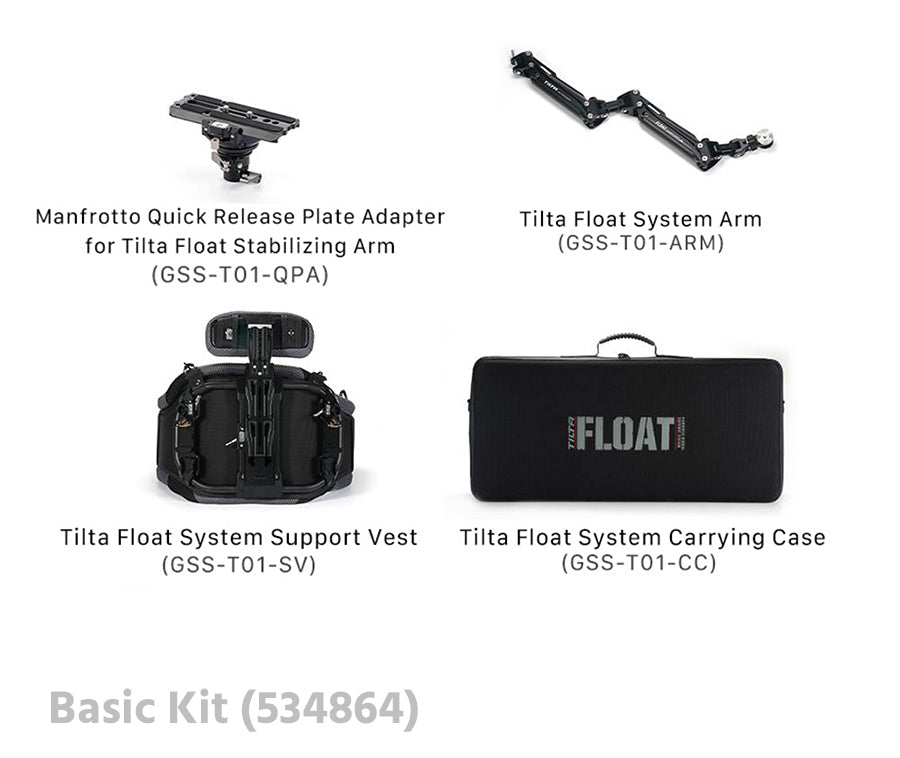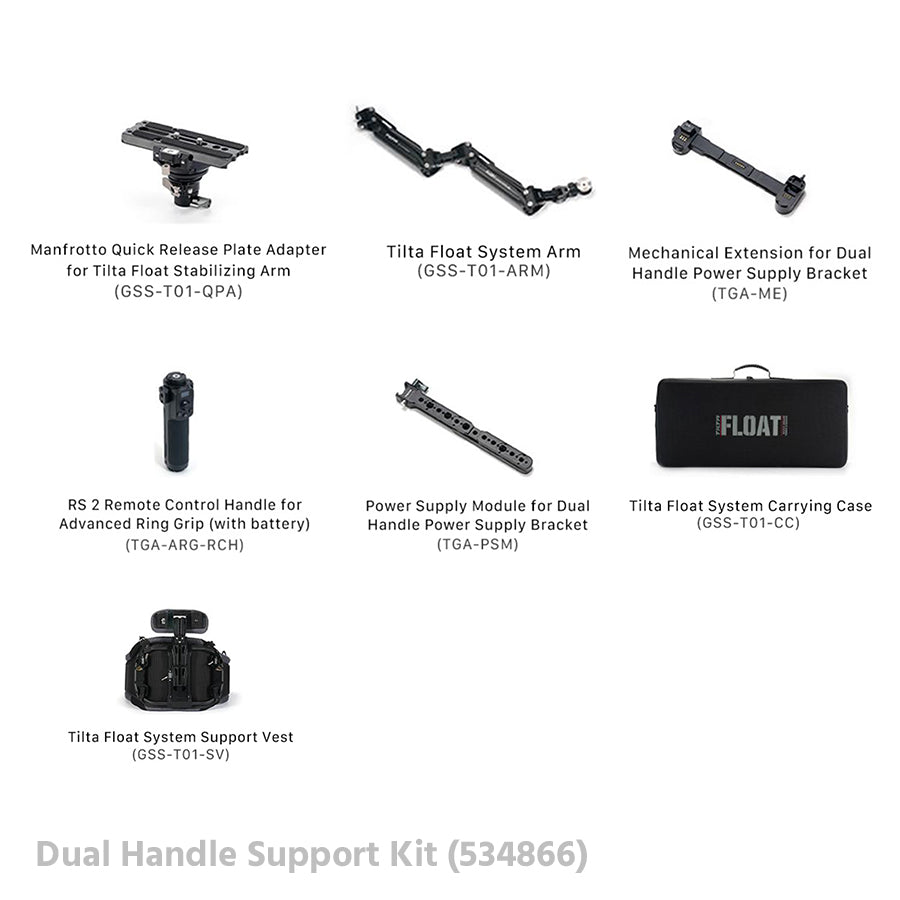 Basic Kit(534864):
1x Manfrotto Quick Release Plate Adapter for Tilta Float Stabilizing Arm(GSS-T01-QPA)
1x Tilta Float System Support Vest(GSS-T01-SV)
1x Tilta Float System Arm(GSS-T01-ARM)
1x Tilta Float System Carrying Case(GSS-T01-CC)
Dual Handle Support Kit(534866):
1x Manfrotto Quick Release Plate Adapter for Tilta Float Stabilizing Arm(GSS-T01-QPA)
1x Tilta Float System Support Vest(GSS-T01-SV)
1x Tilta Float System Arm(GSS-T01-ARM)
1x Tilta Float System Carrying Case(GSS-T01-CC)
1x Power Supply Module for Dual Handle Power Supply Bracket(TGA-PSM)
1x Mechanical Extension for Dual Handle Power Supply Bracket(TGA-ME)
1x RS 2 Remote Control Handle for Advanced Ring Grip(TGA-ARG-RCH)