Aputure MC Pro 5W RGBWW Mini LED Panel Light
---
Brand: Aputure
SKU:

MC Pro

Product code:

535927

MINI COLOUR. MAX CONTROL.
Built for professionals, the MC Pro is an upgraded RGBWW lensed mini LED panel light featuring LumenRadio CRMX and a durable IP65 construction. Based on the original Aputure MC, the MC Pro features a similar compact, credit card-sized form factor while packing in a comprehensive suite of professional functionalities.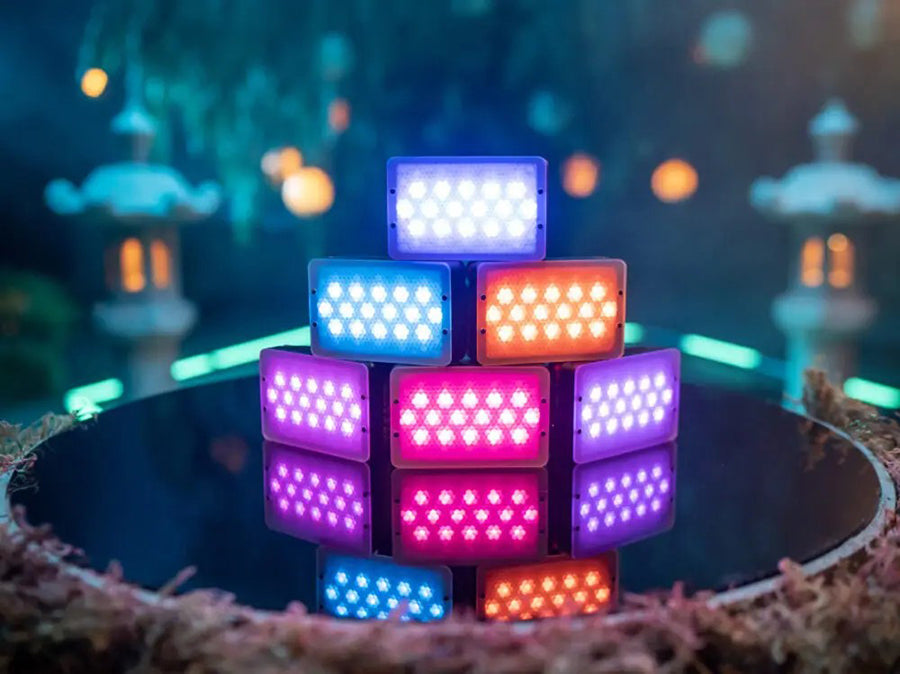 100% POCKETABLE
Whether you need a quick eye light, fill light, or a light that can be hidden in the scene, the MC Pro is the perfect tool for the job. Following the same mini philosophy as other M-series lights, the MC Pro features the same pocketable form factor that is fast, convenient to use, and always at your fingertips – while packing in features designed for the pros.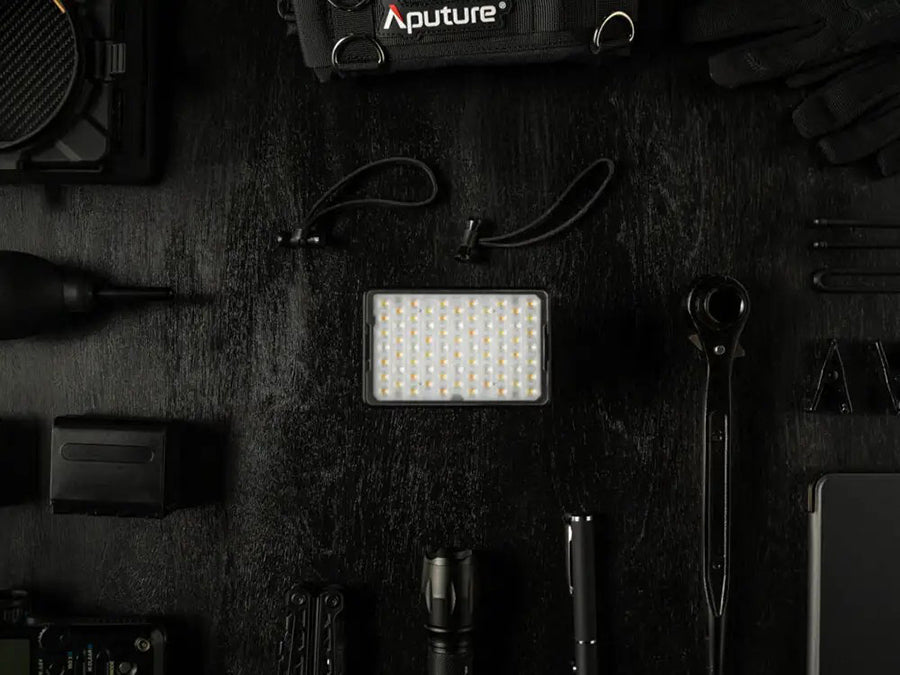 4X THE BRIGHTNESS
Built with a custom optical design that features a tighter 45º beam angle to balance quality and output, the MC Pro creates a sharper and more focused spot for cinematographers and gaffers who require the extra punch. With the ability to output 1,585 lux at 0.5m at 5,600K, the MC Pro is 4 times brighter than the original MC.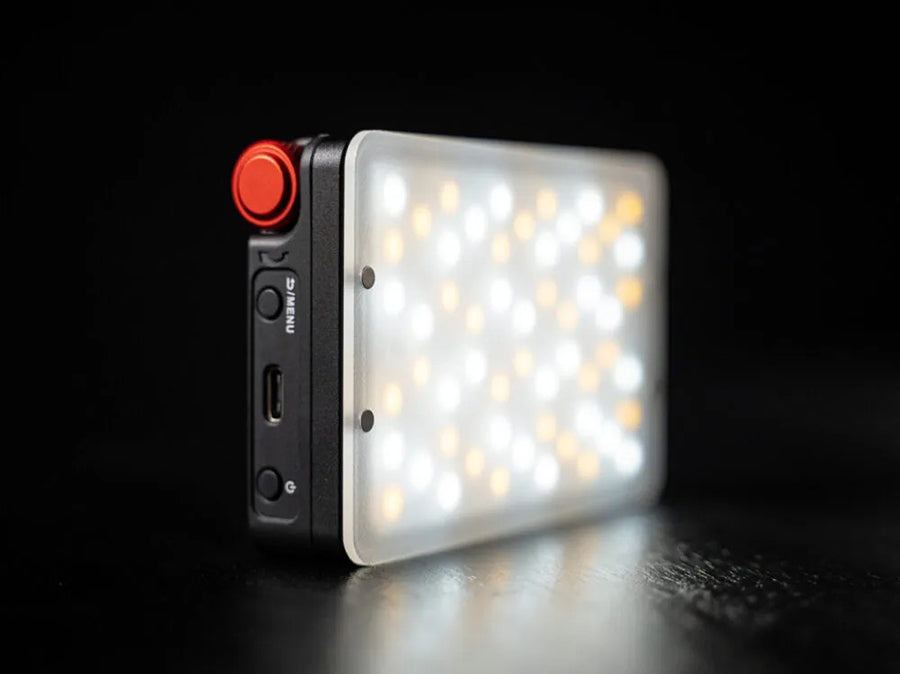 LIGHT CONTROL IN SECONDS
Modify the softness or direction of the MC Pro in less than a second by stacking multiple lighting accessories together or separately using the magnetic accessory mount. Whether using the included Flat Diffuser, the Dome Diffuser, the 30º Light Control Grid, or the Bubble Diffuser* for eyelights and soft ambient spreads, the MC Pro is a quick multi-functional lighting solution that is ready-to-go whenever you need it.
* MC Pro Bubble Diffuser sold separately.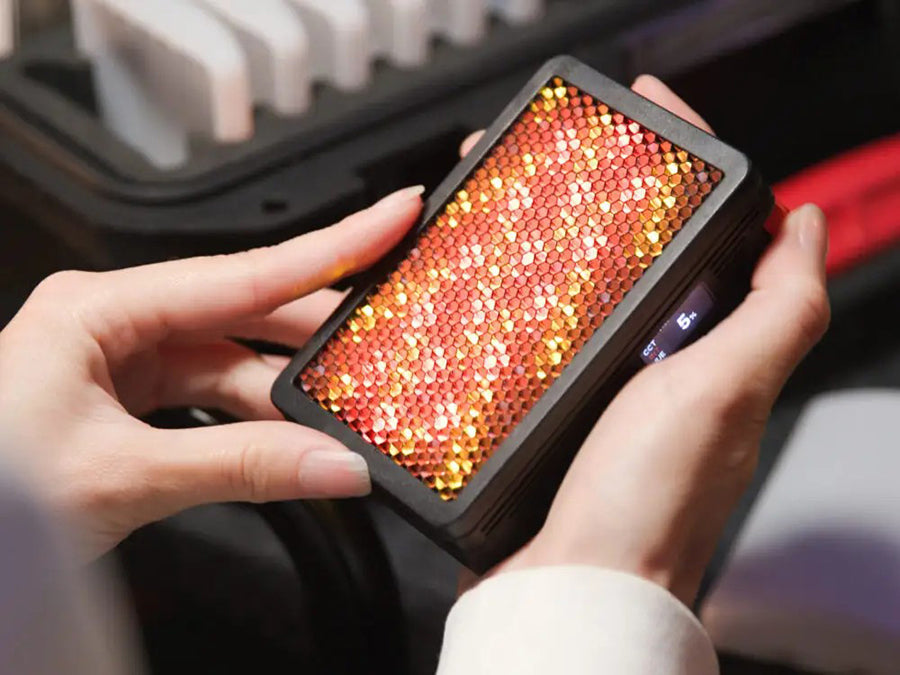 IP65 WATERPROOF DESIGN
For cinematographers and gaffers working in even the most demanding filming environments, the MC Pro's all-aluminum build and enhanced durability and IP65 rating means it is dust and waterproof, and can be used in the same scene as professional fixtures like the LS 1200d Pro in the toughest weather conditions – without worrying about performance or reliability.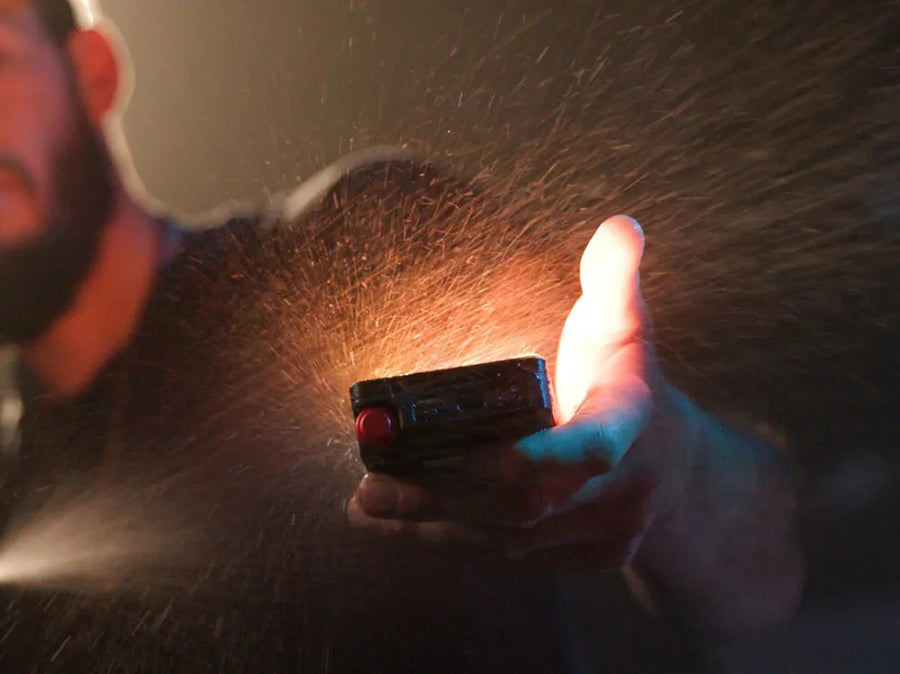 ADVANCED CONTROLS
In addition to Sidus Link app controls, the MC Pro brings industry-standard LumenRadio CRMX wireless control to existing workflows, allowing industry professionals, cinematographers, and lighting technicians to control the MC Pro from a distance. For more permanent setups and stable connections, the MC Pro can also be controlled over wired DMX using the wired Aputure Active USB-C to 5-Pin DMX Adapter* (sold separately).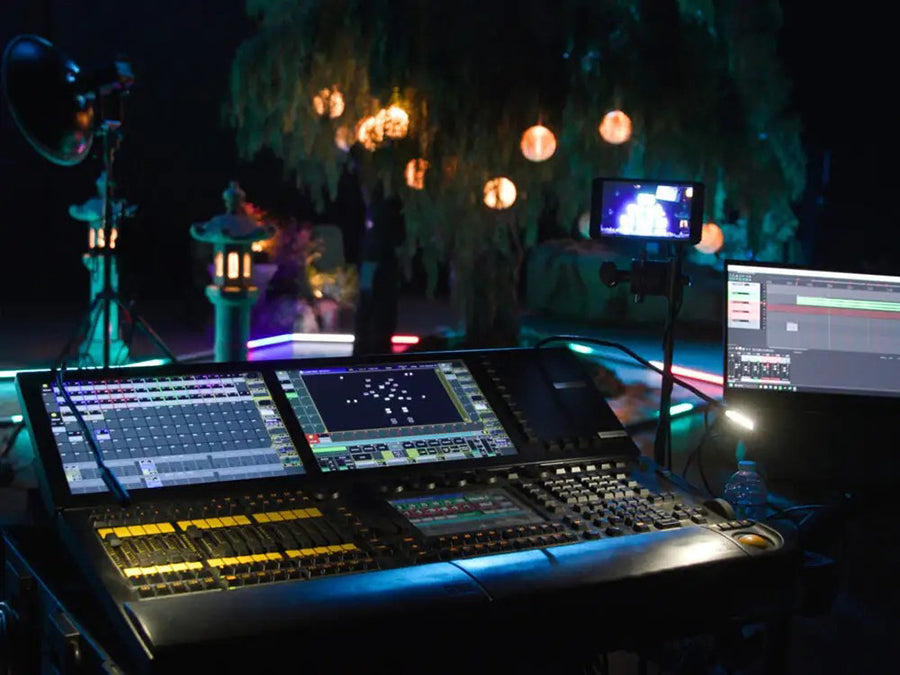 FULL COLOUR CONTROL
The MC Pro packs the same RGBWW chipset as the Nova P600c into its compact frame, with an expanded 2,000K-10,000K CCT range, while maintaining Aputure's benchmark for high quality color reproduction with CRI and TLCI scores of 96, SSI (D56) of 72, and SSI (Tungsten) of 82. The mini light panel also grants access to an array of advanced color modes, including HSI with white point CCT control, 300+ gel presets, 15-built in System FX, and xy control.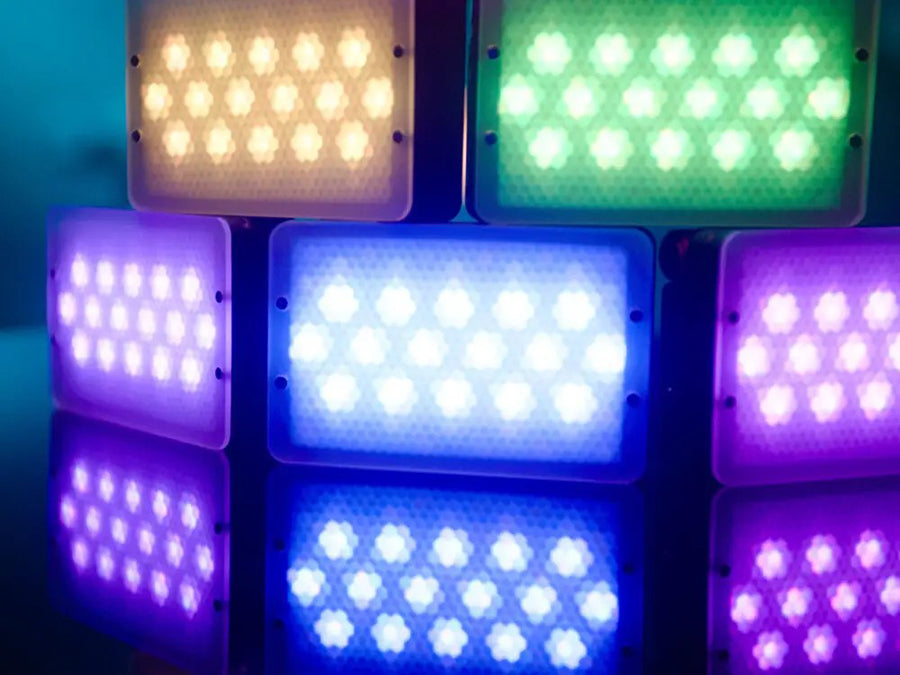 COMPLETE MOUNTING
For the perfect quick and portable accent light, mount the MC Pro onto the hot-shoe of a camera, tripod, or light stand using the included cold shoe ball head with magnetic 1/4-20in adapter on the 1/4-20in screw mount and reposition in any orientation you may need. And to hide the mini light in hard-to-reach areas, its integrated neodymium magnets and adhesive magnetic plates makes the MC Pro shine as a mini light that can be placed and operated virtually anywhere.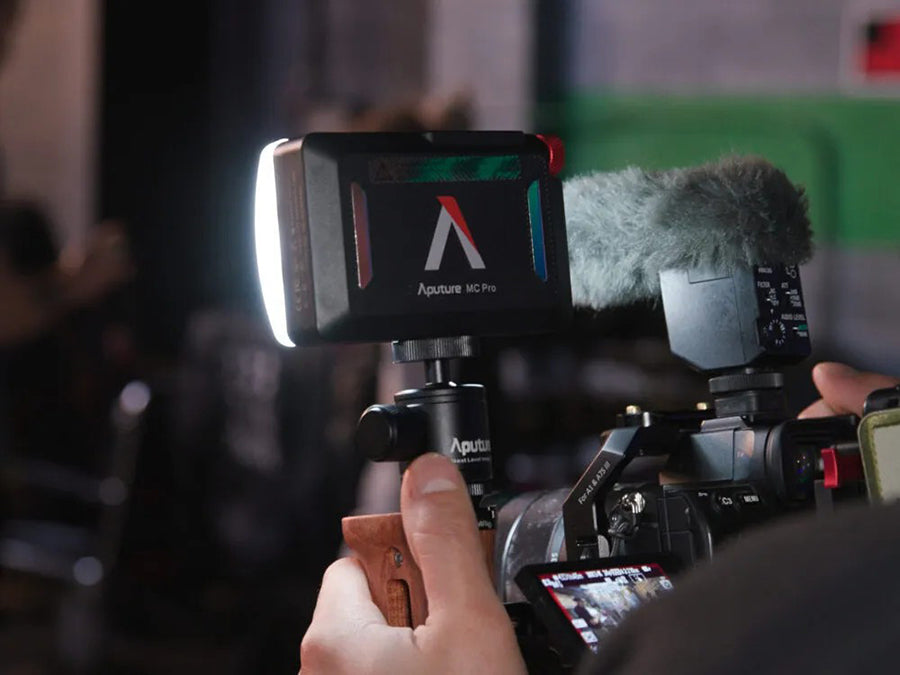 POWER ANYWHERE
With its built-in rechargeable 15.5Wh battery, the MC Pro is ready to tackle any production challenge with its 2 hour battery life at max output – making it always at your fingertips for a quick fill light or light that can be hidden in the scene. And by charging the LED panel with the included USB-C cable at 5V/2A, your MC Pro will be ready to roll again in just 90 minutes.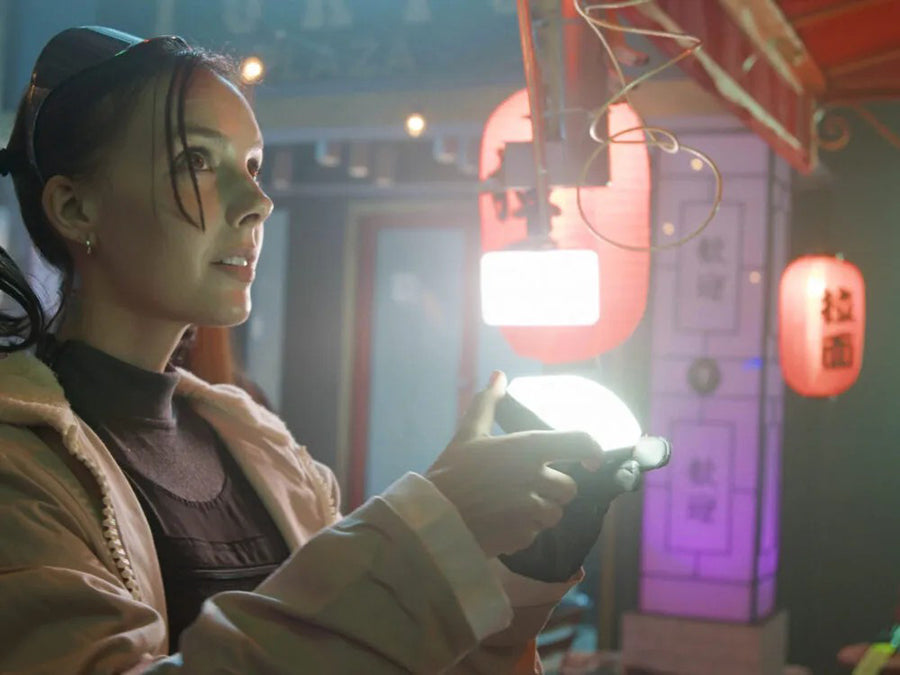 FOR PROFESSIONALS
Designed for cinematographers and gaffers, the MC Pro 8-Light Kit* expands the flexibility of the MC Pros with not only 8x the number of fixtures, but additional sets of magnetized modifiers and mounting accessories to meet the highest of demands. Store and charge 8 MC Pro's using its integrated contact pins for a seamless charging workflow and ensure you are always ready-to-go.
*MC Pro 8-Light Kit sold separately.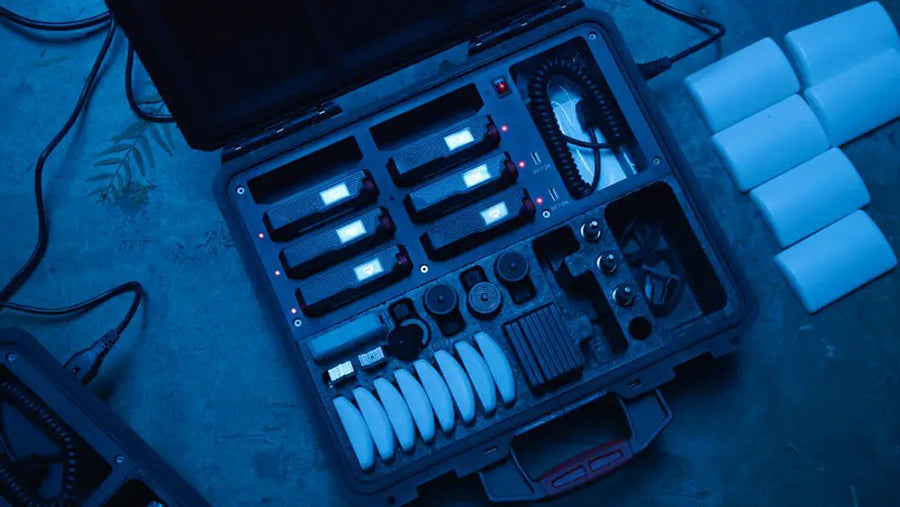 Specifications:


| | |
| --- | --- |
| CCT | 2,000K - 10,000K |
| CRI | 96 |
| TLCI | 96 |
| CQS | 95 |
| SSI (D56) | 72 |
| SSI (Tungsten) | 82 |
| TM-30 RF (Average) | 94 |
| TM-30 RG (Average) | 103 |
| Max Power Output | 5W |
| Max Power Consumption | 7W |
| Lumens | 563 lm |
| Max Operating Current | 0.84A |
| Operating Voltage | 3.0-4.2V |
| Charging Input | USB Type-C (5V/2A), Contact Charger |
| Lithium-Polymer Battery | 4,200mAh / 3.7-4.2V, 15.5Wh |
| Battery Life | Approx. 120 Mins @ Max Output |
| Charge Time | Approx. 90 Mins (5V/2A) |
| IP Rating | IP65 |
| Operating Temeprature | -20ºC~45ºC / -68ºF~113ºF |
| Dimming | 0-100% |
| Control Methods | On-board,Sidus Link App, DMX/RDM, LumenRadio CRMX |
| Wireless Range (Bluetooth) | ≤80m / ≤262ft |
| Wireless Range (LumenRadio) | ≤100m / ≤328ft |
| Screen Type | TFT |
| Firmware Upgradeable | Sidus Link |
| Cooling Method | Passive Cooling |
| Dimensions | 10.8 x 7.0 x 2.5cm / 4.25 x 2.76 x 0.98in |
| Weight | 247g / 0.54 lbs |
PHOTOMETRICS
| | | | | | | |
| --- | --- | --- | --- | --- | --- | --- |
| CCT | Distance | Bare Bulb | Dome Diffuser | Flat Diffuser | 30º Grid | Bubble Diffuser* |
| 2,000K | 0.5m | 1,027 lux / 95 fc | 253 lux / 24 fc | 463 lux / 43 fc | 838 lux / 78 fc | 194 lux / 18 fc |
| | 1m | 257 lux / 24 fc | 63 lux / 6 fc | 116 lux / 11 fc | 210 lux / 20 fc | 49 lux / 5 fc |
| 2,700K | 0.5m | 1,244 lux / 116 fc | 297 lux / 28 fc | 543 lux / 50 fc | 1,014 lux / 94 fc | 226 lux / 21 fc |
| | 1m | 311 lux / 29 fc | 74 lux / 7 fc | 136 lux / 13 fc | 254 lux / 24 fc | 57 lux / 5 fc |
| 3,200K | 0.5m | 1,459 lux / 136 fc | 344 lux / 32 fc | 628 lux / 58 fc | 1,183 lux / 110 fc | 262 lux / 24 fc |
| | 1m | 365 lux / 34 fc | 86 lux / 8 fc | 157 lux / 15 fc | 296 lux / 27 fc | 66 lux / 6 fc |
| 4,300K | 0.5m | 1,597 lux / 148 fc | 384 lux / 36 fc | 696 lux / 65 fc | 1,314 lux / 122 fc | 291 lux / 27 fc |
| | 1m | 399 lux / 37 fc | 96 lux / 9 fc | 174 lu / 16 fc | 328 lux / 30 fc | 73 lux / 7 fc |
| 5,600K | 0.5m | 1,585 lux / 147 fc | 392 lux / 36 fc | 706 lux / 66 fc | 1,322 lux / 123 fc | 297 lux / 28 fc |
| | 1m | 396 lux / 37 fc | 98 lux / 9 fc | 177 lux / 16 fc | 331 lux / 31 fc | 74 lux / 7 fc |
| 6,500K | 0.5m | 1,559 lux / 145 fc | 390 lux / 36 fc | 697 lux / 65 fc | 1,304 lux / 121 fc | 295 lux / 27 fc |
| | 1m | 390 lux / 36 fc | 98 lux / 9 fc | 174 lux / 16 fc | 326 lux / 30 fc | 74 lux / 7 fc |
| 7,500K | 0.5m | 1,558 lux / 145 fc | 385 lux / 36 fc | 693 lux / 64 fc | 1,296 lux / 120 fc | 291 lux / 27 fc |
| | 1m | 390 lux / 36 fc | 96 lux / 9 fc | 173 lux / 16 fc | 324 lux / 30 fc | 73 lux / 7 fc |
| 10,000K | 0.5m | 1,492 lux / 139 fc | 381 lux / 35 fc | 670 lux / 62 fc | 1,243 lux / 115 fc | 283 lux / 26 fc |
| | 1m | 373 lux / 35 fc | 95 lux / 9 fc | 168 lux / 16 fc | 311 lux / 29 fc | 71 lux / 7 fc |
| Red | 0.5m | 442 lux / 41 fc | 175 lux / 16 fc | 295 lux / 27 fc | 366 lux / 34 fc | 146 lux / 14 fc |
| | 1m | 110 lux / 10 fc | 44 lux / 4 fc | 74 lux / 7 fc | 92 lux / 9 fc | 37 lux / 3 fc |
| Green | 0.5m | 849 lux / 79 fc | 329 lux / 31 fc | 570 lux / 53 fc | 716 lux / 67 fc | 279 lux / 26 fc |
| | 1m | 212 lux / 20 fc | 82 lux / 8 fc | 143 lux / 13 fc | 179 lux / 17 fc | 70 lux / 7 fc |
| Blue | 0.5m | 143 lux / 13 fc | 63 lux / 6 fc | 101 lux / 9 fc | 121 lux / 11 fc | 56 lux / 5 fc |
| | 1m | 36 lux / 3 fc | 16 lux / 1 fc | 25 lux / 2 fc | 30 lux / 3 fc | 14 lux / 1 fc |
Package Contents:

1x MC Pro
1x MC Pro Flat Diffuser
1x MC Pro Dome Diffuser
1x MC Pro 30º Light Control Grid
1x Cold Shoe Ball Head
1x ¼-20in Screw to Magnetic Plate Adapter
1x USB Type-C Charger Cable
1x Adhesive Magnetic Plate
1x Carrying Case