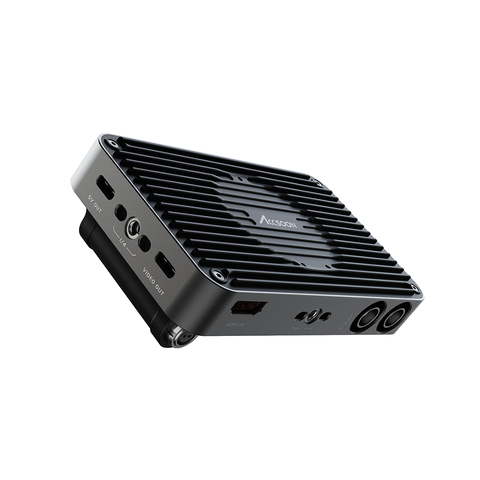 Accsoon SeeMo Pro SDI/HDMI iOS Video Adapter
---
Brand: Accsoon
SKU:

SEEMOPRO

Product code:

535955

SDI and HDMI Video on iPhone and iPad
The SeeMo Pro is a monitoring/recording/streaming adapter for iOS devices that can accept HD signals up to 1080p 60fps over either HD SDI or HDMI. With HD SDI input and loop out, the SeeMo Pro SDI is incredibly power-efficient and can flexibly power iPhones and iPads. In combination with the Accsoon SEE app, it transforms iPad or iPhone into a fully featured production monitor with a complete set of professional tools.




Transforms iOS Devices Into Production Monitors
The Accsoon SeeMo Pro SDI is a small box that goes in-between your camera or other SDI/HDMI source and your iOS device via Lightning or USB-C cable.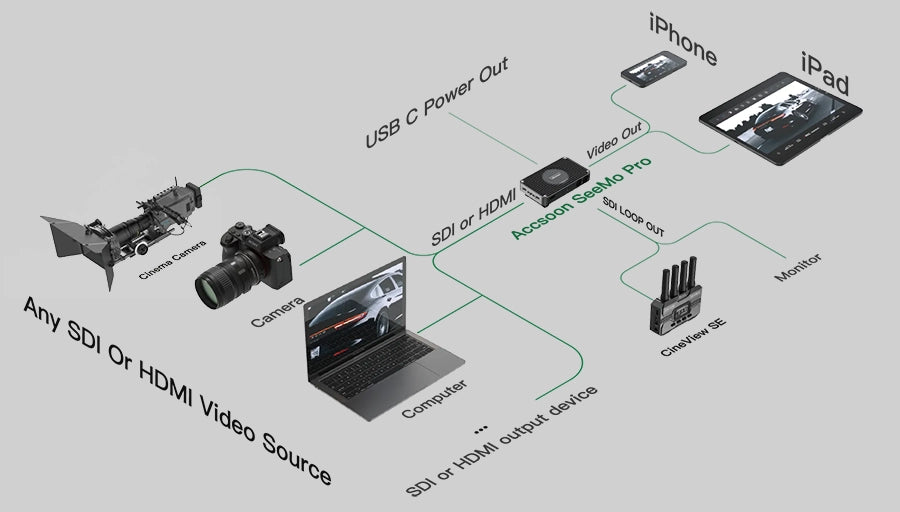 Versatile Connect Ports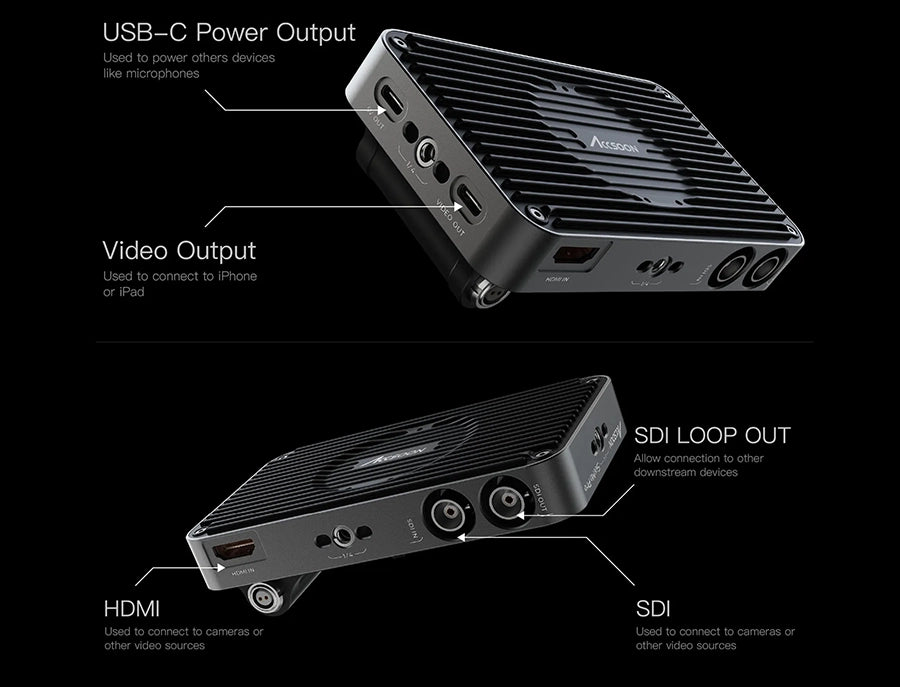 Professional Monitoring Solution
Superb Image Quality on Latest iPhones and iPads Rivals Top-End monitors.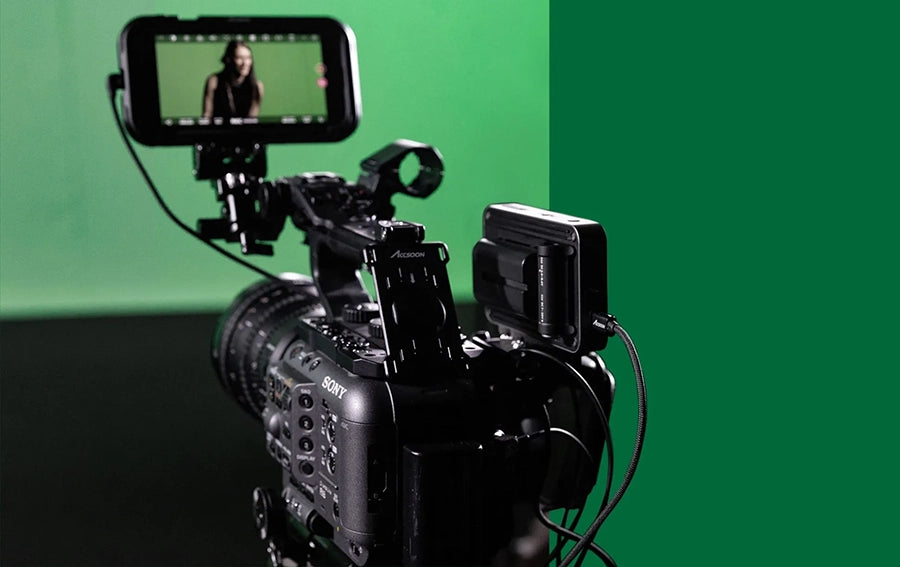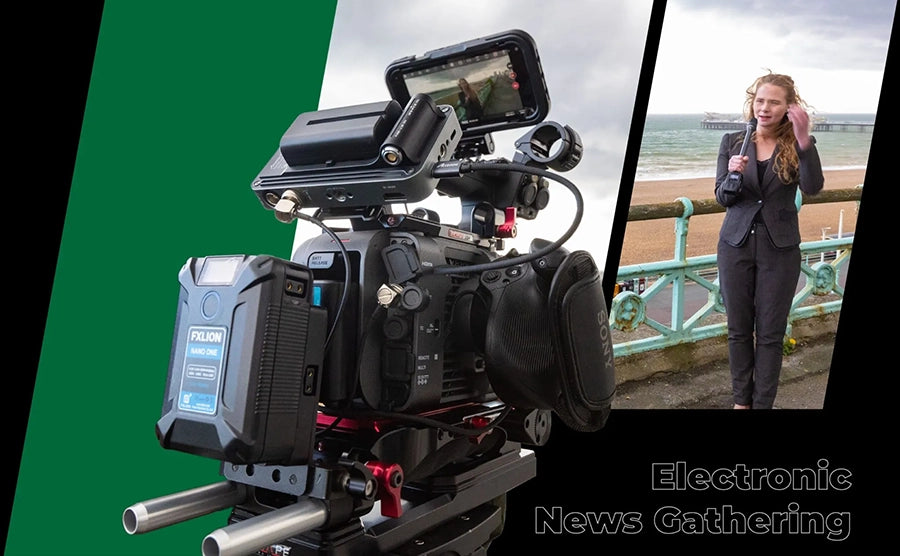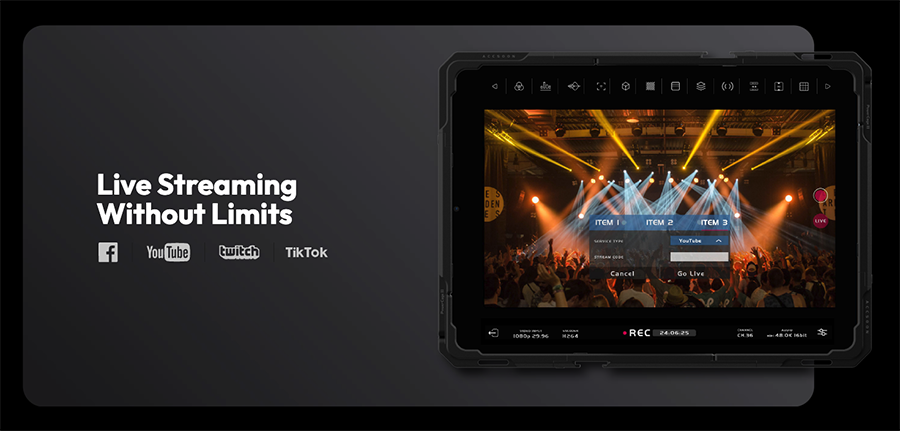 Power Your iOS Device
Discover the Enhanced Power Capability of SeeMo Pro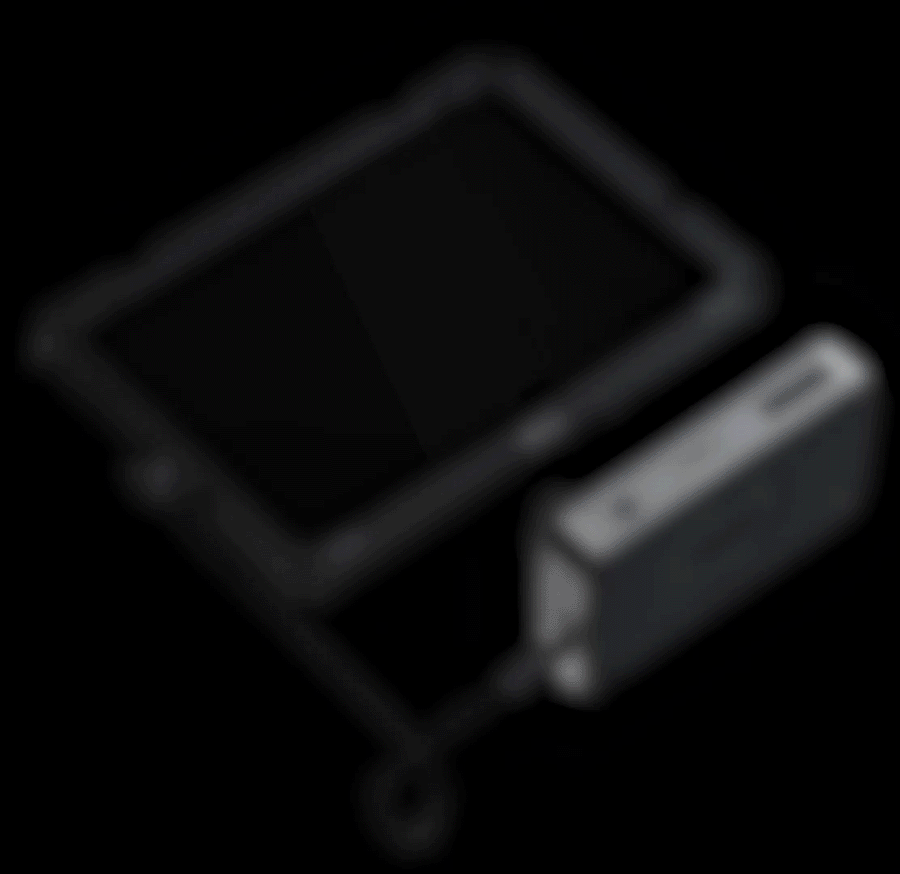 Flexible Powering (NPF/DC)
The SeeMo Pro runs off standard NP-F style batteries or via a 2-pin DC connector.




Rugged Build For Professional Work
SeeMo Pro SDI features a tough lightweight aluminum body with multiple 1/4"-20 anti-rotation mounting points for flexibility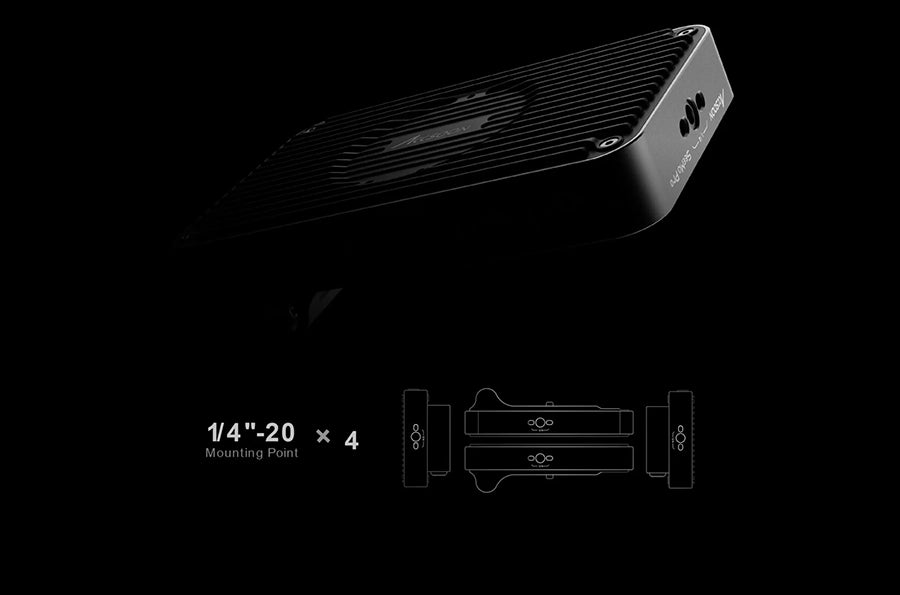 Get More Out Of Accsoon See App



Share And Connect



The SeeMo Pro SDI can accept HD signals up to 1080p 60fps over either HD SDI or HDMI from cameras, mixers, games consoles and wireless receivers. The HD SDI input can also be looped out to allow connection to other downstream devices such as Accsoon's own CineView SE and Quad SDI wireless transmitters.

SeeMo Pro SDI is incredibly power efficient and runs off Sony NP-F style batteries or via a pro-grade 2-pin DC connector. It can supply 5V/2.4A power to a connected iPad or iPhone for extended operation times. It can also charge other devices over USB-C operating as a power bank.

When combined with the free Accsoon SEE app it transforms any recent iPad or iPhone into a fully featured production monitor with a complete set of professional tools such as waveform, magnification, vectorscope, false color, peaking and audio level meters. Users can apply custom LUTs, or use the onion skin image overlay to precisely line up their shots. There are even options to de-squeeze anamorphic video on-screen, or flip video to aid self shooting.

RUGGED BUILD FOR PROFESSIONAL WORK
SeeMo Pro SDI features a tough lightweight aluminum body with multiple 1/4-20 anti-rotation mounting points for flexibility. For on-camera monitoring the SeeMo Pro can be placed directly to the back of an iPhone or iPad mini using the dedicated mounting options. Alternatively, some camera operators may prefer to mount the SeeMo separately on their camera or gimbal and cable the iPhone or iPad to it. Accsoon sell extended 1m Lightning cables where additional length is required.

SeeMo Pro SDI can also turn larger iPads and iPad Pros into ideal directors' monitors with the aid of Accsoon's line of PowerCages for iPad. The latest PowerCage II and PowerCage Pro II surround the iPad with metal protection and provide a solid way to mount the SeeMo Pro SDI to the rear of the setup. A built-in kick stand allows it to be set down safely without toppling over.

RECORD AND SHARE DIRECT
SeeMo Pro SDI's capabilities don't stop there. Once you have high quality HD video input into your iOS device you can then treat it in the same way you would video shot with the iPhone or iPad's own internal cameras. You can record HD video input via SeeMo Pro SDI direct to your iOS device's camera roll at up to 1080p at 60fps 8-bit in H.264 variable bitrate.

You can also live stream to popular video sharing platforms like YouTube and Facebook using RTMP direct from your SeeMo Pro SDI equipped iOS device. You don't even need a laptop to go live.

FLEXIBLE POWERING
SeeMo Pro SDI can be powered by Sony NP-F type batteries or via a professional 2 pin DC connector. Together they create a continuous power solution that allows users to change batteries without having to power down. The DC connection accepts a voltage range of 6.4 to 16.8 volts.

CONNECT YOUR CAMERA TO AN IOS FUTURE
SeeMo Pro connects your SDI or HDMI camera to the vast world of iOS connectivity and apps. You can now edit, tag, stream and share video from your SDI camera as simply as if it were shot on your iPhone to start with. Showing a clip to a client or producer in another town or city is as simple as firing up iMessage and pressing send.

But that is just scratching the surface of SeeMo Pro's capabilities. By placing your iPad or iPhone with SeeMo at the heart of an iOS ecosystem it opens up new ways of working, all with the simplicity and elegance of iOS apps and hardware.

BE AT THE CENTER OF AN IOS ECOSYSTEM WITH SEEMO
This month has seen announcements of new iOS app integrations with key industry players Switcher Studio and TVU Networks. The versatility of these and other upcoming integrations demonstrates just how SeeMo changes the game. By bringing SDI and HDMI video into iOS, SeeMo truly is at the center of a new set of powerful creative tools.

SWITCHER STUDIO
The recent announcement that the Switcher Studio live-switching iOS now supports SeeMo devices is a good example of how this technology changes the game. Creating a touch-controlled multi cam live stream is now as simple as attaching a SeeMo device to each SDI or HDMI camera and starting Switcher Studio on your iOS device.


Specifications:


Video Input Port
SDI IN
HDMI IN
SDI Video Input Format
1080p 23.98/24/25/29.97/30/50/59.94/60fps Level A/B
720p 50/59.94/60fps
SDI Loop-out Format
1080p 23.98/24/25/29.97/30/50/59.94/60fps Level A/B
720p 50/59.94/60fps
Video Output Port
SDI LOOP OUT
USB-C OUT
Video Output Format
1080p 24/25/30/50/60fps
720p 50/60fps
Battery Compatibility
NP-F550/F750/F970
Power Output Port
USB-C OUTPUT
5V/3A
Power Input Port
2 PIN DC INPUT
6.4-16.8V
iOS Version
iOS 12.0 or later
Power Consumption
3.5 Watt
(without charging other devices)
Operating Environment Temperature
-10℃~40℃
Dimensions
125mm×72mm×35.5mm
Weight
224g
Package Contents:
1x Accsoon SeeMo Pro
1x USB-C to Lightning Cable
1x 1USB-C to USB-C Cable
1x 1SeeMo Mount Bracket
5x M2.5*8 Screw
1x L Shape Wrench
1x 1User Manual