ZEAPON Micro 2 M800 Slider
---
Brand: Zeapon
SKU:

SRD-05

Product code:

533950

Micro 2 600/800 Series is the extended version of the classic Micro 2 double distance slider, with its travel distance reaching up to 74cm and 94cm respectively. It enables filmmakers to adapt to different shooting scenarios with great flexibility. Inheriting all great features of its predecessor, Micro 2 600/800 Series adopts the similar compact & portable design strengthened by ultimate-smooth damping and ultra-quite step motor technology.
This time ZEAPON pushes the boundaries even further by integrating the slider body with a low-profile mount and adding a pair of supporting wheels in between, which helps to achieve rock steady yet silky smooth motions while extending the travel length to up to 39cm and 49cm. This has significantly solved the unwanted "Seesaw Results" commonly existed on current sliders and brings more stability and freedom to slider movements at different angles and lengths.
Bearing users'need in mind, ZEAPON also introduced various practical accessories to the 600/800 series like Suction Cup, Crampons, Dolly and etc.
Paired with a dedicated phone-based App ZEAPON LAB, awesome timelapse footage can be previewed and programmed in the App with a single tap; Timelapse Calculator intelligently makes the calculation on various timelapse parameters for you, helping every filmmaker and Vlogger capture that perfect moment, from city streets to remoted glaciers, from studio videography to car-chasing scenes, from wedding films to TVC productions. Wherever you go, Micro 2 600/800 Series will always be your best filmmaking companion.
360°SUPER WEIGHT CAPACITY

TRAVEL LENGTHS WHILST REMAINING COMPACT


Steady Support in Motion

Three support arms that come in the box can form a four-point structure with the tripod. Even with a running distance of 1M, you only need one tripod for more stability in motion, no tilting or turning.

Versatile Accessories to Satisfy for ALL
With the foldable landing wheels, it's not only a slider, but also a mini Dolly!




Prolonged Rail Band
The rail band is designed with tension screws on its ends. Users can loosen or tighten the screw to adapt the slider to different shooting environments to best prolong the lifetime of the product.


8 layers of crisscrossing Carbon Fiber
Use high-strength, high-modulus carbon fiber fiber materials imported from Japan with a carbon content of more than 95%, resulting in extremely light, incredibly strong, and exceedingly tough.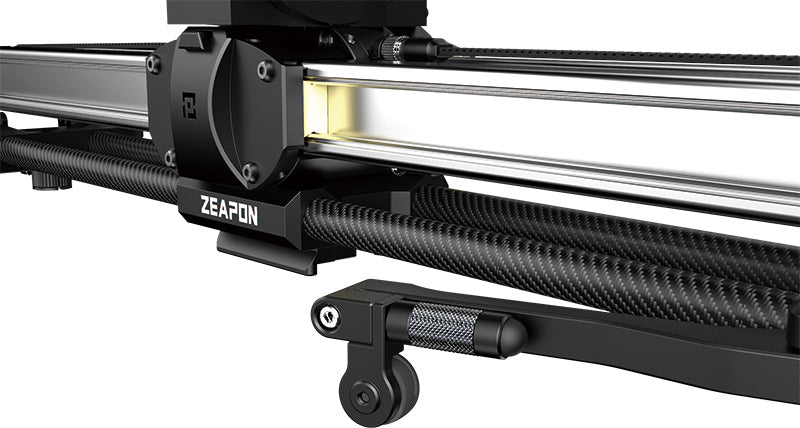 Crane Shots
Connect with dual fluid heads, adjust to a desired angle, the configuration can be used as a Crane, allowing more options on camera angles.

ZEAPON LAB Mobile APP
(Motorised Version Only)




TIMELAPSE CALCULATOR: The ZEAPON LAB app automatically calculates the video duration and estimates the photographing time and the number of photos based on your preset motion path and speed,helping you to get the most precise motion at fingertips.

TIMELAPSE PARAMETERS: The ZEAPON LAB app presets multiple parameters for making different timelapses such as sunrise, sunset, streets, and starlapse.
Primary users can be a timelapse photographer without the need to search for related information.

ADJUSTABLE SPEEDS WITH MULTI-BUTTON CONTROL
(Motorised Version Only)

ZEAPON keeps needs of different users in mind and added multiple control buttons to control the slider to travel left and right and to set three speeds of operation. At the same time, color change of the lights also indicates the remaining power. The remaining power capacity is warned by the color change of the indicators.
More Info About Micro 2 E800 Motorised Slider


Specifications:
Model
Product Length
Total Travel Distance
Wheel Distance
Safety Payload
Micro 2 E800
Motorised Slider
61cm
94cm
50cm
Horizontal Payload:8kg
Weight Capacity in Other Inclined Angles:3.5kg
Micro 2 M800
Slider
53cm
94cm
50cm
Horizontal Payload:8kg
Weight Capacity in Other Inclined Angles:3.5kg
Idling Battery Life under Video Mode (reference):
F550 4 hours
F750 7 hours
F970 14 hours
Timelapse Battery Life is subject to parameter settings under different scenarios
Working Decibel:
39dB
Main Materials:
carbon fiber
Aerial Aluminum Alloy
ABS Composite
304 stainless steel
Power Supply:
Operation Capacity: 7V~8.4V 1.5A
Input Voltage: 9V-12V
Compatible Battery:
F550/F750 / F970
APP Compatible Systems:
Android/IOS
Connection:
Wireless Connection
Package Contents:
1x Micro 2 M800 Double Distance Slider
1x User Manual
1x Warranty Card
1x Carrying Case
1x 1/4"-3/8" screw
1x Hexagon Wrench