Viltrox EF-R3 PRO 0.71x AF Lens Mount Adapter for Canon EF-Mount Lens to RF Mount Cine Camera EOS C70 / Red Komodo
---
Brand: Viltrox
SKU:

EF-R3 PRO

Product code:

534906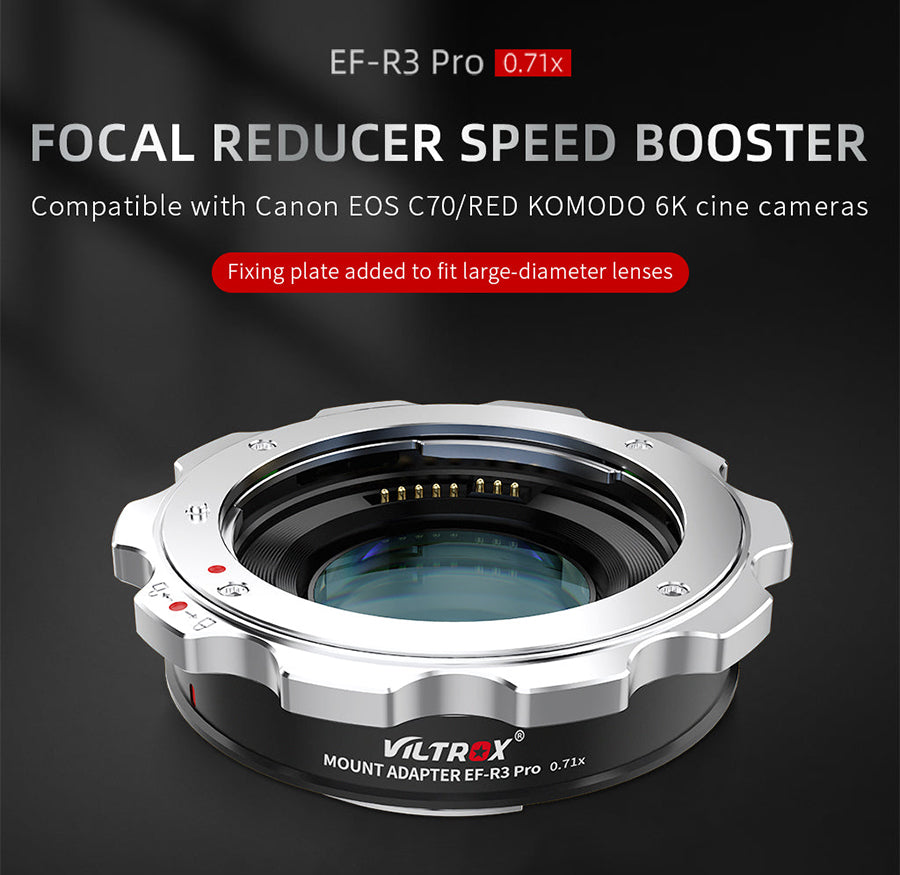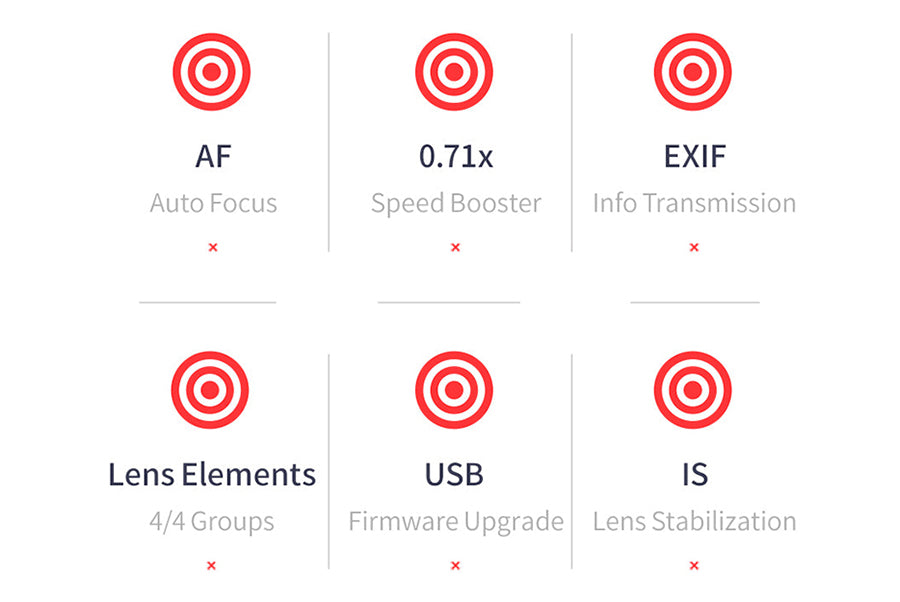 AUTOFOCUS
Canon EF Lenses To RF Mount Cameras
EOS C70/RED KOMODO 6K Cine Cameras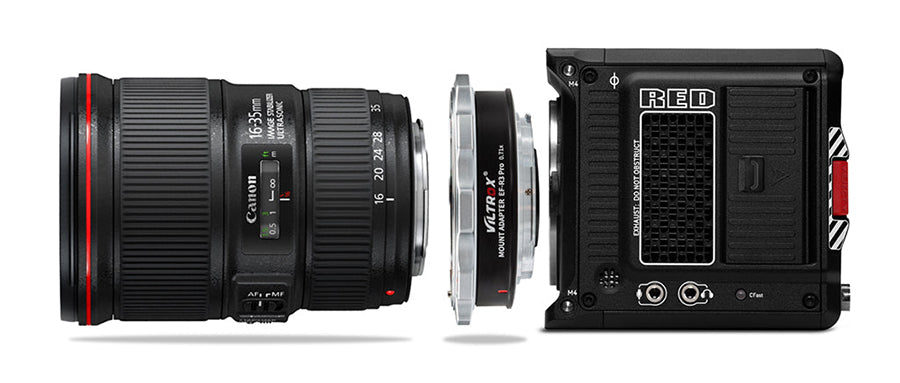 EF MOUNT LENS LINEUP
Compatible with Huge Full Frame EF Mount Lens Group Bring you colorful photography experience



0.71X Focal Reducer
4 Optical Lenses in 4 Groups
The adapter ring has a condensing effect, which can greatly increase the amount of light entering the lens when shooting at the same aperture. When shooting at the same angle of view as a full- frame EF lens, the angle of view will not be narrowed.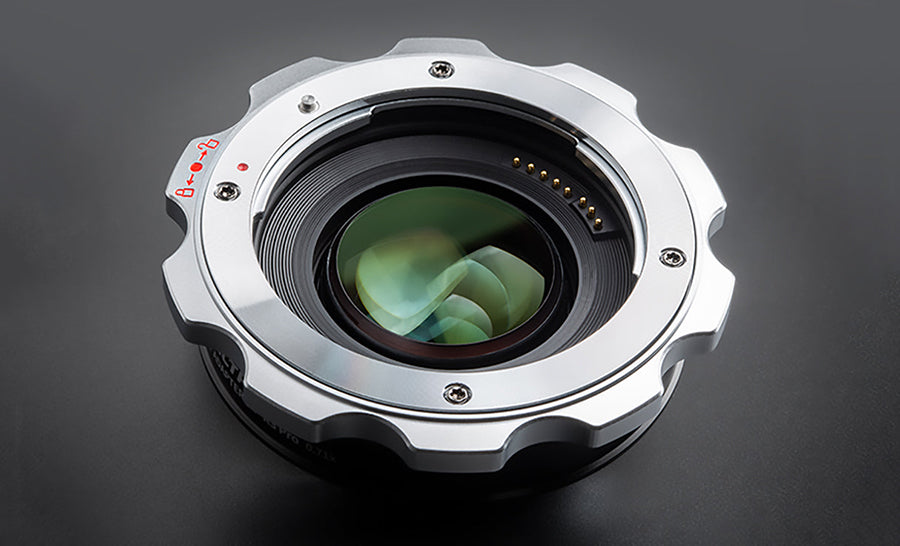 AUTO FOCUS
High Precision/Fast and Reliable Focusing High-speed detecting of faces, eyes, heads, bodies, and animals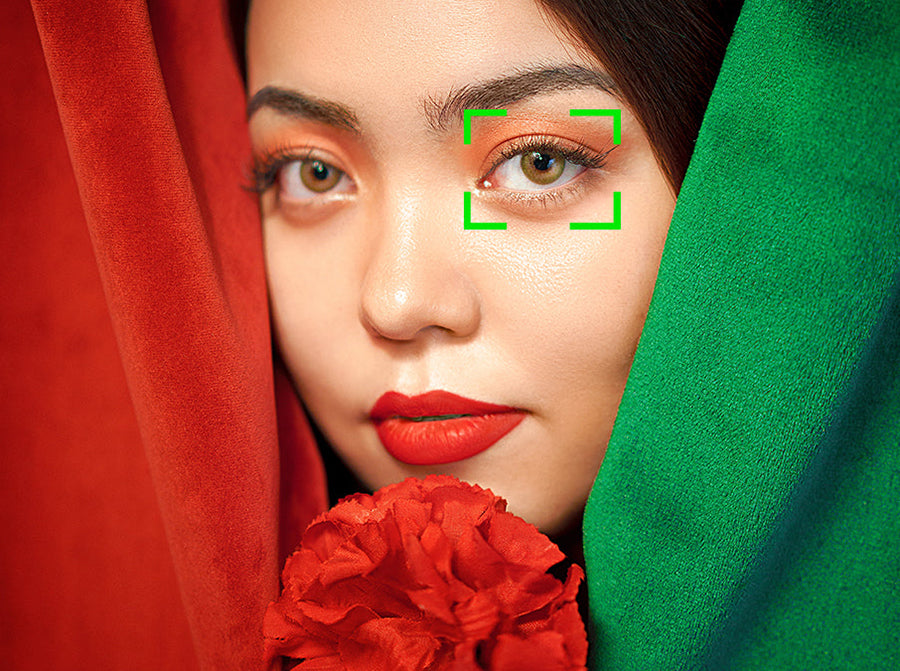 EXIF INFORMATION TRANSMISSION
Aperture/shutter/lSO/exposure...data transmitting Built. insoftware function to record the information attributes and shooting data of photos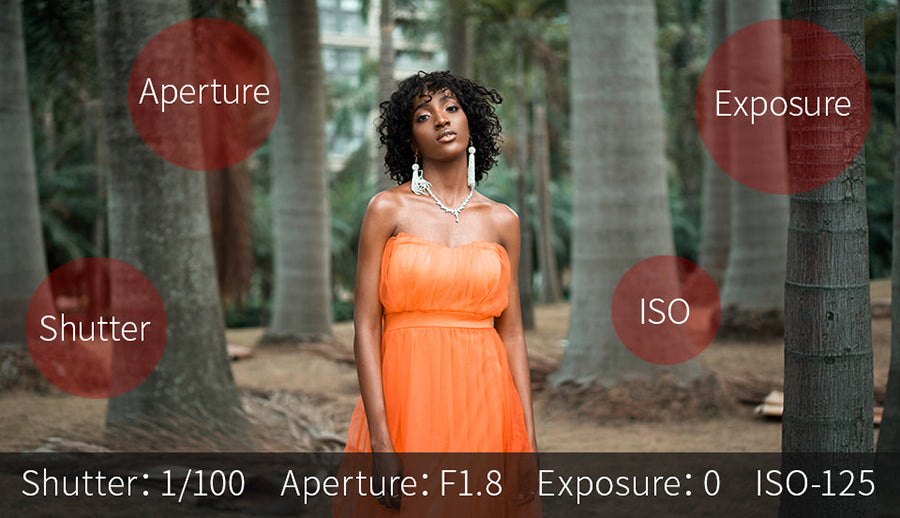 ADD A FIXED PL ATE
Feel Free to Transfer to Large-diameter Lenses With the addition of a fixed plate, there is no need to worry about stability even when using a large-diameter lens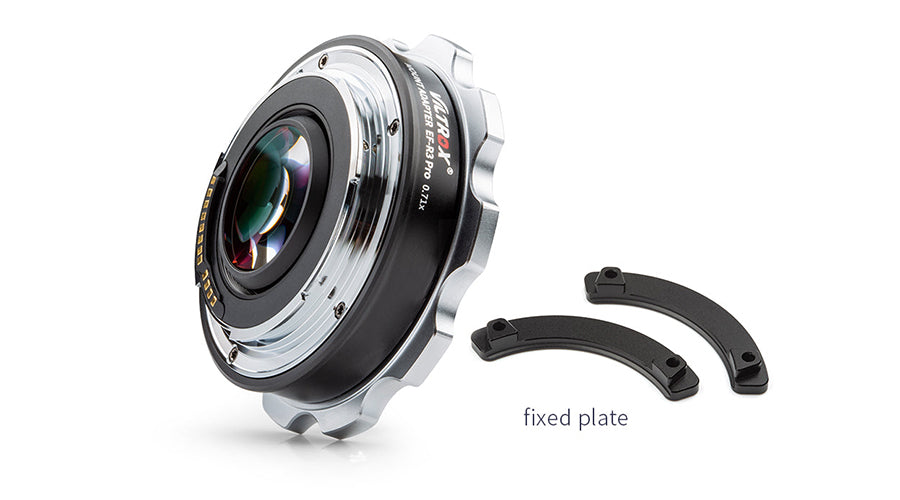 SUPPORT IS LENS STABILIZATION
IS lens stabilization technology enables you to get better photos Effectively eliminate image ghosting and blurring caused by sports shooting or shaking when holding.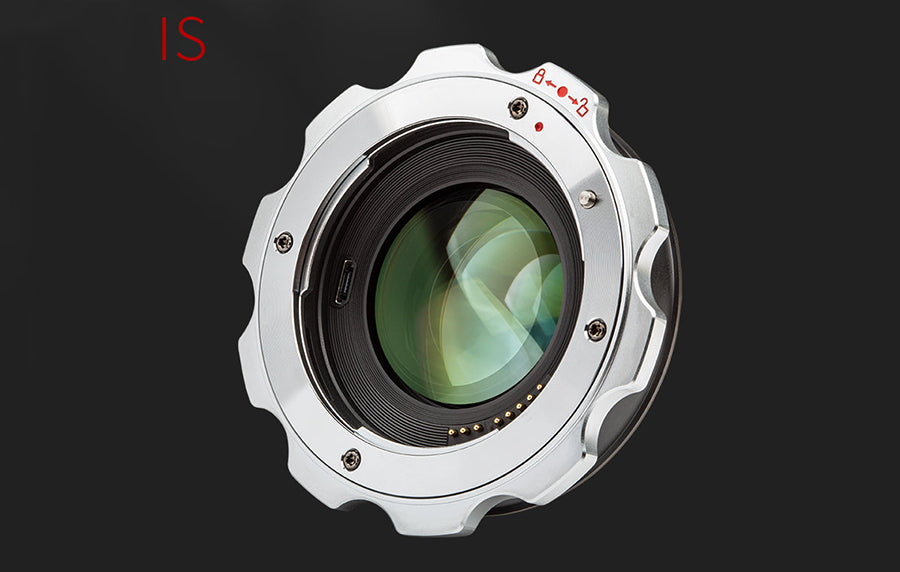 PR ECISION METAL BAYO N ET
Brass Metal Bayonet-Tight Connection-Smoother Transfer Metal material improves reliability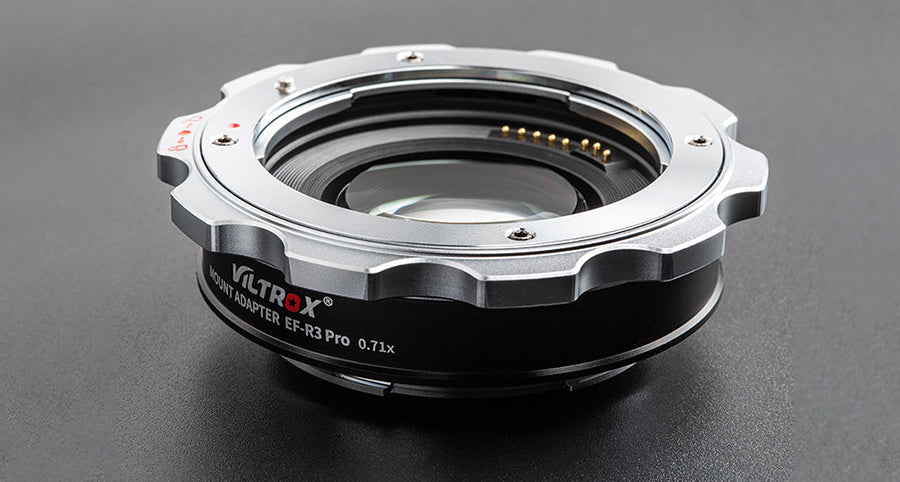 Focus on Details Considerate Design
Details reflect quality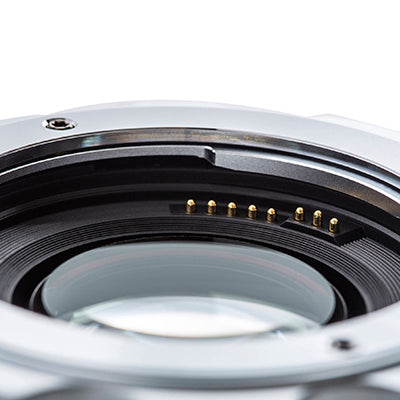 Metal electronic contacts Realize information transmission between lens and camera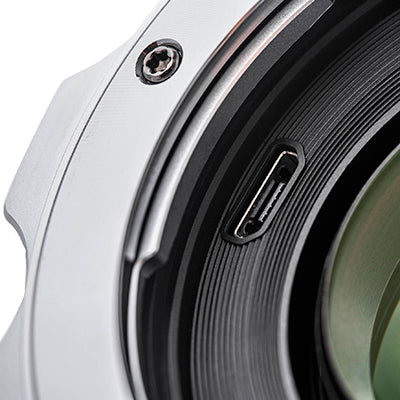 MICRO USBInterface Adapter ring firmware upgrade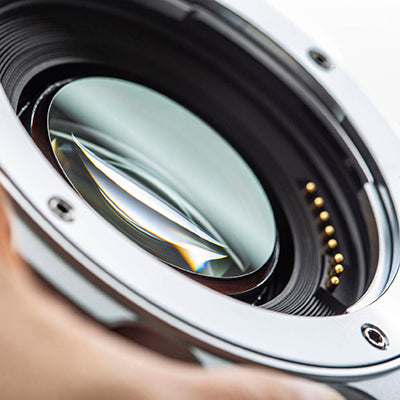 0.71X magnification 4 optical glasses in 4 groups

Parts ldentification
Canon EF lens to RF Cameras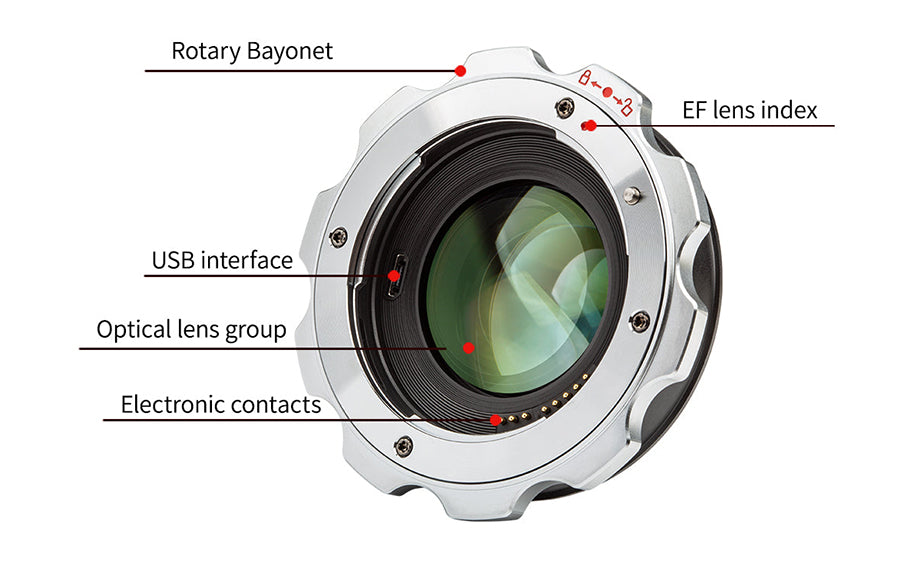 This 0.71x Lens Mount Adapter from Viltrox allows a full-frame Canon EF-mount lens to be mounted onto a RF Mount Cine Camera EOS C70 / Red Komodo camera. While doing so, the adapter's optics help to maximize the connected lens's apparent angle of view while providing a one-stop increase for the camera over the lens's aperture range.

If a lens intended for 35mm film or similarly-sized full-frame camera sensors is connected to a RF Mount Cine Camera EOS C70 / Red Komodo camera, it would project an image larger than the camera's Super 35 sized sensor was built to accept. Able to capture only the center portion of the projected image, the effective angle of view of the lens would be narrowed, creating an in-camera "crop factor." This adapter condenses the light from a lens designed for 35mm film or "full frame" camera sensors and projects it onto a RF Mount Cine Camera EOS C70 / Red Komodo camera's Super 35 sensor. This allows the Super 35 sensor to utilize more of the light gathered by a connected lens, which effectively reduces the crop factor while making available to the sensor an additional one stop of light for each of the lens's f/stop settings.

If a compatible lens includes autofocus, as well as camera-controlled aperture functions, this adapter is intended to allow those features to be used. Also, if an attached lens is capable of generating Exif metadata when used with a directly compatible camera, this adapter is designed to allow that information to be saved along with image files generated with a combination of the lens, a compatible RF Mount Cine Camera EOS C70 / Red Komodo camera, and the adapter.

This adapter is constructed with four lens elements in four groups that are designed to provide optical clarity as well as color fidelity, and the underside of its detachable tripod foot is tapped with a 1/4"-20 accessory thread, enabling direct attachment to tripods or quick release plates that feature 1/4"-20 mounts. For ease of upgrading its firmware, this adapter also includes a micro-USB port.


Features:

Maximizes apparent angle of view of combined camera and lens
Provides a one-stop increase for the camera over the lens's aperture range
Four lens elements in four groups for optical clarity as well as color fidelity
Supports electronic communication between camera and lens to enable autofocus, on-camera aperture control, and Exif metadata generation when possible
Detachable tripod foot with 1/4"-20 accessory thread for direct attachment to tripods or quick release plates that feature 1/4"-20 mounts


Specifications:

Adapter

| | |
| --- | --- |
| Camera Mount | Canon RF |
| Lens Mount | Canon EF |
| Magnification | 0.71x |
| Optical Design | 4 Elements in 4 Groups |
| Electronic Communication | Yes |
| Display | No |
Physical
| | |
| --- | --- |
| Tripod Mounting Thread | 1/4"-20 Female |
| Dimensions | ø: 3.1 x D: 1.0" / ø: 79.0 x D: 26.0 mm |
| Weight | 7.0 oz / 199 g |
Packaging Info
| | |
| --- | --- |
| Package Weight | 0.83 lb |
| Box Dimensions (LxWxH) | 4.8 x 4.1 x 2.5" |
Package Contents:
1x Viltrox EF-R3 PRO 0.71x Lens Mount Adapter for Canon EF-Mount Lens to RF 1x 1x Mount Cine Camera EOS C70 / Red Komodo
1x Front Body Cap
1x Rear Body Cap