FalconEyes RX-18TDX II 100W Bi-Color Waterproof IPX8 Roll-Flex Flexible LED Panel
---
Brand: FalconEyes
SKU:

RX-18TDX II

Product code:

533395
The 2nd generation of ROLLFLEX LED Panel Light.

The RX-18TDX II LED Panel will be completely waterproof! Also will be adding scene effects the new bi-color control system!

The RX-18TDX II is officially certified for IPX8 waterproof rating, and was tested under water depth of 30 meters with 30mins of time.

Get ready for your under-water filming!
All the panels in Roll-Flex series are handy, lightweight and easy to carry making them must-have equipment for studio or outdoor use.

The Roll-Flex panel can be set up either with an X-Type bracket for easy mounting on light stands, or use the fastener strips to attach the panel to any fabric surface, even tessellate panels to make a single tiled light source!

Specification:


| | |
| --- | --- |
| Model | RX-18TDX II |
| Size | 45 x 60cm |
| Power | 100W |
| Color Temperature | 3000K - 5600K (step-less)  |
| Dimming | 0-100% Step-less dimming |
| Beam Angle | 10-360° |
| CRI | 95 |
| LUX | 9920 (0.5m) / 3660 (1m) / 933 (m) |
| Effects  | 9 Effects Built-in |
| DMX Cable Port | 3 Pin |


Package Content: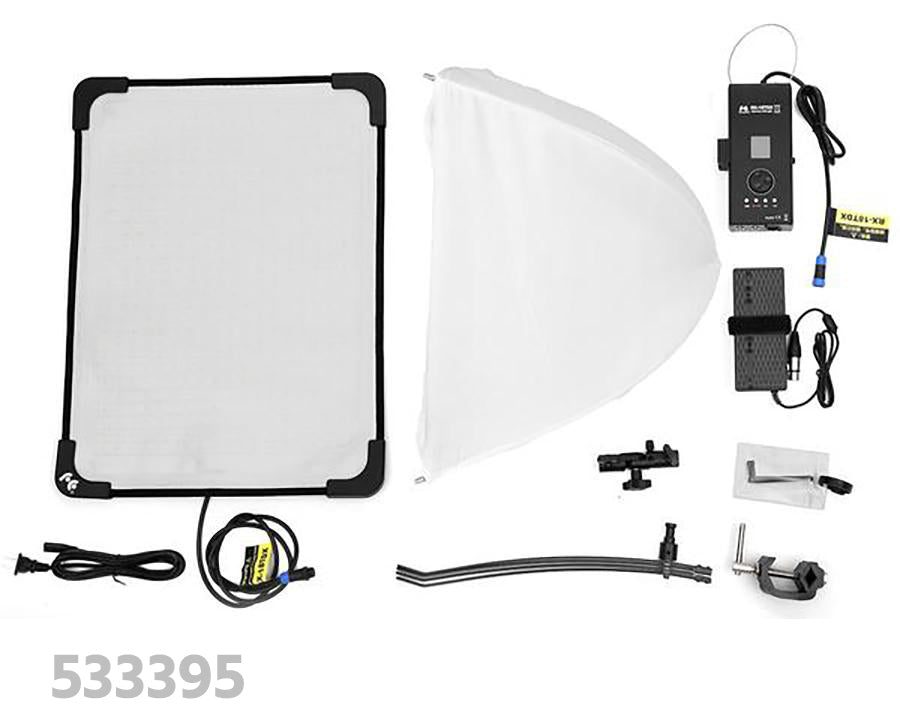 Basic Kit (533395):
1x RX-18TDX II Roll-Flex Light
1x Control Box
1x X-Shaped Bracket
1x V Mount Fixed Belt
1x L-Shape Bracket
1x Adaptor
1x Adaptor Power Cable
1x 2.4G Signal Enhancement Antenna
1x Carrying Bag
1x RX-18OB Soft Box (531521)
Advanced Kit (PK1722):

1x RX-18TDX II Light Basic Kit (533395)
1x FalconEyes RC-5B Wireless Remote Controller (533047)
1x RX-18SBHC Soft Box (531841) 


Dual Light Kit (PK1695):
2x RX-18TDX II Light Basic Kit (533395)
2x RX-18SBHC Soft Box (531841) 

1x FalconEyes RC-5B Wireless Remote Controller (533047)
2x FalconEyes Extension Power Cable 10m (532391)

Dual Light Power Kit (PK1696)

2x RX-18TDX II Light Basic Kit (533395)
2x RX-18SBHC Soft Box (531841) 

1x FalconEyes RC-5B Wireless Remote Controller (533047)
2x FalconEyes Extension Power Cable 10m (532391)