Aputure LS 600c Pro COB LED Light
---
Brand: Aputure
SKU:

LS600C Pro

Product code:

534992
LS 600C PRO
Full Color in Full Force


FULL COLOR IN FULL FORCE
The all-new Light Storm 600c Pro is Aputure's first-ever RGBWW Bowens Mount LED. Featuring our tried-and-true color technology, and familiar Light Storm design, the LS 600c Pro completes the LS 600 series trifecta, finally bringing full color functionality to our modifiable point-source line-up, so you can shape your color to your scene.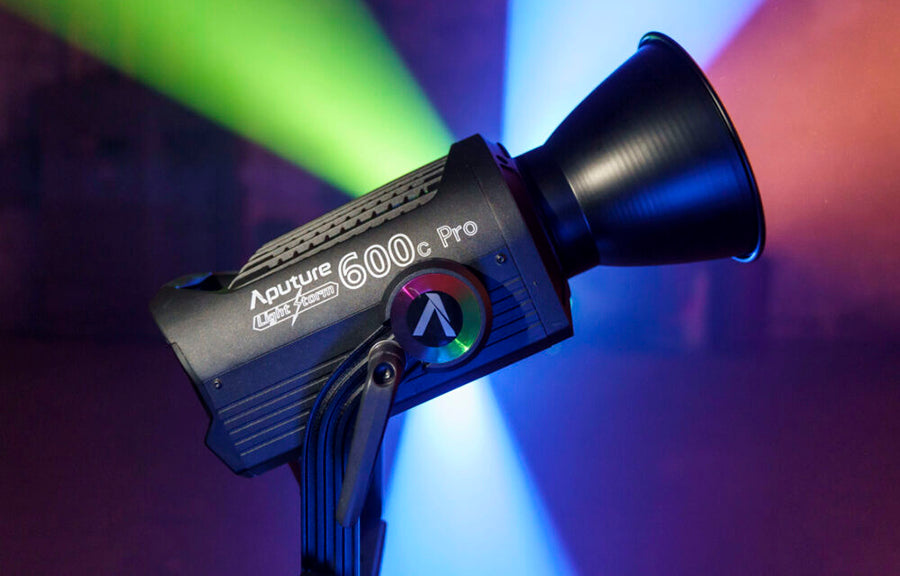 INTENSE OUTPUT
As one of the most powerful fixtures in the Aputure lineup, the LS 600c Pro combines all the innovative and groundbreaking features of the Nova and Light Storm series into one. Its 600W output RGBWW full-color light engine is capable of emitting 4,150+ lux at 3 meters with the included Hyper Reflector, and 17,480+ lux at 3 meters with the BM1215 Hyper Reflector (Narrow), positioning the LS 600c Pro as one of the brightest full-color point-source film lights on the market.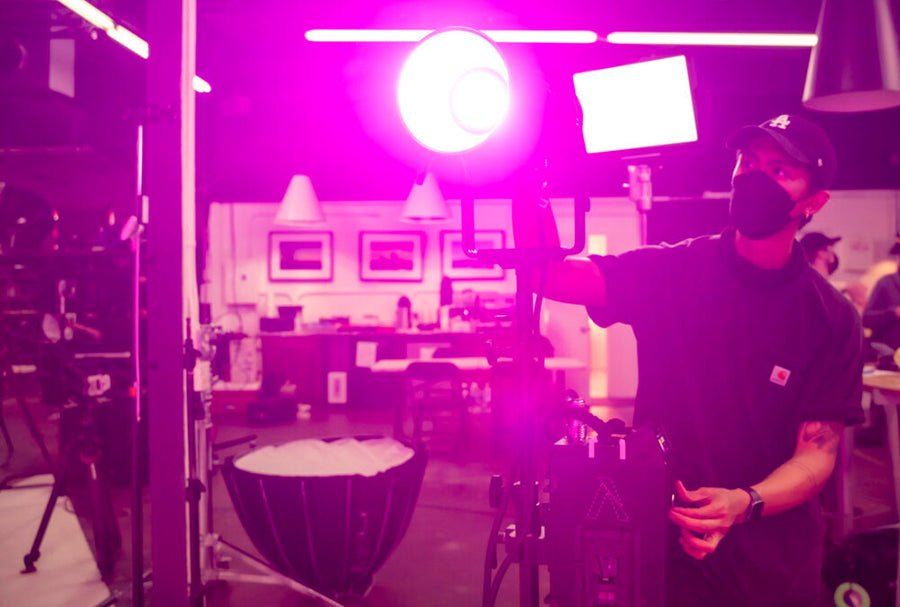 ADVANCED COLOR CONTROL
Drawing on the same full color technology used in the Nova series, and mixed into a single source using specially designed color-blending optics, the LS 600c Pro can reproduce over 90% of the Rec.2020 Color Space. Unleash its full color capabilities with full RGB tunability, industry standard X,Y (CIE 1931), over 300 gel presets, or advanced HSI with white-point variability.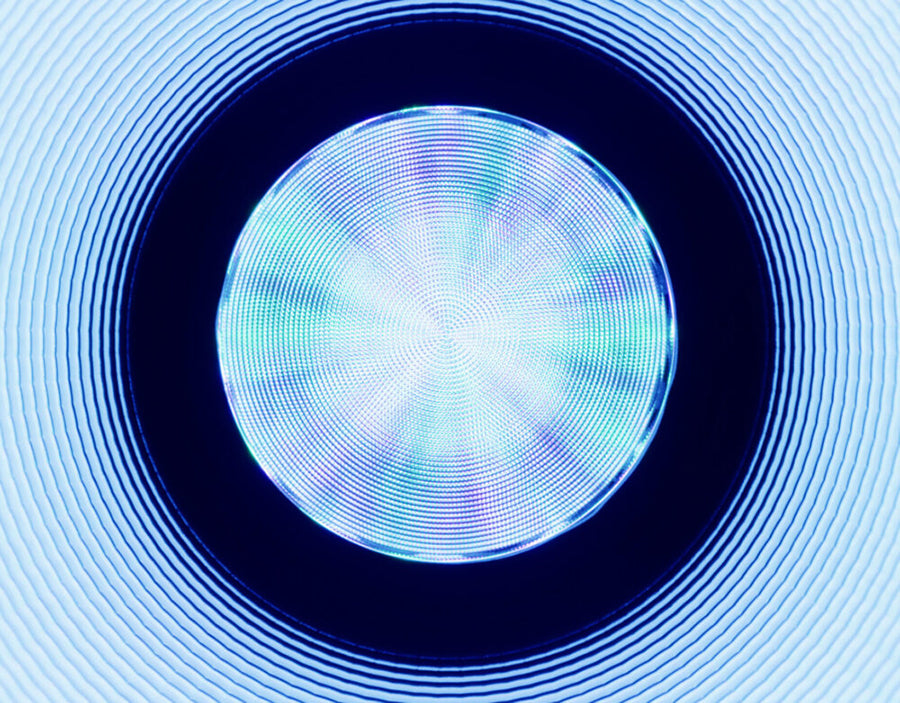 COLOR REDEFINED
The LS 600c Pro is equipped with an ultra-wide CCT range from 2,300K to 10,000K and fully tunable green-magenta adjustment, achieving stunning color reproduction. Built on the foundation of our RGBWW color science, the LS 600c Pro has exceptional color accuracy, with high CRI (95+) and TLCI (98+) metrics, as well as top-of-the-line high-fidelity spectral output, with a Tungsten Spectral Similarity Index of 85, and SSI (D56) of 74.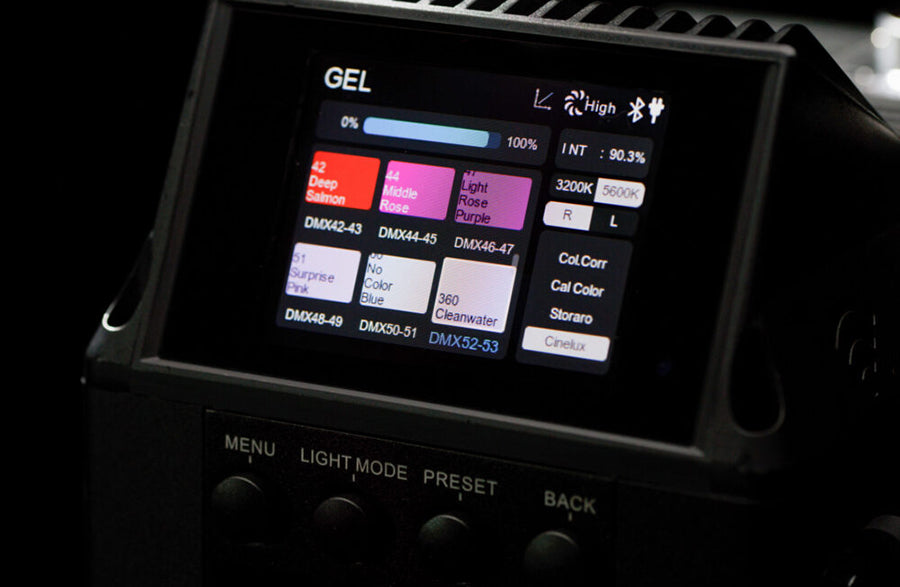 BOWENS MOUNT COMPATIBILITY
The LS 600c Pro is uniquely positioned as one of the most adaptable fixtures on the market combining the color capability of our Nova fixtures with an even wider arsenal of light shapers, like our Hyper Reflectors, the F10 Fresnel, Light Dome 150, and Lantern 90.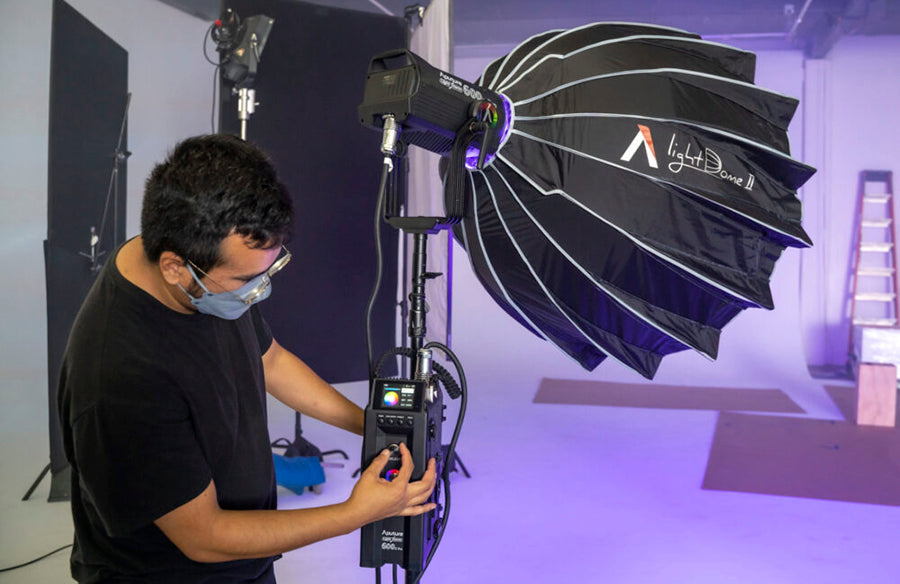 ADVANCED UI
For complete control over its full color LED capabilities, the LS 600c Pro features a revamped user experience, with a vivid, streamlined interface that allows you to confirm your color choices at a glance. Equipped with easy access to different light modes, 10 user-programmable presets, and other advanced features, such as max output & constant output modes, 4 fan modes, 4 dimming curves, and 15 built-in lighting FX, the LS 600c Pro allows professionals to seamlessly navigate through each menu selection to quickly adjust the fixture on demand.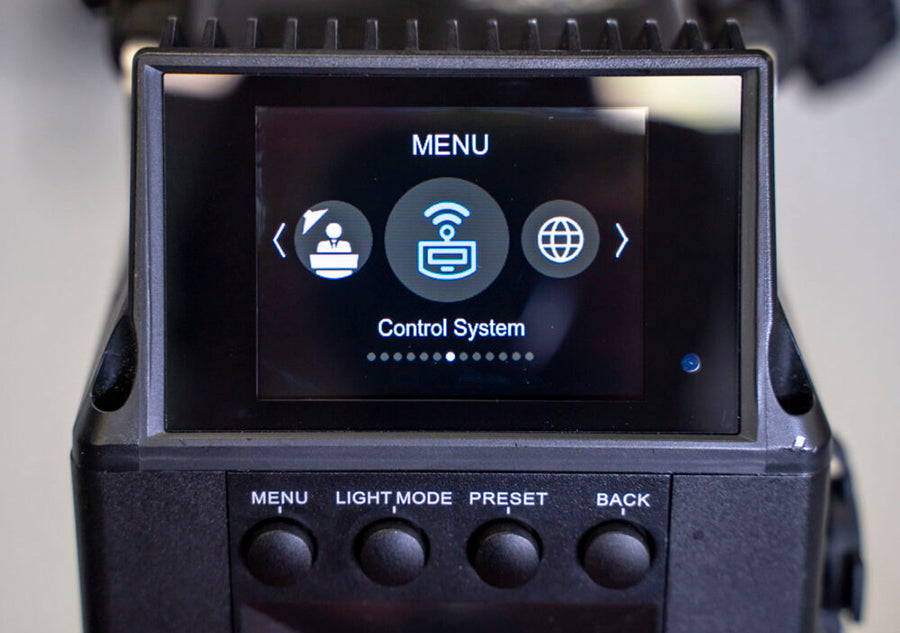 PROFESSIONAL-LEVEL CONTROLS
Designed for professional lighting technicians, the LS 600c Pro integrates various professional connectivity options to seamlessly integrate into existing lighting workflows, including Art-net and sACN control via a durable etherCON connector, wireless LumenRadio CRMX, DMX512 5-Pin XLR In and Out, and Sidus Link® app compatibility.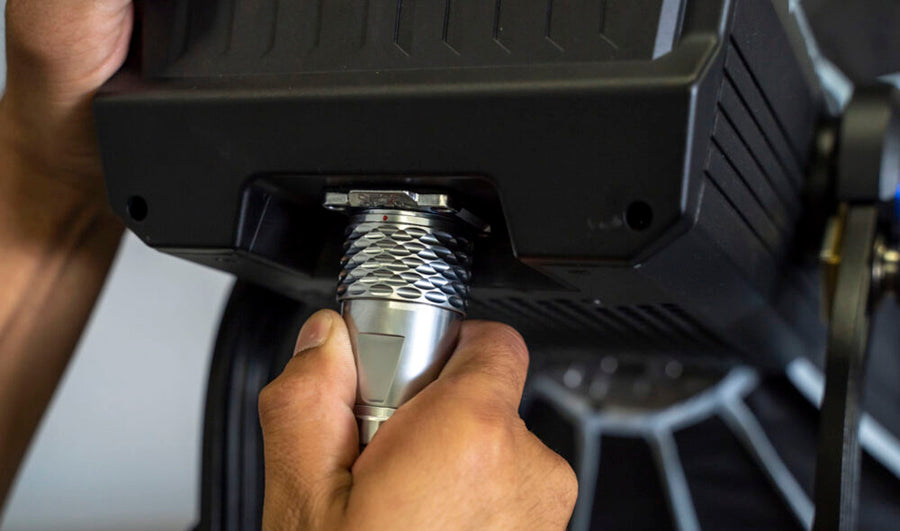 FLICKER REDUCTION
Like all new Aputure and amaran fixtures, the LS 600c Pro features the ability to adjust the PWM dimming frequency by up to +2000Hz, allowing you to tune out flicker and banding in a wider variety of situations and shutter speeds.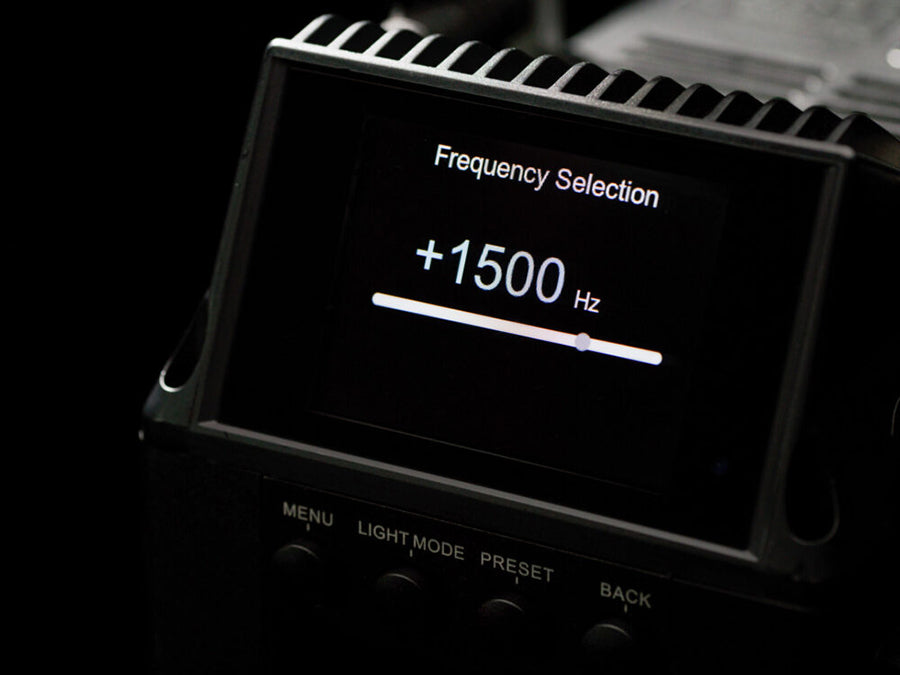 COMPLETE POWER SOLUTIONS
With a maximum power draw of 720W, the LS 600c Pro can be operated at half power using standard, high-output (14.4V/15A) Gold or V-Mount batteries, or at full power using high-voltage, high-amperage batteries (26V/18A, and 28.8V/16A). Using those same multi-voltage battery plates, the LS 600c Pro can also charge Gold or V-Mount cinema batteries, like the LS 600d Pro and 600x Pro. Additionally, the unit features a 48V 3-Pin XLR DC input for external power stations and block batteries.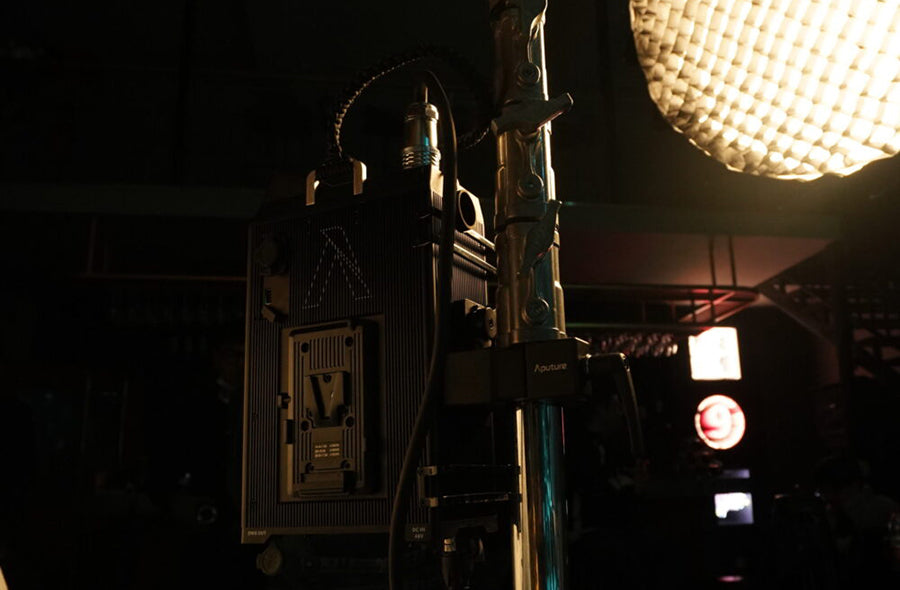 WEATHER-RESISTANT CONSTRUCTION
As a professional Light Storm fixture, the LS 600c Pro features a weather-resistant design, including weatherproof head cables and connectors on both the lamp head and control box to withstand inclement weather conditions when shooting on-location.
SIDUS LINK
Sidus Mesh integration allows users to control the LS 600c Pro directly from your smartphone or tablet with the Sidus Link mobile app, without the need for any dongles or accessories. The mesh technology makes each Aputure and amaran fixture a wireless node that enhances and re-transmits the signal for up to 400 meters of range.* With the constant evolution of Sidus Link, the LS 600c Pro supports real-time CCT & color picking, as well as Sidus Pro FX for advanced functionality.
*Range is limited to 80 meters per node in ideal conditions.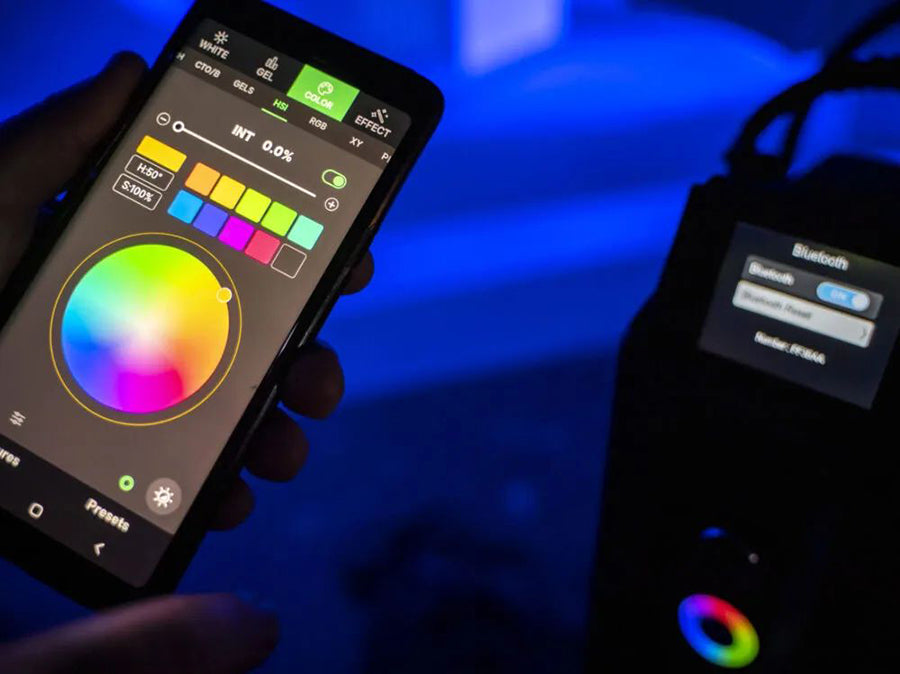 The Light Storm 600c Pro is Aputure'sfirst -ever full-color point-source light fixture, complete withBowens Mount Compatibility, custom color-blending optics, intense output, weather resistance, and professional level connectivity.Its immensely powerful RGBWW LED chipset is capable of 600W of total output, positioning the LS 600c Pro as one of the brightest full-color point-source light fixtures on the market and as having the highest wattage RBGWW chipset in any point-source LED for filmmaking. And with its Bowens Mount compatibility, the LS 600c Pro is uniquely positioned as one of the most adaptable fixtures on the market. With the included LS 600 Series Hyper Reflector, the LS 600c Pro can output 4,150+ lux at 3 meters, and as a Bowens Mount fixture, when paired with the BM1215 Hyper Reflector*, it can even output 17,480+ lux at the same distance. Using the same foundational RGBWW technology in other high-end Aputure fixtures, such as the Nova series, the LS 600c Pro can achieve stunning color reproduction with an SSI (D56) of 74 and even an SSI (Tungsten) of 85. It also features a wide CCT range of 2,300K to 10,000K, greenmagenta adjustment, and the ability to reproduce >90% of Colors Within Rec.2020 Color Space. For smooth hands-on control, the LS 600c Pro also features a brand-new UX, including easy access to different light modes, 10 user-programmable presets, and other advanced features, such as Max & Constant Output Modes, Frequency Selection, 4 Fan Modes, 4 Dimming Curves, and 15 Lighting FX. And like the Nova series, the LS 600 Pro features critical professional color controls (including XY, RGB, Source & Gel Presets, as well as advanced HSI with white-point adjustability), and the professional connectivity options (including LumenRadio CRMX, 16-bit DMX512, and Artnet & sACN via etherCON). Lastly, matching the rest of the LS 600 Pro series fixtures, the 600c Pro utilizes unique V-Mount battery plates that feature both multi-voltage compatibility and active battery-charging functionality, so users can always be ready in fast-paced shooting environments. The control box can also accept 48V/15A DC power via 3-pin XLR, allowing it to be powered via external battery power stations or block batteries.
*LS 1200 Series Hyper Reflectors Not Included


Features:

4,150+ lux @ 3m with LS 600 Series Hyper Reflector
17,480+ lux @ 3m with BM1215 Hyper Reflector (Narrow)*
5,300+ lux @ 3m with BM 1230 Hyper Reflector (Medium)*
2,694+ lux @ 3m with BM1245 Hyper Reflector (Wide)*
600W Output Full Color Bowens Mount RGBWW Point Source LED
720W Maximum Power Draw
CRI: 95, TLCI: 98, SSI (D56): 74, SSI (Tungsten): 85
>90% of Colors Within Rec.2020 Color Space
Fully Tunable CCT from 2,300K to 10,000K
Fully-Tunable Green-Magenta Adjustment
0.1-100% Stepless Brightness Control
Hue, Saturation & Intensity with CCT Control
Industry-standard X,Y (CIE 1931), RGB, Light Source Presets, 300+ Gel Presets
Multiple Control Methods: Sidus Link Bluetooth App Control, LumenRadio CRMX, Art-net& sACN via etherCON, 16-bit 5-Pin DMX512 In & Out
10 User-Programmable Presets
15 Built-in Lighting FX
Weather-Resistant: Dust & Water Resistant
2 Output Modes: Max & Constant
Frequency Selection to Reduce Flicker
Multi-Voltage Battery Plates (V-Mount): Half Power (14.4V/15A, 26V/8.5A, 28.8V/7.5A)
V-Mount Battery Charging
Supports 48V/15A DC Input (3-pin XLR): Battery Power Stations & Block Batteries
360° Rotation, Curved Dual Disk-brake Yoke
Utilizes Universal Bowens Mount Standard
Dual Junior / BabyPin (16mm/28mm)
Curved, Disk-Brake Yoke with 360° Rotation
Lightning Clamp Quick Release Plate
7.5m Weatherproof Head Cable
6m Locking Neutrik powerCON TRUE1 TOP AC Power Cord
4 Dimming Curves: Linear, Exponential, Log, S-Curve
4-Fan Modes: Smart/Medium/High/Silent
Included Rolling Case
*LS 1200 Series Hyper Reflectors Not Included
Specifications:

| | |
| --- | --- |
| CCT | 2,300K – 10,000K |
| CRI | 95 |
| TLCI | 98 |
| CQS | 96 |
| SSI (D56) | 74 |
| SSI (Tungsten) | 85 |
| TM-30 RF (Average) | 93 |
| TM-30 RG (Average) | 100 |
| Beam Angle (No Accessories) | 93° |
| LS 600 Series Hyper Reflector | 62° |
| BM1215 Bowens Mount Hyper Reflector (Narrow) | 23° |
| BM1230 Bowens Mount Hyper Reflector (Medium) | 53° |
| BM1245 Bowens Mount Hyper Reflector (Wide) | 69° |
| F10 Fresnel | 25-70° |
| Lumens | 35,686lm |
| Max Power Output | 600W |
| Max Power Consumption | 720W |
| Max Operating Current | 8A |
| Operating Voltage (Power Supply) | 100V~240V, 50Hz/60Hz |
| Operating Voltage (Battery) - V-Mount / Gold Mount (Two Batteries) - Half Output | 12.5V-16.8V (14.4V/15A) 22V-33.6V (26V/8.5A, 28.8V/7.5A) |
| Operating Voltage (Battery) - V-Mount / Gold Mount (Two Batteries) - Full Output | 22V-33.6V (26V/18A, 28.8V/16A) |
| 3-Pin XLR (48V DC) | 48V/15A |
| Operating Temperature | -20°C ~ 45°C / -4°F ~ 113°F |
| Dimming | 0-100%; Linear, Exponential, Logarithmic, S- Curve |
| Control Methods | On-board, Sidus Link App, 16-bit DMX512, Art- net & sACN via etherCON, LumenRadio CRMX |
| Wireless Operating Range (Bluetooth) | ≤80m |
| Wireless Operating Range (LumenRadio) | ≤100m |
| Screen Type | LCD |
| Firmware Upgradeable | USB (FAT16/FAT32), Sidus Link |
| Cooling Method | Active Cooling |
| Head Cable | 7-Pin Weatherproof Head Cable (7.5m) |
| Max Head Cable Length | 7.5m |
| Power Cable | Neutrik® powerCON TRUE1 TOP AC Cable (6m) |
| Construction Material | Magnesium Alloy |
| Weather Resistance | Dust & Water Resistant |
| Accessory Mount | Bowens Mount |
| Tilt Angle | 360° |
| Mounting | 16mm / 28mm | 0.625in / 1.125in (Dual Junior/Baby Pin) |
| Carrying Case | Telescoping Handle, Wheels |
| Estimated LED Lifetime (L70) | 50,000H |
| Est. Max Flicker-Free FPS | 2,000 FPS |
| Certifications | CE, FCC, ROHS, KC, NCC, PSE, BIS |

WEIGHT
| | |
| --- | --- |
| Lamp Head w/ Yoke | 5.86 kg / 12.92lbs |
| Control Box | 5.21 kg / 11.48lbs |
| Lightning Clamp | 670g / 1.48lbs |
| Rolling Case (Filled) | 14.36 kg / 31.66 kg |

DIMENSIONS
| | |
| --- | --- |
| Lamp Head w/o Yoke | 30.2x22.2x15cm/11.9x8.74x5.9in |
| Lamp Head w/ Yoke | 45.3x26.7x15cm/17.8x10.5x5.9in |
| Control Box | 36.6 x 19.7 x 15.6cm / 14.4 x 7.7 x 6.1in |
| Lightning Clamp | 10.35 x 8.74 x 12.5cm / 4.07 x 3.44 x 4.92in |
| Rolling Case | 59x40x35.5cm/23.2x15.7x14in |
PHOTOMETRICS
| | | | | | | | | |
| --- | --- | --- | --- | --- | --- | --- | --- | --- |
| CCT | Distance | No Accessories | LS 600 Series Hyper Reflector | BM1215 Hyper Reflector | BM1230 Hyper Reflector | BM1245 Hyper Reflector | F10 Fresnel (Flood) | F10 Fresnel (Spot) |
| | 1M | 11,340 lux / 1,054 fc | 33,000 lux / 3,066 fc | 143,800 lux / 13,359 fc | 46,100 lux / 4,283 fc | 20,200 lux / 1,877 fc | 17,160 lux / 1,594 fc | 35,700 lux / 3,317 fc |
| 2300K | 3M | 1,370 lux / 127 fc | 3,160 lux / 294 fc | 13,320 lux / 1,237 fc | 4,050 lux / 376 fc | 2,051 lux / 191 fc | 2,150 lux / 200 fc | 4,930 lux / 458 fc |
| | 5M | 565lux/52fc | 1,250 lux / 116 fc | 4,710 lux/ 438 fc | 1,536 lux / 143 fc | 806lux/75fc | 844lux/78fc | 1,875 lux / 174 fc |
| | | | | | | | | |
| | 1M | 12,300 lux / 1,143 fc | 35,900 lux / 3,335 fc | 156,000 lux / 14,493 fc | 50,200 lux / 4,664 fc | 21,910 lux / 2,036 fc | 18,660 lux / 1,734 fc | 38,800 lux / 3,605 fc |
| 3200K | 3M | 1,489 lux / 138 fc | 3,450 lux / 321 fc | 14,480 lux / 1,345 fc | 4,390 lux / 408 fc | 2,234 lux / 208 fc | 2,335 lux / 217 fc | 5,360 lux / 498 fc |
| | 5M | 615lux/57fc | 1,356 lux / 126 fc | 5,150 lux / 478 fc | 1,671 lux / 155 fc | 863lux/80fc | 920lux/85fc | 2,042 lux / 190 fc |
| | | | | | | | | |
| | 1M | 13,250 lux / 1,231 fc | 38,600 lux / 3,586 fc | 167,600 lux / 15,571 fc | 53,900 lux / 5,007 fc | 23,530 lux / 2,186 fc | 21,100 lux / 1,960 fc | 41,800 lux / 3,883 fc |
| 4300K | 3M | 1,605 lux / 149 fc | 3,730 lux / 347 fc | 15,640 lux / 1,453 fc | 4,730 lux / 439 fc | 2,413 lux / 224 fc | 2,513 lux / 233 fc | 5,780 lux / 537 fc |
| | 5M | 662lux/62fc | 1,460 lux / 136 fc | 5,530 lux / 514 fc | 1,804 lux / 168 fc | 922lux/86fc | 990lux/92fc | 2,195 lux / 204 fc |
| | | | | | | | | |
| | 1M | 14,890 lux / 1,383 fc | 43,400 lux / 4,032 fc | 188,900 lux / 17,549 fc | 60,700 lux / 5,639 fc | 26,470 lux / 2,459 fc | 22,510 lux / 2,091 fc | 46,900 lux / 4,357 fc |
| 5600K | 3M | 1,800 lux / 167 fc | 4,150 lux / 386 fc | 17,480 lux / 1,624 fc | 5,300 lux / 492 fc | 2,694 lux / 250 fc | 2,810 lux / 261 fc | 6,450 lux / 599 fc |
| | 5M | 743lux/69fc | 1,640 lux / 152 fc | 6,220 lux / 578 fc | 2,028 lux / 188 fc | 1,042 lux / 97 fc | 1,110 lux / 103 fc | 2,464 lux / 229 fc |

Package Contents:
Basic Kit (534992)
1x Aputure LS 600c Pro (V-Mount)
1x Lamp Head
1x Control box
1x Hyper Reflector
1x Weatherproof Head Cable
1x powerCON TRUE1 TOP AC Power Cable (18')
1x Clamp
1x Rolling Case

Basic Kit + LANTERN 90(PK2057)
1x Basic Kit (534992)
1x Aputure LANTERN 90 (533688)

Basic Kit + Light Dome 150(PK2058)
1x Basic Kit (534992)
1x Aputure Light Dome 150 Softbox Bowens Mount(534244)

Basic Kit + Light OctaDome 120(PK2059)
1x Basic Kit (534992)
1x Aputure Light OctaDome 120(534846)

Basic Kit + DELTA Pro (PK2136):
1x Basic Kit (534992)
1x EcoFlow DELTA Pro 3600Wh Portable Power Station (535376)