amaran P60c 3 Light Kit 60W RGBWW LED Soft Light Panel
---
Brand: Aputure
SKU:

AMP60CUSKIT

Product code:

534487
The amaran P60c is an RGBWW full-colour LED Panel designed for content creators, videographers, and indie filmmakers. Its optical design (45°) allows the P60c to use its 60W RGBWW LED chipset to produce high-intensity light output, measuring a stunning 5,900+ lux at 1 meter (5600K). In addition, using the control knobs or the built-in Sidus Link App integration, users can adjust the colour temperature (2500K-7500K) or the saturated colour using HSI.

This robust fixture can also utilize 10 built-in lighting effects and up to 46 colour gel presets, in addition to the 4 user-configurable preset buttons. Using the Sidus Link app, users can also utilize specialized tools such as Source Match, Colour Picker, and Custom FX.

The amaran P60c also accomplishes these feats while maintaining
excellent colour rendering scores of CRI ≥95 and TLCI ≥96.

The P60c can be operated using the included AC Power Supply or two Sony NP-F Style batteries for over an hour. When connected to AC Power, the P60c can also charge NP-F Style batteries, making it the perfect multi-tool for content creators.

With the unique design of the P60c, users can attach the included collapsible soft box to the four corners of the panel without any tools or screws. The P60c also includes a 45° light control grid for the soft box, limiting spill light and easily attaching using hook-and-loop fabric. The amaran P60 series is compact, lightweight, and portable, making it a flexible tool for any video.




Utilizing its 60W LED Output, with 78W max power draw, the amaran P60c is capable of outputting 5,900 lux at 1 meter (5600K) due to its optical design, which gives it a 45° beam angle. Inside its compact form factor lies the ability to compete with difficult lighting conditions to make your subject shine. The amaran P60c uses an optical reflector system that maximizes the output of the light while also maintaining a cohesive light spread, eliminating any colour fringing around the edges of the beam in colour modes.

BROAD CCT RANGE

The RGBWW LED chipset of the amaran P60c gives it the ability to natively adjust its colour temperature between 2500K to 7500K, allowing you to tune it as warm as a fire, or as cool as a cloudy day, so you can match any lighting environment you might create in.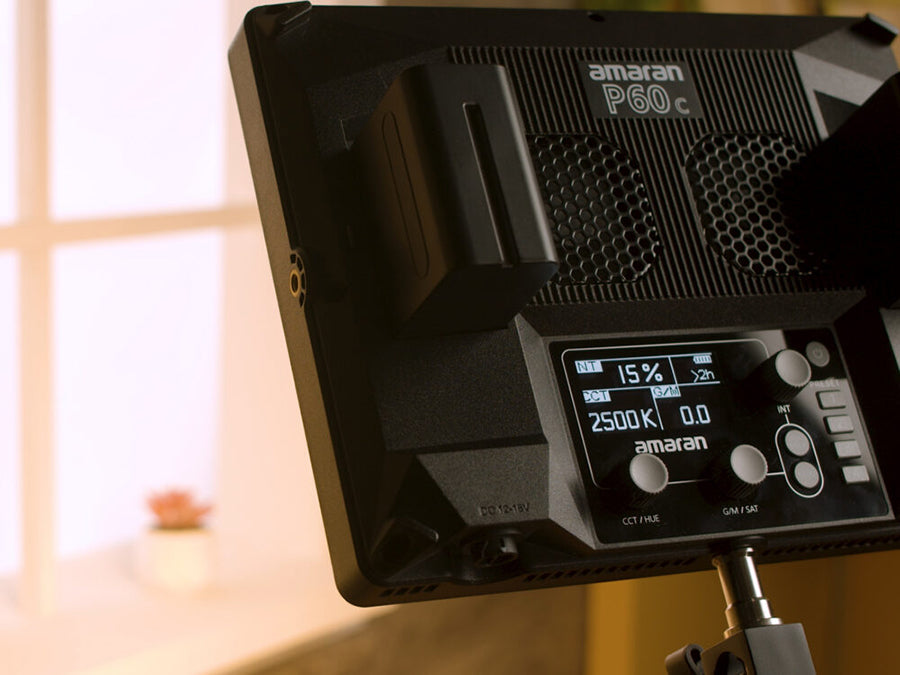 BEAUTIFUL COLOUR FIDELITY

Built with the best-in-class LED technology, and precision designed optics to achieve even colour blending, the amaran P60c is able to boast impeccable colour quality and skin tone reproduction. Its RGBWW chipset is able to reach scores of CRI 95+, TLCI 96+, SSI (Tungsten) 83, and SSI (D56) 74, producing colours on par with some of the best lights in the film industry.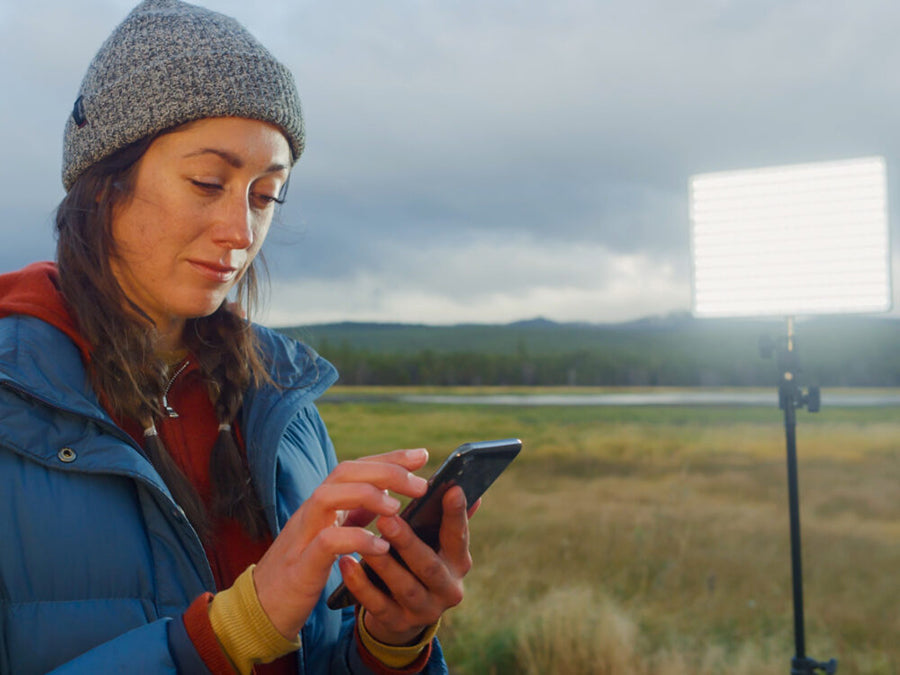 FULL COLOUR CONTROL

The amaran P60c is a full-colour LED panel, thanks to its RGBWW LED design, allowing it to access a wide range of high-quality colour options using the HSI (Hue, Saturation, & Intensity) mode, which allows you to choose any colour from the colour wheel. Using Gel mode, the amaran P60c can also access 46 different colour gel presets with a base colour temperature of 3200K or 5600K.




COLLAPSIBLE SOFTBOX & GRID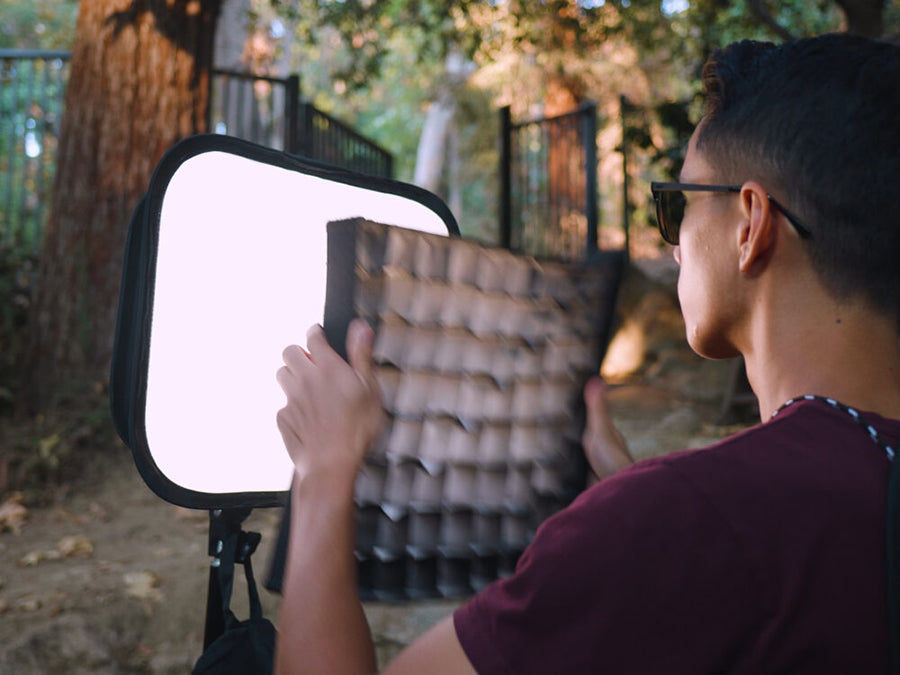 BATTERY POWER

With its 78W max power draw, in addition to traditional AC power, the amaran P60c can be powered using two Sony NP-F style batteries. Two NP-F970 batteries are capable of powering the P60c for over an hour. Building on features from the previous generation of amaran products, the P60c also includes an integrated charging circuit that allows it to charge Sony NP-F batteries when the fixture is connected to AC power. Using the D-Tap Power Cable (2-Pin)*, users can also operate the amaran P60c using D-Tap V-Mount and Gold Mount batteries. *Sold Separately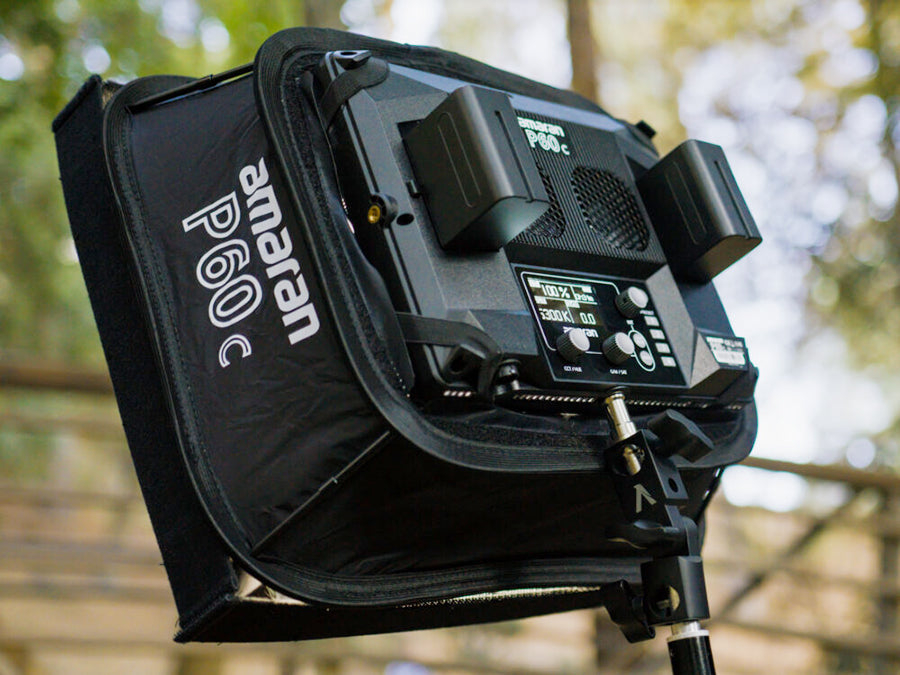 USER PRESETS

Matching the professional-level user interface of the Aputure Nova P300c and P600c, the amaran P60c can also store and recall up to 4 user presets. Each of these user-configurable presets can store settings from any mode, such as CCT, HSI, Gel, and FX, allowing you to instantly recall a lighting cue or colour you were previously using.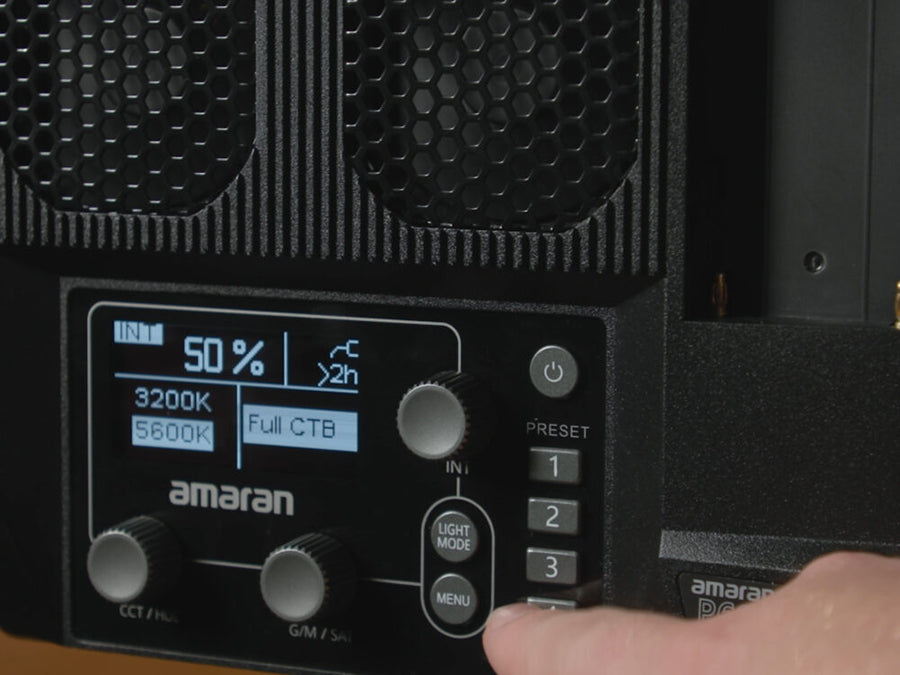 BUILT-IN LIGHTING FX 

The amaran P60c is capable us accessing a variety of lighting FX that utilize its RGBWW full colour chipset, including: Lightning, Paparazzi, Strobe, Cop Car, Fireworks , Pulsing, Faulty Bulb, Fire, TV, & Party Lights.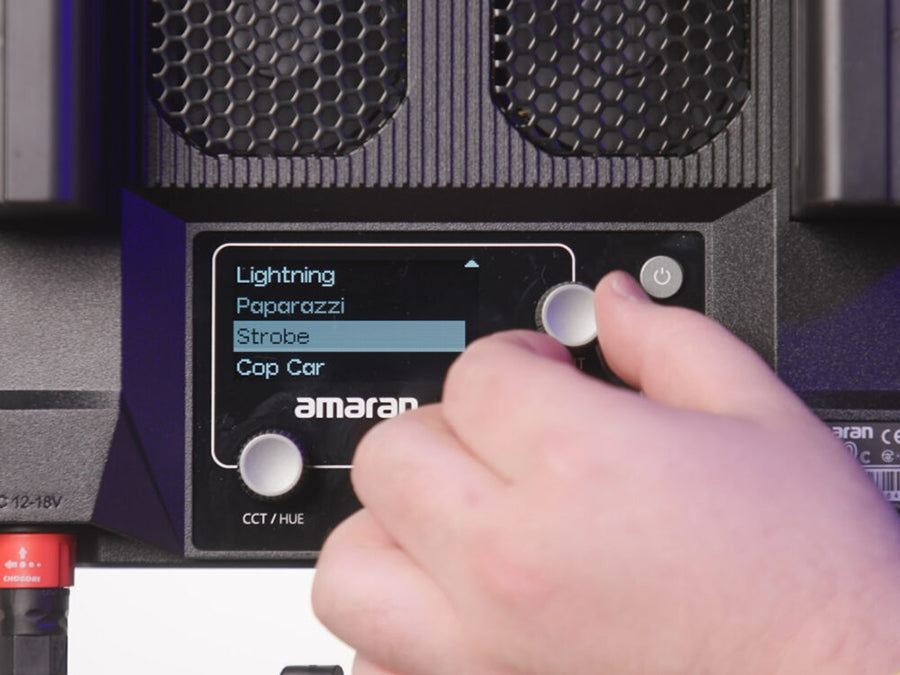 SIDUS LINK APP CONTROL 

Lighting should be fun and easy. With the integration of Sidus Mesh, the amaran P60c gives you professional lighting control with a single app, so you can adjust your light without ever having to leave your camera. Mesh technology means that every light in the Aputure and amaran product lines will automatically connect to each other and expand the range of your network. With the Sidus Link App, you can control up to 100 lights from your smartphone or tablet. Adjust each light to perfection by adjusting aspects like brightness, colour temperature, hue & saturation, built-in effects, and even programming effects between multiple fixtures.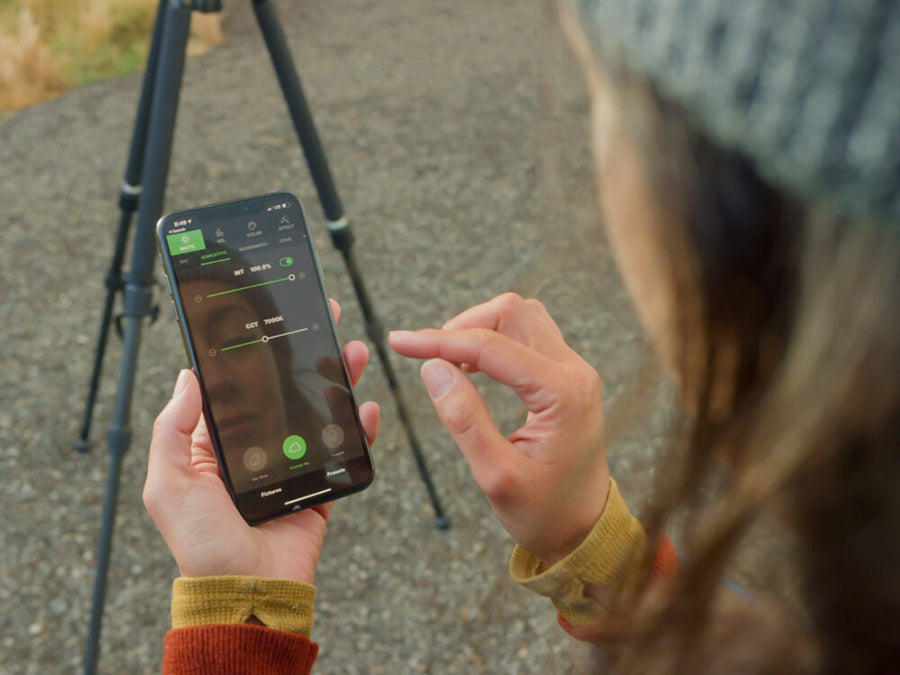 Features:
60W RGBWW LED Soft Light Panel
5,900 lux @ 1 meter (5600K)
Tunable CCT from 2,500K to 7,500K
Tunable Green-Magenta Adjustment (Full Plus/Minus Green)
CRI: 95+, TLCI: 96+, SSI (Tungsten): ≥83, SSI (D56): ≥74
Stepless Dimming from 0 to 100%
Sidus Link App Compatible
Unique Optical Design Creates More Organic Shadows
46 Colour Gel Presets
4 User Configurable Preset Buttons
Ultra-quiet Active Cooling System
Built-in Lighting FX: Lightning, Paparazzi, Strobe, Cop Car, Fireworks , Pulsing, Faulty Bulb, Fire, TV , Party Lights
Integrated Sony NP-F Battery Plates
Charges Sony NP-F Style Batteries
Locking DC Input
D-Tap Battery Operable using "D-Tap Power Cable (2-Pin)" (Sold Separately)
OLED display
Tool-less Soft Box with Light Control Grid (45°)
Soft Box Collapses Down to 20cm (7.87in)
Three 1/4-20" Mounting Points
Tilting Mounting Support with Umbrella Holder
Soft Carrying Case Included
Operating Temperature Range: -20°C~45°C



Specifications:

| | |
| --- | --- |
| CCT | 2,500K~7,500K |
| G/M Adjustable | ±1.00G |
| CRI | ≥95 |
| TLCI | ≥96 |
| CQS | ≥96 |
| SSI (Tungsten) | ≥83 |
| SSI (D56) | ≥74 |
| TM-30 RF (Average) | 94 |
| TM-30 RG (Average) | 103 |
| Beam Angle ( No Accessory) | 45° |
| Max Power Output | 60W |
| Max Power Consumption | ≤78W |
| Operating Current | 4.5A |
| Voltage (AC Power Supply) | 15V DC |
| Voltage (D-Tap Battery) | 12-16.8V DC |
| Voltage (NP-F Battery) | 6.5V-8.4V DC |
| Battery Charging (Type) | Sony NP-F Style |
| DC Input | 2-Pin DC Self-locking Waterproof |
| AC Power Cable | Self-locking IEC C13 AC Power Cable (1.5m) |
| Operating Temperature | -20°C ~ 45°C / -4°F ~ 113°F |
| Control Methods | On-board, Sidus Link App |
| Connectivity | Bluetooth 5.0 (Sidus Mesh) |
| Bluetooth Operating Range | ≥80m / 262.5ft |
| Firmware Upgradeable | Sidus Link OTA |
| Display Type | OLED |
| Cooling Method | Active Cooling |
| Mounting | 1/4-20in * 3, Tilting Support Column |
| Estimated LED Lifetime (L70) | 50,000 Hours |
| Estimated Color Shift Over Lifetime (CCT) | 2% over 6,000 Hours |
| Certifications | CE, FCC, cTUVus, KC, NCC, ROHS |

Dimensions:
| | |
| --- | --- |
| Fixture | 27.1*21.3*4.34cm / 10.67*8.39*1.7in |
| Aperture | 26.90 * 21.00cm / 10.5*8.2in |
| Soft Box (Collapsed) | 20*20*2.5cm / 7.8*7.8*.98in |
| Soft Box (Built) | 41*34*10cm / 16.1*13.3*3.9in |
| Carrying Case | 27.4*21.8*9.5cm / 10.79*8.58*3.74in |

Weight:
| | |
| --- | --- |
| Fixture | 1.880kg / 4.145lbs |
| Soft Box | 0.17kg / .37lbs |
| Power Supply | 0.50kg / 1.1lbs |
| Mounting Bracket | 0.24kg / .53lbs |
Photometrics:

| CCT | Distance | No Softbox | With Softbox |
| --- | --- | --- | --- |
| | .5M | 17,400 lux / 1,616 fc | 3,750 lux / 349 fc |
| 2500K | 1M | 5,000 lux / 465 fc | 1,017 lux / 95 fc |
| | 2M | 1,300 lux / 121 fc | 280 lux / 26 fc |
| | 3M | 594 lux / 55 fc | 130 lux / 12 fc |
| | | | |
| | .5M | 18,500 lux / 1,719 fc | 4,010 lux / 373 fc |
| 3200K | 1M | 5,200 lux / 483 fc | 1,116 lux / 104 fc |
| | 2M | 1,400 lux / 130 fc | 302 lux / 28 fc |
| | 3M | 632 lux / 59 fc | 141 lux / 13 fc |
| | | | |
| | .5M | 19,500 lux / 1,812 fc | 4,240 lux / 394 fc |
| 4300K | 1M | 5,600 lux / 520 fc | 1,182 lux / 110 fc |
| | 2M | 1,460 lux / 136 fc | 318 lux / 30 fc |
| | 3M | 659lux / 61fc | 149 lux / 14 fc |
| | | | |
| | .5M | 20,000 lux / 1,858 fc | 4,540 lux / 422 fc |
| 5600K | 1M | 5,900 lux / 548 fc | 1,242 lux / 115 fc |
| | 2M | 1,550 lux / 144 fc | 340 lux / 32 fc |
| | 3M | 705lux/66fc | 160 lux / 15 fc |
| | | | |
| | .5M | 22,000 lux / 2,044 fc | 4,830 lux / 449 fc |
| 7500K | 1M | 6,300 lux / 585 fc | 1,344 lux / 125 fc |
| | 2M | 1,650 lux / 153 fc | 360 lux / 33 fc |
| | 3M | 750lux/70fc | 170 lux / 16 fc |


Package Contents:
3x amaran P60c
3x amaran P60c Soft Box
3x amaran P60c Soft Box Light Control Grid
3x AC Power Supply
3x AC Power Cable
3x Tilting Mounting Support with ¼-20in & 3/8-16in Spigot
1x amaran P60c 3-Light Carrying Case