Desview N21 Pro 21.5" 400nits HDMI/3G-SDI HDR Director's Monitor Support 3D Lut
---
Brand: Desview
SKU:

N21 Pro

Product code:

533792
The Desview N21 21.5" HDR Director's monitor is packed with professional features at an affordable price.  Supporting both 3G-SDI and HDMI inputs and outputs it can be used with a wide array of cameras.  Custom LUT files can be preloaded with an SD card to provide the visual look you want on set without any hassle.  

4K HDMI 1.4
Support 1x4K@30Hz Input & Output
User-define 3D LUT
Support Loading CUE 3D LUT file by SD card
SD Card Equipped by Default (Built-in Various camera brand log files)
HDR Monitoring
HDR could provide more dynamic range and image details, deep black, vivid color, Restore the true colors to bring amazing picture quality performance

Professional Auxiliary Shooting Functions
Vector-scope/Waveform/Histogram
Professional color analysis and exposure of image functions, making photography easier
Full Waveform
Put waveform, vector-scope, histogram and audio column aside the screen, which helps image analysis more intuitively and clearly
Peaking Focus
Peaking focus is to mark the sharpest edges in the picture with red, green, blue or white, which is convenient for the photographer to clearly recognize whether the focus is accurate. Photographers can select the focus color according to the different tones of the subject.
Other Functions
The monitor is equipped with a full range of auxiliary shooting functions, such as fake color, color temp, zebra, grid, zoom, audio table, battery indicator, which helps directors create film and television better.
Portable Stand Monitoring
The expansion board installed on the back of the monitor can be used to fix the tripod supporting the monitor. It's suitable for all kinds of complex shooting environments, complete shooting monitoring tasks well.


Multi-purpose expansion board
The hardware plates with 1/4'' and 3/8'' screw holes on both top sides of the aluminum box, which can be used to fix various auxiliary equipments such as video transmission and magic arm.
Convenient buttons for easy operation, F1-F4 buttons support user-define functions
Support AC220-240V, V type battery and DC 12-24V XLR power adapter input

Features:
• SD Card for custom 3D LUT loading and firmware update
• HDR function: provides wider colour gamut
• Waveform and focus assist functions
• Compatible with : V-Lock battery
• 4K@30Hz Video Input
• 1x HDMI In/Out
• 2x 2G-SDI In
• 1x 3G-SDI Out

Specification: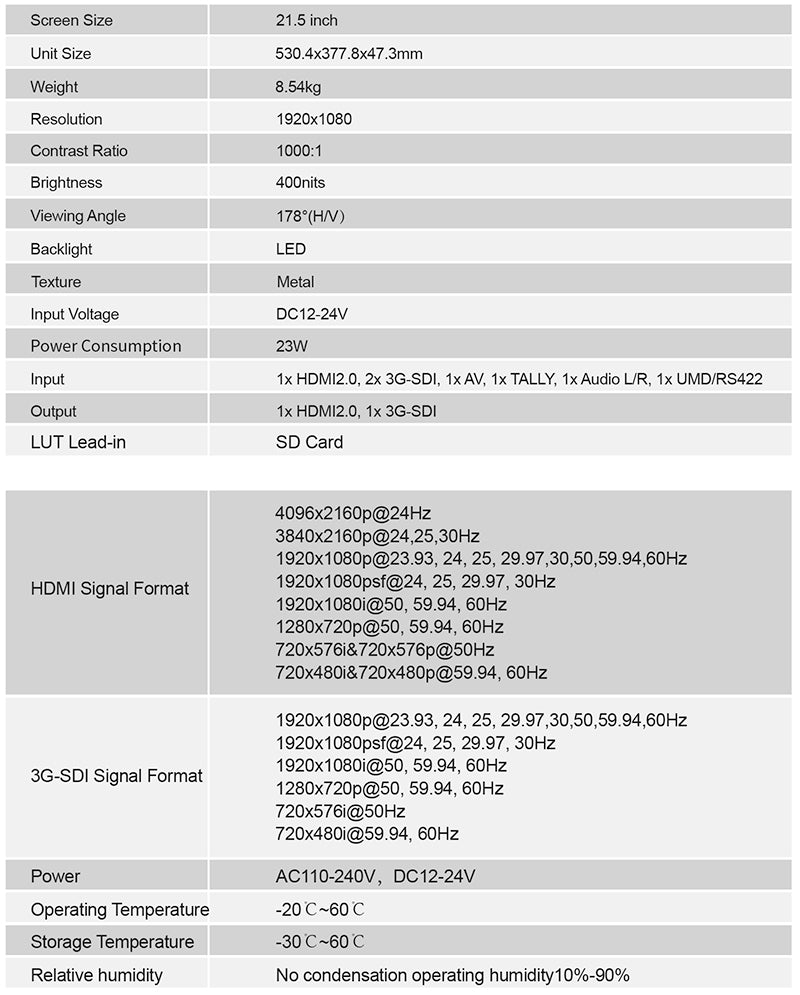 Package Contents:

1x Desview N21 Pro 21.5" HDMI/3G-SDI HDR Director's Monitor
1x Power Cable
1x HDMI cable(A-A)
1x SD Card
1x Microfiber Cloth
1x User Guide